Game Notes - Abbotsford
By: Kacie Albert Saturday, October 14, 2017 @ 12:11 PM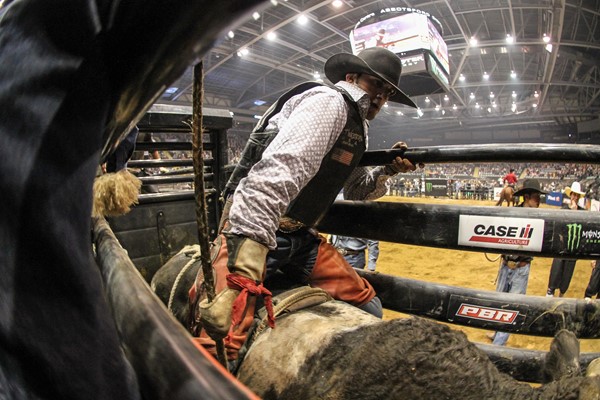 ABBOTSFORD, British Columbia - This weekend PBR Canada's Monster Energy Tour, presented by Mac's and Circle K stops in Abbotsford, British Columbia at the Abbotsford Centre, for the fifth event of the nationally-televised, cross-nation tour. The event marks the second-time the tour has visited the British Columbia city, and final event before next weekend's PBR Canada Finals.
RELATED: Click Here for the Complete Abbotsford Game Notes
SO FAR THIS SEASON – The 2017 Monster Energy Tour opened in Quebec City, Quebec with PBR's first-ever international Major event. With four riders from the Top 10 on hand to compete, Derek Kolbaba won the event, $34,100 CAD and 300 world points, elevating him to No.3 in the world. Jordan Hansen was the event's highest finishing Canadian in fourth. The next weekend, the tour visited Ottawa, Ontario for the second time in its history. Cody Casper earned his first-ever PBR victory in Canada's capital and used his 88-point rider on Captain (Mike Miller/Torres Bros) in the championship round, the high-marked ride of his career, to secure the win. Justin Lloyd was the event's highest finishing Canadian, placing second, after riding Wild Mexican (Rafter P) for 85 points and the Round 1 win. At the tour's final eastern event, Lloyd earned his first event win since 2013, becoming the first Canadian to win a Monster Energy Tour event title this season. When the tour resumed last weekend in Winnipeg, new father Dakota Louis earned his first event win of 2017 after sweeping both rounds and going a perfect 2-for-2.
RED HOT RADFORD – Since August, one man, Brock Radford, has held a firm grip atop the PBR Canada national standings. Backed by an unprecedented four-event win streak at the Touring Pro Division level, Radford not only earned enough Canadian points to climb to the top of the national standings, but also inched inside the Top 35 of the world standings, making his Built Ford Tough Series debut in September in Springfield, Missouri. This weekend in Abbotsford Radford will be chasing his first victory on the Monster Energy Tour all in effort to expand his lead over No.2 Zane Lambert and claim his first PBR Canada Championship. Despite his summer win streak, Radford has hit a slump as of late in Canadian competition. He has bucked off his last five draws, recording his last qualified ride about Mr. Brightside for 87 points in Stavely, Alberta on September 2.
BATTLE FOR NO.1 – With 550 Canadian points available this weekend, and 2,000 on the line at the PBR Canada Finals in Saskatoon, Saskatchewan on Oct. 20-21, the race for the PBR Canada title remains wide open. While No.1 Brock Radford holds a near 530 point lead over No.2 Zane Lambert, the No.2-No.10 ranked riders are separated by just 667.5 points. Both set to ride this weekend, No.2 Lambert and No.3 Cody Coverchuk are separated by just 162.5 points, trailing Radford by 529.16 and 691.66 points respectively. Lambert overtook Coverchuk in the rankings last weekend after tying for third and earning 165 Canadian points in Winnipeg. Coverchuk failed to earn any points, going 0-for-1, but didn't lose any ground on Radford who also went 0-for-1.
No.4 Cody Casper, who split the third place finish with Lambert, will look to continue his hot streak, having won the final Touring Pro Division event of the season in Magrath, and become the first rider this season to win two Monster Energy Tour titles, having won June's event in Ottawa. Casper, now 722.5 points off from the No.1 spot, much like Lambert climbed one spot in the rankings, surpassing Jordan Hansen, for the 165 Canadian points he earned in Winnipeg.  No.5 Hansen will return to PBR Canada competition for the first time since July, looking to reclaim the No.1spot in the rankings, a position he held for several weeks this season. The Alberta-native will make the journey to British Columbia fresh off his third appearance on the Built Ford Tough Series where he went 0-for-2 in Nampa. He trails Radford by 825.83 points.
No.7 Justin Lloyd will also look to earn his second Monster Energy event win of the season having won at the tour's last eastern event of 2017 in Toronto. He sits 946.66 behind Radford after going 0-for-1 in Winnipeg, earning no points. No.8 Jared Parsonage and No.9 Edgar Durazo will also be hard at work in Abbotsford as they'll look to overcome their respective 1069.16-point and 1073.33-point disparities from the top spot in the Canadian national standings. Jared Parsonage finished 11th in Winnipeg, outside of the points, by Durazo's sixth place effort earned him 33.33 points. Rounding out the Top 10 is Lonnie West, who rose from No.14 to No.10 in the standings following Winnipeg where he finished second. West earned 270 Canadian points to put him within 1,196.66 of Radford.
The competition will culminate next weekend in Saskatoon with the PBR Canada Monster Energy Tour Finals where one rider will earn a spot at the Real Time Pain Relief Velocity Tour Finals in Las Vegas, Nevada on Oct. 28-30 where they will have the opportunity to earn a bid to the Built Ford Tough World Finals on Nov. 1-5.
RELATED: PBR Canada National Standings
HOME-PROVINCE FAVORITES – Two riders, Jackson Scott and Jake Gardner, are set to compete in their home province this weekend when the Monster Energy Tour bucks into Abbotsford, British Columbia. Kamloops' Scott and Dawson Creek's Gardner will both look to reverse their fates from last Friday's Winnipeg stop where they both went 0-for-1. While this marks Gardner's first time competing on the Monster Energy Tour in British Columbia, Scott rode when the tour visited the Abbotsford Centre in 2016 going 0-for-1.
BULL PEN – Two-time PBR Canada Stock Contractor of the Year Vold Rodeo supplies 14 of the 44 bulls in Abbotsford. In total, 37 of the 44 bulls met in Ponoka at the Vold headquarters to make the 1,092km trek West across the Rocky Mountains. On the liner were athletes from Two Bit Bucking Bulls (Magrath, Alberta); Vold/Prescott (Ponoka, Alberta); Big Chief/Armstrong (Fort Macleod, Alberta); Dynamite Buckers (Turner Valley, Alberta) and Wilson Rodeo (Gleichen, Alberta). S&E Bucking Bulls (Kamloops, British Columbia) is the only local stock contractor. PBR World Finals Bucking Bull 465 Happy Camper (Two Bit Bucking Bulls) highlights the Championship Round. The three-year-old bull has yet to be ridden so far in 2017.
THIS WEEKEND'S FORMAT – The Monster Energy Tour, presented by Mac's and Circle K will feature two rounds of bull riding. Each of the 28 competing riders will get on one bull in Round 1 on Saturday. The Top 10 ranked bull riders will then advance to the championship round later that evening. Riders will be competing for valuable points towards the PBR Canada national standings and PBR world standings, in addition to $20,000 in prize money. On the line this weekend are 550 Canadian and 80 world points.
PROVIDING PROTECTION – The bull fighters on hand for this weekend's event in Abbotsford are Ty Prescott, Brett Monea and Greg Loring Jr.
NEXT UP – The Monster Energy tour will travel to Saskatoon, Saskatchewan and the SaskTel Centre on Friday, Oct. 20 and Saturday, Oct. 21 for the PBR Canada Finals where the nation's 2017 champion will be crowned. The event will begin at 7:30 p.m. CT on both nights. The 12th annual installment of the event will mark the eighth consecutive year the Canadian finals have been held in Saskatoon.