Game Notes: PBR Global Cup - Day 2
By: Ted Stovin Friday, November 10, 2017 @ 12:01 PM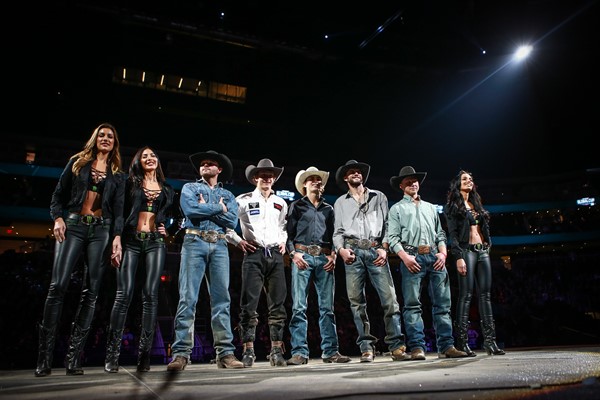 BULLS TAKE OVER ROGERS PLACE – On Friday, Nov. 10 and Saturday, Nov. 11 at 7:00 p.m. MT the inaugural PBR Global Cup presented by Encor by EPCOR takes over Rogers Place in Edmonton, Alberta. The PBR Global Cup is an international, five-nation competition featuring riders from Australia, Brazil, Canada, Mexico and the United States. In addition to competing for the home-nation's soil, riders will be vying for their share of the Canadian record $1,000,000 purse.  
THIS WEEKEND'S FORMAT – The PBR Global Cup presented by Encor by EPCOR features three days of competition. On Thursday at the Canadian National Qualifier, Lonnie West went 2-for-2 to earn over $24,000 and a coveted spot on Team Canada. On Friday and Saturday the main event for the inaugural Global Cup will get underway with seven bull riders from Mexico, Australia, Brazil and the United States, and 14 from Canada squaring off against one another for the remainder of $1,000,000 in prize money and international bragging rights. On both Friday and Saturday, each rider will get on one bull as assigned by their coach. Following each round, two riders from each nation, as selected by their coach, will get on one bull each, also selected by the nation's coach. At the conclusion of Saturday's event, the team with the highest total score across 14 outs will be awarded the first-place check for $400,000 to be split evenly amongst the team members. Each visiting team has 16 attempts across the two days, while Canada has 32. No world points will be awarded.  
THE PAYOUT - One million dollars will be paid out in three days of competition at the inaugural PBR Global Cup. In Round 1 the top 10 riders will split $26,000 based on the top ride score, first place being worth $8,000 with the 5th through 10th place finishers earning $1,000. The bonus round features a winner-take-all format in which the top two aggregate scores will take home an additional $14,000 to be divided up between the winning team members. The top rider in the event aggregate following two days of competition based on total scores will earn $50,000. In addition to the $400,000 awarded to the winning team, second place takes home $87,500; third is $70,000; fourth pays $56,000 and fifth is $42,000. Coaches and alternates are also awarded in this format earning $14,000 for first, through to $2,000 for fifth.
THE TROPHY – In addition to competing for a record-payout and international bragging rights, the five teams will be competing for the Canadian horn on the Global Cup trophy. Regarded as the most dynamic trophy in sport, the Global Cup trophy is made up of five individual parts that represent the participating countries; the collective piece symbolizes the unified spirit of this global competition, while simultaneously paying tribute to the winning nation's hometown heroes. Most importantly, each nation's piece of the trophy includes a vessel designed to hold its native dirt. During each event's opening ceremonies, the host's riders will deposit the dirt into their piece of the trophy; the ensuing battles with the bulls will determine who will reclaim the dirt at the conclusion of the event. Weighing 117.85 pounds, the Montana Silversmiths trophy also features 360 Swarovski stones. 
TELEVISION BROADCAST – Craig Hummer, Matt West and JW Hart highlight the on-air talent at the PBR Global Cup with TSN broadcasts produced by Larry Isaac. The show airs LIVE on TSN2 on Friday, November 10th starting at 7:00 p.m.  MT in addition to PBR.com and on the PBR app. On Saturday, November 11th, the program begins LIVE at 8:00 p.m. MT on TSN 3 also on PBR.com and the PBR app. 
BULL PEN – A total of 13 stock contractors will provide bulls on Friday night. In addition to Canada's bull pen from Thursday, seven-time and reigning PBR Stock Contractor of the Year Chad Berger has brought 46 bulls from his North Dakota Ranch to supplement the event. Contractors on Friday are: Berger, Flying Four Bucking Bulls (Prince Albert, Saskatchewan); Battle River Rodeo Co. (Asquith, Saskatchewan); Big Chief Bucking Bulls (Fort Macleod, Alberta); Eno Bucking Bulls (Coronation, Alberta); Two Bit Bucking Bulls (Magrath, Alberta); Flying High Rodeo Co. (Elnora, Alberta); Foley Bucking Bulls (Lloydminster, Saskatchewan); Wild Hoggs Bucking Bulls (Marwayne, Alberta); Girletz Rodeo Stock (Cereal, Alberta); R-Saga Ranch (Manor, Saskatchewan); X6 Ranch (Medicine Hat, Alberta); Skori Bucking Bulls (Kinsella, Alberta); Wilson Rodeo (Gleichen, Alberta); Vold Rodeo Co./Prescott/Rafter G Cattle Co. (Ponoka, Alberta); Cody Strandquist Bucking Bulls (Kyle, Saskatchewan); Thompson Rodeo (New Sarepta, Alberta); Braithwaite Ranches (Pincher Creek, Alberta) and Rafter 8 Bucking Bulls (Archerwill, Saskatchewan).
PROVIDING PROTECTION – The bull fighters putting themselves in harm's way to protect the cowboy athletes this weekend in Edmonton are Shorty Gorham, Frank Newsom and Canada's own Jesse Byrne.
TEAM CANADA – The home nation is coached by three-time PBR Canada Champion Aaron Roy, who has earned a Canadian-record $974,737.50 in PBR competition. Roy is a five-time Glen Keeley Award winner as the top Canadian in PBR competition. 
After Thursday's qualifier, Team Canada now consists of: Zane Lambert (Ponoka, Alberta) the two-time and reigning PBR Canada Champion (2013, 2017) and five-time World Finals qualifier; Two-time PBR World Finals qualifier and two-time Canadian Pro Rodeo Bull Riding Champion Dakota Buttar (Kindersley, Saskatchewan); Brock Radford (De Winton, Alberta) who finished No.45 in the world at the conclusion of the 2017 season and second in Canada after winning a record four-consecutive PBR Canada Touring Pro Division events; Tanner Byrne (Prince Albert, Saskatchewan) who finished in the No.8 spot in the World Standings in 2015, the best ever finish by a Canadian, the same year he won the PBR Canada National Title; Justin Lloyd (Tisdale, Saskatchewan) who had a career-year in 2017, making his debut on the PBR's Built Ford Tough Series in Colorado Springs and finished No.59 spot in the world.
Also on the squad is Cody Coverchuk (Meadow Lake, Saskatchewan), who began the 2017 campaign in contention and led the PBR Canada National Standings in July. As of late he has struggled but finished the 2017 season in the No.68 spot in the PBR World Standings. Thursday's event winner Lonnie West (Cadogan, Alberta), who earned nearly $25,000 for the win, finished the year No.4 in the Canadian Standings and tied for No.68 in the world; Cole Young (Fariview, Alberta) made his way to Team Canada via Thursday's qualifier after finishing this season No.19 in Canada and tied for No.98 in the world; Logan Biever (Claresholm, Alberta) was named to Team Canada as one of coach Roy's picks after a strong showing in Saskatoon at the PBR Canada Finals where he finished third overall. 
2017 PBR Canada Rookie of the Year Coy Robbins (Camrose, Alberta) faced former PBR World Finals bull Pound the Alarm in Round 2 on Thursday to be told by Adriano Moraes that he had heart, an incredible compliment for any bull rider; Dayton Johnston (Milk River, Alberta), another coach's pick, earned his first PBR event title in Teepee Creek, Alberta in March; Jackson Scott (Kamloops, British Columbia) rode Kool Aid (R-Saga Ranch) to finish third in Thursday to win the biggest check of his young career at over $10,000 and qualify for Team Canada. Jackson was mentored by Ty Pozzobon; Ty Patten (Strathmore, Alberta) was the 2004 Canadian Champion in the Steer Riding event at age 14, the same season he won the Calgary Stampede in the same event. On Thursday, Patten rode Papa's Rockstar (Wild Hoggs) to win $7,600 and qualify for Team Canada. Rounding out Team Canada are Wyatt Laughlin (Pincher Creek, Alberta) and alternate Jake Gardner (Dawson Creek, British Columbia).
TEAM AUSTRALIA – Adriano Moraes coaches team Australia as the first three-time PBR World Champion (1994, 2001 and 2006). His career earnings total over $3,000,000 and a statue stands outside the PBR headquarters of Moraes on Little Yellow Jacket. 
Troy Wilkinson (Upper Horton, New South Wales): Competing with PBR Australia since 2009, Troy Wilkinson captured his first national title this season. Making an impressive come-from-behind finish at the Australia finals, Wilkinson rose from No.5 to No.1 after going 2-for-3. After briefly competing on the elite Built Ford Tough Series in 2013, Wilkinson returned to the tour this season logging four Top-10 finishes across 14 events. 
Kurt Shephard (Atherton, Queensland): After two successful seasons on the Real Time Pain Relief Velocity Tour (RVT) and Touring Pro Division (TPDF), Shephard made his Built Ford Tough Series (BFTS) debut in 2016, qualifying for his first ever World Finals. In 2017, Shephard rode his way back onto the BFTS, but after rupturing his spleen was sidelined for two months. Two weeks after his return he strung together back-to-back runner up finishes on the RVT and went on to win back-to-back events in Australia.
Aaron Kleier (Clermont, Queensland): Making his PBR debut this season, Kleier was named the 2017 PBR Australia Rookie of the Year. Competing in his home nation, Kleier won the second Touring Pro Division event of his career, before winning two additional events and recording nine Top-5 and 11 Top-10 finishes during the Australian competitive season. He concluded the year ranked No.2 in the national standings and No. 37 in the World.
Lachlan Richardson (Gresford, New South Wales): After completely tearing the bicep in his right arm during the 2016 World Finals, Lachlan Richardson's 2017 season began on pause as he faced a six-month recovery. He returned to competition in May when he mounted an aggressive summer campaign, which saw him earn more than 300 points towards the world standings compliments of three event wins and eight Top-5 finishes. Since returning to the Built Ford Tough Series he logged two Top-10 efforts and finished 35th in the world standings.
Sonny Schafferius (Dysart, Queensland): Competing with the PBR for the first time since 2009, Sonny Schafferius was a dominate force at PBR Australia events, winning three titles, including the first of his career on Nov. 4 in Jundah, Queensland. Schafferius' performances earned him a spot at seven Built Ford Tough Series events in 2017, with his best finish coming at September's stop in Colorado Springs where he was fifth. He concluded 2017 ranked No.46 in the world standings.
Nathan Burtenshaw (Coonamble, New South Wales): On the heels of a season which saw him travel to ride in the USA for the first time, Nathan Burtenshaw made an impressive run in 2017, returning to the states where he won the May Touring Pro Division event in Elmira, New York. After returning home to compete at PBR Australia events, he capped the nation's 2017 competitive season with a win at the finals as the only rider to go 3-for-3. He earned an invite to the September Built Ford Tough Series Event in Austin, Texas, where he finished a career-high fifth in his debut. Burtenshaw made his first appearance at the PBR World Finals on Championship Sunday when he replaced Dakota Buttar in Round 5.
Cliff Richardson (Gresford, New South Wales): After making the journey to North America in 2013 to compete in both Canada and the USA, the inaugural Global Cup will mark Cliff Richardson's first trip back in nearly four years. This season Richardson also won his first event title since 2013, when he was victorious at both the Townsville 15/15 Bucking Battle and Darwin Territory Day PBR Touring Pro.
TEAM BRAZIL – Robson Palermo, who has won 13 events at PBR's elite level, and is the only rider to win the PBR Built Ford Tough World Finals event three times (2008, 2011, 2012), including becoming the first rider to win the prestigious event in consecutive years, will lead Team Brazil. Palermo ranks 10th in PBR career earnings with $2,585,916.11, including $1,173,591.60 at the Built Ford Tough World Finals. 
Kaique Pacheco (Itatiba, São Paulo): Currently in his third season competing on the elite Built Ford Tough Series (BFTS), Kaique Pacheco was the No.2 bull rider in the world at season's end in 2015 and 2016, slipping to rank No.5 at the end of 2017. One of Brazil's young guns, the 23-year-old won two regular-season BFTS in 2017, including his repeat victory at Last Cowboy Standing, a PBR Major event.
Eduardo Aparecido (Gouvelândia, Goiás): For the majority of the 2017 season, one man, Eduardo Aparecido, held the world No.1 ranking. Having won a career-best three events on the Built Ford Tough Series (BFTS) in 2017, Aparecido finished No.4 in the World Standings and is sure to be a rider to watch at the inaugural Global Cup.
Fabiano Vieira (Pérola, Paraná): After making his PBR debut in 2006 in Brazil, Vieira moved to the United States in 2010 and has been a fixture on the elite Built Ford Tough Series (BFTS) ever since. This season Vieira captured his first Major event win when he took the title at the Music City Knockout in Nashville. The win propelled him within the Top 10 of the world rankings, a standing he held the remainder of the year, concluding 2017 No. 10.
Joao Ricardo Vieira (Itatinga, São Paulo): Since making his debut on the elite Built Ford Tough Series (BFTS) in 2013, claiming that season's Rookie of the Year title, Joao Ricardo Vieira has finished within the Top 5 of the world rankings at season's end in nearly every year of his career.
Rubens Barbosa (Iaciara, Goiás) Fresh off the best season of his career, Rubens Barbosa began the 2017 season winning the Built Ford Tough Series' second event of the year in Chicago, backed by two round wins. Barbosa went on to win three additional rounds (Anaheim, Kansas City and Raleigh) and logged six Top 10 finishes on the elite tour. 
Jose Vitor Leme, (Ribasdo Rio Pardo, MatoGrosso do Sul): In just his first-year riding at PBR Brazil events, Jose Vitor Leme made sure fans would not soon forget his name. After winning three events, including the national finals, Leme was named the 2017 PBR Brazil Champion. The title earned him an invite to compete at the Las Vegas Real Time Pain Relief Velocity Tour Finals, his first international event where he would finish second and go on to the PBR World Finals and stun the bull riding community. Leme would ride a perfect 6-for-6 to earn over $400,000 in ten short days on American soil, earning the event title, 2017 Rookie of the Year honor, and 2017 Lane Frost/Brent Thurman Award for covering Magic Train (Jared Allen Pro Bull Team) for 94.25 to win the championship round.
Guilherme Marchi, (TrêsLagoas, MatoGrosso do Sul): This season Marchi etched his name in the record books when he became the first rider to log 600 qualified rides on the elite Built Ford Tough Series (BFTS). The 2008 World Champion has qualified for 14 PBR World Finals. Marchi had a second-half surge on the elite BFTS in 2017, finishing runner-up at the last regular season event of the year in San Jose, California where he rode all three of his bulls. 
TEAM MEXICO – Michael Gaffney, the 1997 World Champion, coaches Team Mexico. During his career, Gaffney, one of the founding members of the PBR, successfully rode the legendary Little Yellow Jacket 96.5 points. That 2004 ride in Nampa, Idaho, was the last time a rider reached the 96.5-point mark, which is the highest numerical score in PBR history.
Edgar Durazo (Moctezuma, Sonora): In his seventh season with the PBR, Edgar Durazo competed at 28 events across both Canada and the United States. His season, which included seven Top-5 and 18 Top-10 finishes, was highlighted by two event wins. His first title came at the start of the season, winning on the Real Time Pain Relief Velocity Tour in Kearney, Nebraska, while his second came in Saskatoon, Saskatchewan at the 2017 PBR Canada Finals.
Francisco Morales (Irapuato, Guanajuato): Competing with the PBR since 2004, the 35-year-old veteran rider traveled to three countries, Canada, Mexico and the USA, to solidify his place in the rankings and earn a spot on Team Mexico. At the 13 events Francisco Morales entered he recorded two wins in his home nation, taking the buckle at the San Luis Potosi Challenge and Zacatecas Challenge. His 2017 performance earned him a bid to compete at the Real Time Pain Relief Velocity Tour Finals in Las Vegas, Nevada as the No.1 rider in Mexico.
Juan Carlos Contreras (Huichapan, Hidalgo): Entering 32 different events across four different PBR tours in both Canada and the USA, Juan Carlos Contreras' 2017 season included six Top-5 and ten Top-10 finishes. The 27-year-old's highest finish in 2017 was third, which he earned twice, first in Texarkana, Arkansas and second in Perkins, Oklahoma, both at the Touring Pro Division (TPD) level. 
Ricardo Orozco (Salamanca, Guanajuato): Finishing in the Top 10 of all but one PBR event he rode at in 2017, Ricardo Orozco found himself in the winner's circle at the end of the very first event he entered this season. After winning the April PBR Mexico Touring Pro Division event in Texcoco, Orozco earned two additional Top 10 finishes. 
Alejandro Gamboa Calvo (Montecillos, Alajuela): In just his third season with the PBR, the 27-year-old earned three Top-10 finishes at the six events he entered in 2017. For Alejandro Gamboa Calvothe best finish of his season came at the Mexican Touring Pro Division event in San Luis Potosí where he was second.
Jhonatan Santillan (Matehuala, San Luis Potosí): After completing his rookie season in 2016, logging two Top 10 finishes at seven events, Jhonatan Santillan had a breakout year at PBR Mexico events in 2017, entering four and finishing third twice and fourth once.
Alfonso Orozco (Salamanca, Guanajuato): First joining the PBR in 2007 Alfonso Orozco has won three events in his tenure with the league. Having competed in PBR events in three countries, Brazil, Mexico and USA, Orozco has ridden on the elite Built Ford Tough Series (BFTS), making his debut in 2013 at the Kansas City event.
TEAM USA – Two-time PBR World Champion and Team USA coach Justin McBride won $5.1 million during his PBR career, the fourth-most in PBR history. McBride was inducted into the PBR Ring of Honor in 2008 and leaves the broadcast booth to lead Team USA.
Derek Kolbaba (Walla Walla, Washington): After the best season of his young career, Kolbaba won a Built Ford Tough Series-best five regular season events (Oklahoma City, Little Rock, Uniondale, Colorado Springs and San Jose). After winning his most recent title in San Jose, Kolbaba climbed to the No.1 spot in the world rankings for the first time in his career and finished No.2 to 2017 World Champion Jess Lockwood by less than 500 points. 
Cooper Davis (Jasper, Texas): Fresh off winning his first world title in 2016, Cooper Davis contended again until Championship Sunday of the 2017 PBR Built Ford Tough World Finals where he would end the season in the No.3 spot in the World Standings.
Cody Teel (Kountze, Texas): In his rookie year with the PBR, 2012 PRCA Champion Cody Teel has been a consistent face in the world's Top 15. Teel went into the PBR World Finals a top contender in the Rookie of the Year race after logging seven Top 10 finishes, including an event win in Glendale, on the elite Built Ford Tough Series (BFTS). Teel has had success in Canada before, claiming $100,000 at the Calgary Stampede in 2016.
Stormy Wing (Dalhart, Texas): A 10-year PBR veteran, Stormy Wing's 2017 season was one for the record books. With two event wins on the Built Ford Tough Series, Wing delivered one of the year's most memorable moments when he rode SweetPro's Bruiser for a league-leading 95.25-points to win the title in Albuquerque.
Cody Nance (Paris, Tennessee): 2009 Rookie of the Year Cody Nance, originally an alternate for the Team USA squad advanced to the team after injuries afflicted members at the World Finals. In his ninth appearance at the elite event, Nance went 1-for-5 to finish 2017 No. 17 in the world.
Brennon Eldred (Sulphur, Oklahoma): Finishing 2017 ranked No.27 in the world standings, Brennon Eldred is coming off a 2-for-5 showing at the Built Ford Tough World Finals, where he rode Cooper Tire's Brown Sugar for 89.25 points. Eldred is one of a few professional bull riders in recent years to qualify for both the National Finals Rodeo and PBR World Finals in the same season.
Cole Melancon (Liberty, Texas): At 23 years old, Melancon won a national collegiate bull riding championship in 2017 and finished the PRCA regular season in eighth place to qualify for the National Finals Rodeo in Las Vegas. Going 1-for-3 at the 2017 Real Time Pain Relief Velocity Tour Finals two weeks ago, he will be fresh compared to the riders that competed at the World Finals last weekend. 
FAMILY AFFAIR – Two sets of brothers are set compete over the next two days at the PBR Global Cup. One will be a set of Canadians in bullfighter Jesse Byrne and younger brother and bull rider Tanner Byrne. Their father, Ryan Byrne has brought bulls to Rogers Place as part of Flying Four Bucking Bulls Inc. Australia's Lachlan Richardson, a fixture on the PBR's Built Ford Tough Series, will ride alongside older brother Cliff, who last competed in PBR Canada competition in 2013.
MORE INFORMATION – For more information on the world's premier bull riding organization, please visit the official website at www.PBRCanada.com.  
FOLLOW THE PBR ON FACEBOOK - Follow the Professional Bull Riders Canada on Facebook at www.Facebook.com/PBRCanada.
FOLLOW THE PBR ON TWITTER - Follow the Professional Bull Riders Canada on Twitter at http://twitter.com/PBRCanada.
FOLLOW THE PBR ON INSTAGRAM - Follow the Professional Bull Riders Canada on Instagram at https://www.instagram.com/pbrcanada/.