Global Cup Qualifier to Showcase Canada's Finest
By: Ted Stovin Thursday, October 26, 2017 @ 9:00 AM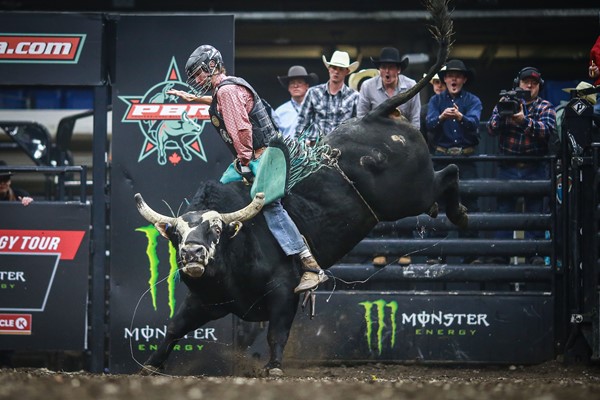 EDMONTON, Alberta – As host nation for the inaugural PBR Global Cup, Team Canada will compete with an expanded 14-man roster. While five spots have already been filled, the National Qualifier on Nov. 9 will reveal the remaining nine riders set to help lead Canada to international bull riding glory.   
While current Team Canada members Dakota Buttar, Brock Radford, Zane Lambert, Justin Lloyd and Cody Coverchuk automatically qualify to compete at the first night of action at Rogers Place, 19 spots remain to be filled for the 24-rider event.
At Thursday's qualifier, five Canadian bull riders will qualify for Team Canada via their performance through two rounds of competition.
Following the two rounds of competition, the top five riders in the aggregate scores who have not already qualified will earn a roster spot.
Team Canada Coach Aaron Roy will then fill the remaining four spots with his picks, while one alternate will also be chosen for the remaining two days of international competition.
Across the three days of action, each Canadian bull rider will have the opportunity to earn more than $130,000, with Thursday's night event featuring $70,000 in added prize money with no entry fees.
Set to compete for one of nine remaining spots on the Team Canada are: 2015 PBR Canada Champion Tanner Byrne; 2017 PBR Canada Rookie of the Year Coy Robbins; Lonnie West, Logan Biever, Cole Young, Kyle Primeau, and Fabian Dueck. While Dueck hails from Paraguay, he holds dual citizenship and permanent residence in Canada, allowing him the opportunity to compete.
Cadogan, Alberta's West ended the 2017 PBR Canada season as the No.4 ranked rider in the nation after hitting a hot streak in the second half of the season. The 21-year-old finished in the Top 10 of the final three events of 2017, including earning the first win of his PBR career in Abbotsford on Oct. 14.
Claresholm, Alberta's Biever established himself as a top contender for Team Canada after going 2-for-3 last weekend at the PBR Canada Finals.  At the Saskatoon event, he rode World Finals bucking bull Minion Stuart (Skori Bucking Bulls) in the Championship Round to finish third overall.
Gwynne, Alberta's Primeau made his return to the PBR in October to qualify for the 2017 Canadian Finals after a year away from competition. In Saskatoon, he rode both bulls attempted, finishing eighth overall.
Tickets for the highly anticipated Global Cup are on sale now and can be purchased at RogersPlace.com.
Be sure to stay tuned to PBRCanada.com and follow the tour on Facebook (PBR Canada), Twitter (@PBRCanada), and Instagram (@PBRCanada) for the latest results.