Living the Life in the Presence of a Legend
By: Ted Stovin Thursday, December 21, 2017 @ 5:33 PM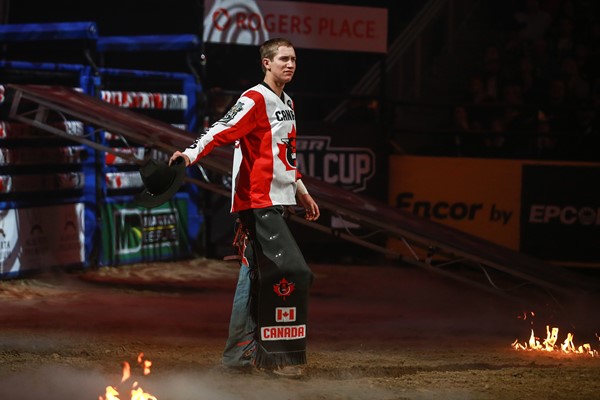 CALGARY, Alberta – On March 24, 2000 Canadian bull riding phenom Glen Keeley lost his life from injuries sustained in the arena in Albuquerque, New Mexico. 
Two years prior, a future star was born, in Logan Biever of Claresholm, Alberta.
In 2014, at the age of 16, and still in high school, Biever earned more than $10,000 in his first year on the road competing as a bull rider. 
In his sophomore season, success wouldn't come as easy. 
However, when he turned 18 in 2016, Biever had a breakout performance in PBR Canada competition when he was third in Moose Jaw, Saskatchewan.
From there he would go on to qualify for the PBR Canada Finals, contend for a Rookie of the Year title. 
"Last year I actually hit it harder than I did this year," Biever said of the recently concluded 2017 season in comparison to his rookie season.
"This year halfway through I had to take a little bit of a break and didn't hit it as hard. Last year, that was my goal, to win Rookie of the Year, but I didn't quite make it there."
RELATED: Biever Begins US Push After Global Cup Confidence Boost
Biever credits his rising success to being around the right people and getting on the rankest bulls as a youngster.
And getting on those buckers isn't hard, especially now that Biever lives with side-by-side with the animal athletes at the home of Ty and Lucy Streeter of Wild Hoggs on their ranch near Nanton, Alberta.
"I mean you're around it all the time," he said.
"You've got positive influence coming in, you've got positive influence coming out, so it's just bull riding all the time. Before you live and sleep and eat it, and now you're getting fed it." 
"That's all you learn and you get to pet some of those bulls you're getting on, so it just helps 110% that's for sure."
While the living arrangement may be new, the young rider and established stock contractor family have history that dates many years.
"Ever since I was 16 I was able to get on some of the best bulls in the world," Biever said of his frequent trips to the ranch as an up-and-comer.
"At the time they were just calves, but they ended up to be Liquid Fire and Hey Jack and some of them bulls. They would bring them to town and we'd get on about 12 bulls in one night and from there it just kind of escalated."
His career escalated into Biever earning a rodeo scholarship to a school stateside in Wyoming, and a second consecutive PBR Canada Finals qualification before the age of 20.
Adding to his list of accomplishments, Biever was also one of 14 riders who competed for Team Canada at the inaugural Global Cup in Edmonton, Alberta. 
As an up-and-coming professional rider, hard work extends into the week while he starts to make a living.
"During the week I'm just working a little bit for Justin Keeley trying to make my own way," Biever said. 
Justin, Glen Keeley's youngest brother, is a PBR Canada judge and part owner of the Southern Alberta Livestock Exchange. Justin took over the family ranch in 2016 after the passing of his mother, Donna.  
RELATED: Remembering Glen Keeley
For Biever, spending his days where Glen Keeley grew up have proven inspiring.
"It's just awesome," Biever said. 
"Just to see where Glen bucked bulls and what not, I mean I stood in the chute and I told Chase (Keeley, Justin's son) I couldn't believe they bucked bulls down there."
And they weren't just any bulls but the rankest ones.
"They got on good bulls, a lot of good bulls got run through there," Biever said. "I stood there and couldn't believe they bucked them in a Quonset like that."
"Now days you can't find guys to get on practice bulls at a good arena with good bulls and good chutes and they were getting on bulls in that arena. I just found that crazy."
Glen rests on top of a hill at the Keeley ranch, and Biever added that he can pay his respect to the champion at any time. 
Glen Keeley may have passed away while Biever was only two years old but his legend and attitude live on forever in the next generation of professional bull riders in Canada.
Be sure to stay tuned to PBRCanada.com and follow the tour on Facebook (PBR Canada), Twitter (@PBRCanada), and Instagram (@PBRCanada) for the latest results.