Pound the Alarm Retires on Top at PBR Global Cup
By: Ted Stovin Wednesday, November 15, 2017 @ 5:50 PM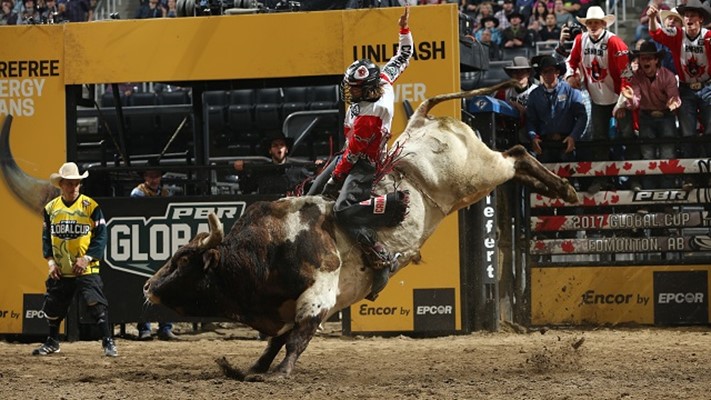 EDMONTON – In the PBR, there is an elite set of bulls that produce scores in the 90-point range.
That list is very short. Shorter yet for bulls that accomplish the task and hail from Canada.
"He's the best bull that's come from our program," said Justin Volz of Wild Hoggs Bucking Bulls with operations in Marwayne and Nanton, Alberta.
In 59 recorded outs at all levels of competition on 917 Pound the Alarm, 20 resulted as qualified rides. Of those 20 rides, five were for 90 points or more; 11 were marked 89 or higher and none were scored less than 85 points. Seven of the 20 were for round wins, while 15 of the 59 outs he was the top-marked bull.
"We just felt like it was time to call it a career for him," Volz said. "He's had a great career and is starting to slow down a little bit. He had two good trips up at the Global Cup and we figured it was time to call it a career."
Pound the Alarm was the high-marked bull on Thursday night at the Monster Energy PBR Team Canada qualifier at Rogers Place after bucking off rookie sensation Coy Robbins.
On Saturday, the three-time PBR World Finals bucking bull teamed up with fellow Canadian Lonnie West for 86.5 points. 
"He went out with a couple of good outs," Volz said, noting how cool it was for a Canadian to ride the bull on his last out on the world's stage.
"That was an outstanding event," said Volz, who is one of a handful of Canadians to win an event on the PBR's Built Ford Tough Series and qualified for the 2002 PBR World Finals. "That ranks right up there with the PBR World Finals as far as production and the caliber of bull riders, everything like that. The crowd was awesome. That was one of the coolest events I've ever been to.
"The whole team atmosphere behind the chutes, and the crowd – they weren't only cheering for Canadians, but they cheered for anybody that made a good ride, and they went wild when their Canadians did also. It was awesome. That building is amazing. Everything about it was as cool as it gets right there."
In the history of ProBullStats.com, "Pound" – as he's called by part owner Corey Chmelnyk –ends his career ranked No. 74 all time.
"He's a half-brother to Trendon (and) he's a half-brother to Ulterra's Teal Steel," Volz said of Pound's parentage.
Born at the Streeter Ranch west of Nanton, Alberta, in 2013, Pound the Alarm won the PBR Canada Bull of the Year title and PBR Canada Bull of the Finals title in 2013. That same year he would go on to the PBR World Finals and appear in the championship round. There, he would match up with Shane Proctor for a score of 90 points.
Pound the Alarm was then purchased by Gene Owen and Jimmy Roth. He would live in the United States and compete on the Built Ford Tough Series until this past January.
"We were able to buy him back," Volz said, adding that Pound the Alarm have contended for the past two years. "He's just not the same as he was when he was four and five, but he's still a good solid bull.
"That bull has won a lot of people a lot of money over the years, so it's pretty cool."
At 8 years old, Pound the Alarm could potentially keep going, however that isn't the wish for owners Corey and Jodi Chmelnyk, Ty Streeter and Volz.
"He's got a touch of arthritis in his hocks so that was one of the factors," Volz said. "But he's still sound and still travels well. We're going to bring cows to him. He's kind of a special bull to us, so we didn't want to just keep hauling him and let guys keep riding him. When he was on his day there wasn't a lot of people that could ride him."
In the beginning of his career, Pound the Alarm had a touch of attitude.
"He'd buck you off and he'd hook you," Volz said. "He was the real deal when he was younger. He's settled down quite a bit now. He doesn't mind a good ole' back scratch. Now he walks to the fence and lays on the fence and lets you scratch him and then he'll turn around and lay on the fence again and wait for you to scratch the other side. Then when he's tired of that he'll go back to his feed."
As holds true for some other bulls, development came along later on in the process.
"As a young bull, he wasn't the best," Volz said, adding he had never been used for breeding at that point, further enticing the desire to bring him back to Canada.
"We had hoped that he might win another PBR Canada Bull of the Year," Volz continued. "But he just wasn't there. He's had a couple trips this year where he was rank, but most of his trips this year he's been just good. So we decided to retire him and he can live it out with the ladies.
"Now we're going to use him as a herd sire and hopefully we'll get some more like him or better than he was."
In addition to bringing home Pound the Alarm, the Wild Hoggs firm is working on bringing home the first bull that ever went to the PBR World Finals for them in Gas Tank.
"He's a little bit older, like he's 10 turning 11, but it would be cool to get him home too," Volz said. "He went to the PBR Finals twice, Trendon went once and Liquid Fire went twice. So kind of the only one we won't get back is Hey Jack."