Radford Out For 'Blood' After Missing PBR World Finals
By: Justin Felisko Friday, November 24, 2017 @ 3:44 PM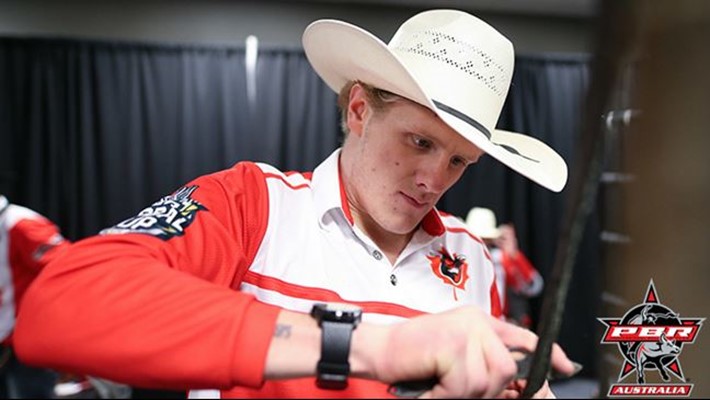 PUEBLO, Colo. – Brock Radford hasn't forgotten about how bad defeat tasted at the conclusion of the 2017 season.
The 22-year-old was sitting at home watching 40 of the top bull riders in the world compete at the PBR World Finals last month and he couldn't help but be disgusted with himself.
Radford is confident he is one of the Top 40 riders in the world and has vowed to make sure he proves that in 2018.
"Oh man, watching the World Finals at home sucked," Radford said during the inaugural PBR Global Cup earlier this month. "I never, ever want to do that again."
It could have been a very different ending to 2017 if Radford had ridden both of his bulls on the final night of the 2017 PBR Canada Finals.
Two qualified rides, and potentially one, would have given Radford the 2017 PBR Canada championship and a spot at the Real Time Pain Relief Velocity Tour Finals in Las Vegas.
Radford, who had begun the Canadian Finals ranked No. 1, then could have attempted to earn a Wild Card spot for the World Finals.
Instead, he was left at home wondering what could have been after bucking off Buck Nasty in 7.81 seconds.
"I was riding (Buck Nasty) and it was one of those deals he got me right at the buzzer," Radford recalled. "I couldn't find anymore seconds so it cost me. That was another thing. It lights a fire under you more. I was kind of losing it.
"The best thing that ever happened to me right now was losing Canada. Now I am out for blood. The World Finals is a goal of mine, but I also want to get to the Top 25 too. I know I can do it. I cracked the Top 35 (in 2017) and that is my plan for this year."
Despite his frustration with how the season ended, Radford showed tremendous potential in 2017.
He set a PBR Canada record by winning four consecutive events over the summer to rise from No. 11 to No. 1 in the PBR Canada standings, where he would stay until the final round of the PBR Canada season.
Radford then made his PBR Premier Tour debut a month later in Springfield, Missouri, and competed in three additional events before getting intensely sick.
The Dewington, Alberta, bull rider had gone 2-for-2 in Uniondale, New York, before doctoring out of the championship round with a severe stomach virus.
Radford was unable to hold any fluids or liquids and missed the next event in Colorado Springs.
The illness was a tough break for Radford, who was excited to have finally made it to the PBR's highest level of competition.
"Last year, everything was new to me," Radford said. "Getting into Calgary, and then not long after that my first BFT. Everything was brand new to me. Now I am getting settled down into these bigger events and bigger venues. Just not letting these things get to me.
"I am so excited. I want to get a full year of it."
Radford went 29-for-78 (37.18 percent) at all levels of PBR competition with five wins, 10 Top-5's and 17 Top-10's.
Zane Lambert was able to pull off his come-from-behind run to win the 2017 PBR Canada title seeing as Radford had bucked off his final two bulls in Saskatoon.
Lambert believes the loss can actually help propel Radford to new heights in 2018.
"He got a little taste of defeat," Lambert said. "You always have to go through a little defeat to get that hunger to get that win. He has already felt some of that in his young career and that is just shaping and carving him into a better cowboy. He is definitely one of those guys to watch coming up. He has my vote to being a champion next year."
Radford hasn't wasted his opportunities either since that heart-wrenching defeat.
He bounced right back (3-for-4) in Edmonton at the Global Cup before heading to Australia for the upcoming PBR run of events.
"Brock is going somewhere," Lambert said. "He has a lot of grit and that is what it takes to ride bulls. Not only does he have a lot of heart, but he has a lot of grit and is tough. He is going to be around for a long time. Being as young as he is, and as good as he is, I really think he is a strong contender for the (PBR's top tour).
"He is talking about it and is hungry for it. He wants it."
Radford made his 2018 season debut last weekend and placed fourth (20 world points) at the PBR Australia Iron Cowboy event in Townsville by going 2-for-5.
"Momentum," Radford responded when asked about his decision to head to Australia. "That is what it is all about. That is the biggest thing in this game. You let it go the other way and it snowballs on you. The only way to ride out of a slump is to ride out of it. Momentum is the worst thing. As soon as it starts going the wrong way you can't stop it, then when it is going the good way you can't stop it.
"Getting some momentum into 2018 would be a good thing."
Follow Justin Felisko on Twitter @jfelisko