Red Hot Radford
By: Kacie Albert Wednesday, August 30, 2017 @ 12:24 PM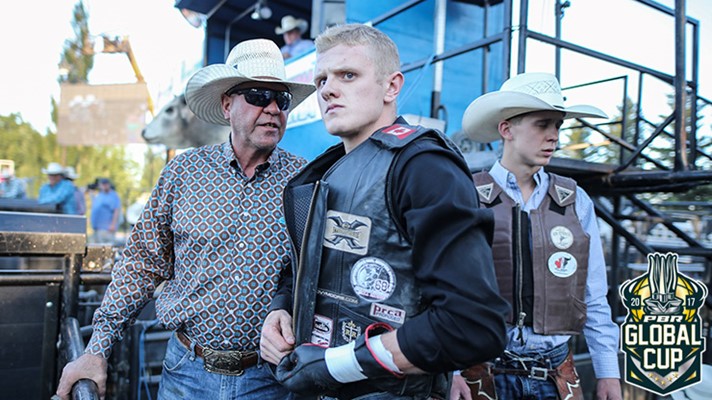 TORONTO – The headlines at event's end for the last four PBR Canada Touring Pro Division events have read much the same – Brock Radford Wins.
Since the end of July, the 22-year-old DeWinton, Alberta, native has won every Canadian TPD event he has entered.
RELATED: Radford Wins North Battleford
"I honestly have no idea," Radford quipped when asked what was fueling his win streak. "Just staying healthy, and I've got a good group of guys I'm in with."
Radford has been traveling with Todd Chotowetz, Coy Robbins, Bryce West and Lonnie West.
(We've) all got a great mindset and attitude on how we approach each event," Radford said. "(I'll) keep doing that. Not change anything. It's working."
Prior to his recent burst of success, Radford had won just one PBR event in his career, taking his first title in Swift Current, Saskatchewan, this past May.
Before his streak began, Radford was ranked No. 11 in the PBR Canada national standings and more than 200 points outside the Top 35 of the PBR world standings.
Now, after tallying four event titles, and earning $18,445.85 CAD and 1,340 Canadian points, Radford sits atop the PBR Canada standings.
RELATED: Radford Wins Inaugural Touring Pro Event in Kelowna
Radford's hot streak began on July 27 when he won the 4th Annual Gold Eagle Casino PBR Classic in North Battleford, Saskatchewan.
He followed that eight days later with a victory at the inaugural TPD event in Kelowna, British Columbia.
Then came back-to-back wins in his home province in Elnora and Coronation.
Radford overtook Cody Coverchuk for the No. 1 spot in the PBR Canada rankings following his win at the 19th Annual Elnora Brahma Rama.
RELATED: Radford Wins Elnora
His win just four days later at the 17th Annual Coronation Royal Rumbull allowed him to further cement his place atop the rankings, expanding his lead over No. 2 Coverchuk to 706.66 points.
RELATED: Radford Sweeps Coronation
In addition to winning each event title, Radford's surge up the standings was also backed by successful outings via his double entry at each stop. Complimenting his wins, Radford also finished sixth in Kelowna and Elnora and second in Coronation.
While Radford has rocketed up the Canadian national standings, the 271.33 world points he has earned this past month have also allowed him to climb to No. 36 in the world standings. He's now knocking on the door of the elite Built Ford Tough Series.
"I think I went from low 60s, to 50. Then to 40, and now at 35. It's been good," Radford said. "I don't know. I'm just having fun." 
Despite the invitation to the BFTS event in Thackerville, Oklahoma, this weekend, Radford's focus remains in Canada.
He wants to win the 2017 PBR Canada Championship.
Then he wants to lead Team Canada at the inaugural PBR Global Cup.
"I started thinking about this, I want to go to the Built Ford Toughs, but I also want to win the PBR Canadian title," Radford said. "I'm kind of taking one out of (Ty Pozzobon's) handbook.
"He focused on what he wanted first and then let the rest take care of itself. I really want to get the PBR Canadian title. So if I need to do that and stay here to make the World Finals, and get to some Built Ford Toughs, then that's what I want to do."
And for Radford, winning the PBR Canada title is just as important as riding for Team Canada at the Global Cup.
"I've had my eye on that," Radford said. "To be able to represent my country is a pretty cool thing. It's a big opportunity for guys who want to do it. I'll go and ride against the best and try to represent Team Canada the best I can."
RELATED: PBR Announces Qualifiers for Inaugural Global Cup Event
Radford is one of five riders already named to Team Canada, joining Dakota Buttar, Jordan Hansen, Justin Lloyd and Coverchuk.
"My whole reason on why I'm going is to represent Canada on the world stage," Radford said. "That opportunity doesn't come around very often, so it's quite the honor to wear the colors for your country. Growing up, the only time we really wear colors is in hockey, so this is pretty cool."
As the host nation for the inaugural event, Canada will compete with 14 riders, while each visiting country will field a team of seven.
The remaining members of team Canada will be selected by the national qualifier, in addition to a coach's pick from Team Canada's coach, Aaron Roy.
RELATED: PBR Announces International Coaches for PBR Global Cup
"It's looking like we've got a pretty good team to go in there with," Radford said. "There are a few guys that can be in there if they want to, but a lot can change from now until November."
The inaugural Global Cup comes with extra sentiment for Team Canada as the host nation.
RELATED: PBR Global Cup Will Come to Edmonton
"Competing in your home country, that will be awesome," Radford said. "It'll be an experience, that's for sure."
And he's especially enthused to ride in Edmonton, Alberta's, state-of-the-art Rogers Place.
"It's a nice building. It definitely makes you feel like a gladiator when you're down on the arena level," Radford said. "It's definitely one of the biggest buildings I've been in. It'll be outstanding to see a bunch of cheering fans in all of the seats."
However, before the Global Cup kicks off with the Canadian qualifier on Nov. 9, the PBR Canada schedule includes three Monster Energy Tour and two TPD events, beginning with the Glen Keeley Memorial Bull Riding on Sept. 2. 
Despite a more than two-week break, Radford's plan when PBR Canada's Touring Pro Division returns to action is simple.
"Just not thinking, letting it happen, not really putting too much thought and over-thinking stuff," Radford said. "Just going there and getting on whatever I've got to get on, no game plan, riding them jump for jump. It's what everyone says to do but sometimes it's the hardest thing to do."
Action in Stavley, Alberta for the Glen Keeley Memorial Bull Riding at Stavely Arena gets underway at 7 p.m. MT on Saturday Sept. 2.
Tickets for the highly anticipated Global Cup are on sale now and can be purchased at RogersPlace.com.
Be sure to stay tuned to PBRCanada.com and follow the tour on Facebook (PBR Canada), Twitter (@PBRCanada), and Instagram (@PBRCanada) for the latest results.