Roy: "I would rather break my back again"
By: Justin Felisko Wednesday, November 22, 2017 @ 2:13 PM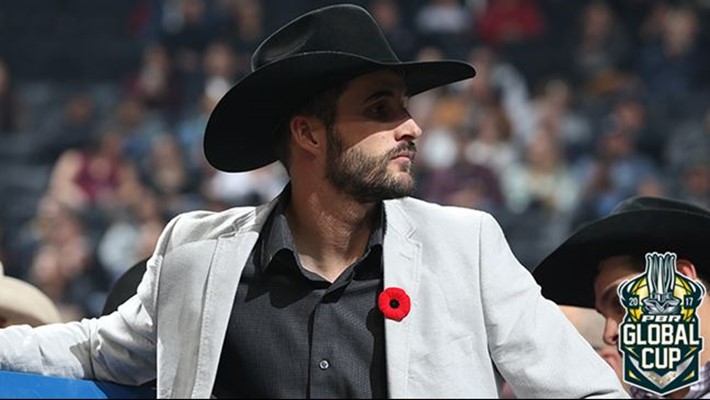 PUEBLO, Colo. – Aaron Roy was sitting at home last year in Yellow Grass, Saskatchewan, when his right leg became to spaz uncontrollably.
For 24 hours, Roy twisted, turned, screamed vulgarities and laid there helpless as his recently broken leg nearly doubled in size.
The swelling wouldn't stop.
The pain was unbearable.
"It was the worst pain I ever felt in my life," Roy said two weeks ago at the inaugural PBR Global Cup. "I told people I would rather break my back again than break my leg."
To think Roy would rather break his back again like he did at the 2013 Calgary Stampede really puts into perspective just how painful the last year has been for the 30-year-old.
RELATED: Roy comes full circle in Calgary
It was at the 2016 PBR World Finals when Roy got hung up and tossed underneath Locked and Loaded in one of the most vicious wrecks in recent memory at the PBR World Finals.
As Roy remained stuck in harm's way during his Round 1 ride attempt, Locked and Loaded's hoof came crashing down on Roy's right femur.
Those inside the arena on the dirt level could hear the bone snap.
The injury brought back immediate memories of Roy's scary wreck at the Calgary Stampede when Gretzky stepped on Roy's lower back and nearly paralyzed the five-time Glen Keeley award winner.
It took Roy a vigorous 15 months of rehab and physical to therapy to make a return back to the PBR in 2014.
As Roy lay unconscious inside T-Mobile Arena, people immediately asked if Roy's back, which has two rods inside it from his Calgary wreck, was OK.
His back was fine, but the leg has since turned into the most painful injury/recovery he has ever gone through.
Roy was recently featured in the second episode of go90's I Got Wrecked Series.
Roy had two screws and a rod inserted into his leg at the University Medical Center's Trauma Center in Las Vegas.
A month after the surgery, the bottom screw snapped off the rod and, according to Roy, is "floating around somewhere in there."
Roy's leg has also begun to negatively react to the medically inserted rod. Therefore, Roy will need to potentially undergo another minor surgery this year.
"The back (in 2013), I had no pain at all the whole time," Roy said. "(This year) there were times I was roping calves where I would just let go because (my leg) hurt so bad."
Roy says he is about 75 percent healthy, but he is still not cleared to return to competition even though he feels like he could ride.
And, yes, Roy is planning on returning to competition again at some point in 2018, possibly around the spring time.
This is the second time in four years he has missed over a year because of a significant injury.
Roy also needs a full right leg reconstruction to repair multiple torn ligaments, but he may hold off on that seeing as it would involve an additional six months of recovery.
"I am hoping to be able to start riding some next year, but I doubt it will be on the Built Ford Tough," Roy said. "I am just hoping to get back on in Canada."
Roy finished the 2016 season 29th in the world standings after going 20-for-71 (28.17 percent) with six Top-10 finishes in 26 events. The 26 events were the most Roy competed in since 2012 – the year before his broken back.
He actually has eight guaranteed events on the PBR's premier tour in the United States if he chooses to make a return to the U.S. in 2018 and potentially try to make a run at qualifying for the PBR World Finals.
Roy wasn't ready to comment on what his long-term plans may be, including making a run at appearing in his eighth World Finals.
However, he did say there is no question that he wants to come back at least on a part-time basis.
He judged some PBR Canada Monster Energy events this past season and there were times he would see riders bucking off and think to himself, 'I am sure I can ride that bull.'
"I want to get back on," Roy said. "There have been a couple of events with open bulls and I wanted to get on. Everything feels like I can, but I don't want to chance it."
Roy has also enjoyed being home with his wife, Hallie, and their two kids, Axel and Lux.
Hallie has gotten back into barrel racing, which has allowed Aaron to be on the opposite side of the arena for a change.
"I have gotten pretty used to staying at home," Aaron said. "I have two kids now. One kid is bull riding everything and the other is 5 months old. I have gotten used to staying at home and going everywhere with the kids. Hallie wants to barrel race more too. This last year has been pretty fun staying at home and traveling with her. It has been kind of different with me there supporting her instead of her here supporting me."
Roy recently coached Team Canada to third-place finish at the Global Cup in Edmonton, Alberta, he may be able to return to riding in time for the next Global Cup in Sydney, Australia, on June 9-10.
If he were to be available, he could be a strong boost to the Canadian roster.
Regardless of if he rides for Team Canada or if he rides at the 2018 World Finals, Roy is just excited about a return to bull riding at some point.
He also is keeping a positive attitude about his recent string of injuries.
"I should be done now," Roy concluded with a laugh. "I broke the two biggest bones in the body."
Follow Justin Felisko on Twitter @jfelisko