Team Canada Proud of Bronze Showing at PBR Global Cup
By: Ted Stovin Sunday, November 12, 2017 @ 9:29 AM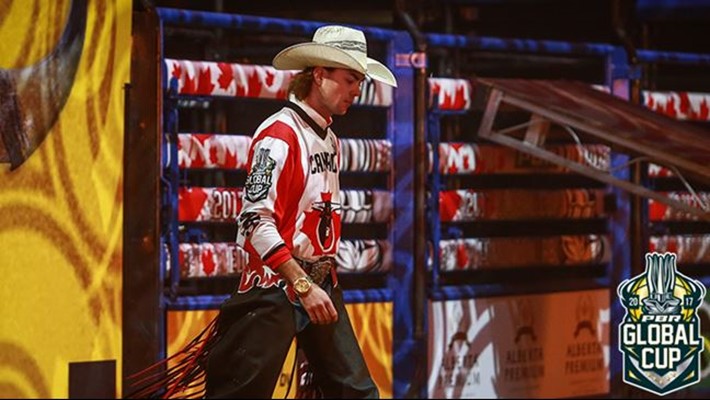 EDMONTON – Despite having double the contestants at the inaugural PBR Global Cup at Rogers Place, Canada was still considered an underdog.
Dakota Buttar was the top ranked Canadian in the world standings, coming in at No.26. Next to him was No. 45 Brock Radford, No. 50 Zane Lambert, No. 59 Justin Lloyd and No. 68 Lonnie West.
The five riders accounted for seven of Canada's 10 qualified riders and did so with only 12 outs. The remaining three rides came from the remainder of Team Canada in No. 101 Tanner Byrne, No. 152 Coy Robbins and the unranked Ty Patten.
In comparison, every single member of Team Brazil, including alternate and three-time World Champion Silvano Alves, was ranked ahead Buttar.
Buttar missed Saturday night's competition after sustaining three fractures in his left foot during a dismount from Big Shot on Friday night. Coy Robbins was removed from competition due to a concussion. 
The winning team from the United States consisted of bull riders ranked from No. 2 to No. 27 along with Cole Melancon, who was not ranked.
Even Team Australia's Top-7 were ranked from No. 35 to No. 60.
Team Canada finished the competition in third place for $70,000 in prize money to split 14 ways. At the top of the earnings column over three days was the PBR Monster Energy Team Canada qualifier event winner, Lonnie West, who finished ninth at the Global Cup, earning over $31,000 in three days.
"I've realized this Built Ford Tough atmosphere, the PBR, is where I want to be," West said. "This was the most badass event I've ever been to."
As the last man to ride on Remembrance Day, West had the entire home crowd was on its feet, despite the event title already being decided for Team USA.
Pride in the nation of Canada was at an incredible high.
"I didn't finish how I wanted to, but my confidence is at an all-time high right now," West said. "I'm ready to go. I'm ready for Sydney, Australia, right now and it's all up from here. It's good to see that we know where we are at. I'm stoked."
The next PBR Global Cup is scheduled for Sydney on June 10-11, 2018.
Prior to the PBR Global Cup, the pinnacle of West's career was at another event in Edmonton.
"When I first made the CFR, I thought that was the most amazing thing ever," West said. "Walking down that alley, going to the bucking chutes at the (Canadian Finals Rodeo) was the highest point of my life."
That all changed this week.
"Then I came to the Global Cup," West continued. "All of a sudden your whole team (and) every single Canadian is rooting for one another. It's not a competition about beating this team or beating that team, it's just riding your bulls with your team behind you. This is the best atmosphere I've ever been to. I can't even describe it. It was so fricking amazing. This Global Cup, I don't know if we will ever top this feeling."
Winning will probably top the feeling, but, for now, Canada will have to wait.
"This is the high of my career right here," West said. "I wish I could have finished a little more on that last one, but the whole team standing behind one another was unreal. The crowd, when I was getting on that last bull, holy shit, I didn't know (they were all on their feet). The support is unreal. I can't believe it."
Even more special was the fact that the finale of the Global Cup concluded on Remembrance Day, celebrating those who have fallen for the love Canada.
"I am so proud to be a Canadian. I've never been so proud in my life," West said of the opening ceremonies, which included eight Canadian forces repelling from the ceiling.
"To be on Team Canada on Remembrance Day and we went fricking out with a bang with the guns blazing. It was good, it was awesome. I would love to do this, if we could do this every freaking weekend that would be awesome, holy smokes."
West reflected more on the week that was following the event.  
"This is the top of my bull riding career," he concluded. "I've never won $30,000 in a weekend. That's fricking unreal. That hasn't sunk in yet alone yet right there. It's awesome. I love it. I'm pumped."