The Morning Line: PBR Global Cup - Day 1
By: Slade Long Thursday, November 9, 2017 @ 7:09 PM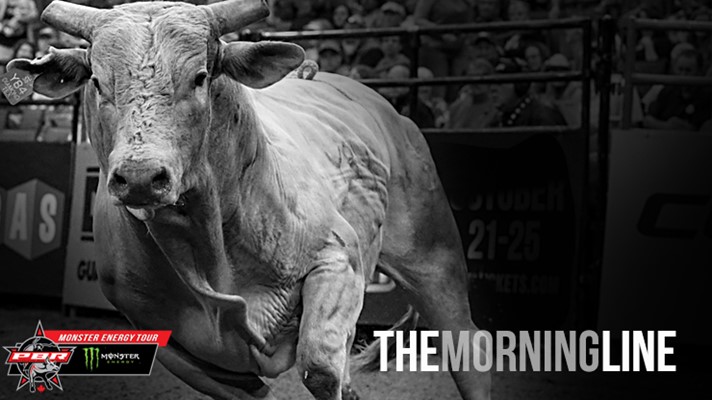 EDMONTON, Alberta -- The opening round of the Global Cup event is a qualifier meant to fill out the Canadian team. All of the riders and bulls out tonight are Canadian, and the riders should be very familiar with all the bulls here. The overall bull power will be noticeably lower than what you typically see at a BFTS level event, but in round two there will be less of a gap. The round two bulls are significantly stronger than the round one group tonight, including a number that have been to the World Finals. 
Round 1
Zane Lambert on 464 Hollywood Undead:
This bull is similar to Chad Berger's Brown Sugar in that he will look one way and go the other. He should end up in a spin to the left, but Lambert should be able to handle going away from his hand. Lambert is riding well right now, and he is tough to get on the ground.
Lonnie West on 390 Pop The Latch:
West has one of the better overall riding percentages here, and in any multi-round event that is an advantage. This bull has great timing, should be easily handled any any left handed rider good enough to be here, and West is a lefty.
Logan Biever on 193 Open Season:
This is a rematch from the PBR Canada finals, and Biever was 85 points there. Open Season goes to the right, and can move forward occasionally, but he's a nice enough bull that any professional level rider should be able to dominate.
Tanner Byrne on Y70 Cuckoo Kong:
This bull has a 78% career buckoff percentage, but if he lived in 1987 instead of 2017 it would have been closer to 18%.  He will stay close to the ground and go to the left. Byrne should handle him easily, and the same would apply to any top tier rider. Kong has way more buckoffs on his record than he should have.
RELATED: Click here for the full daysheet for the PBR Global Cup Qualifier 
Round 2
Zane Lambert on 342 Ulterra's Teal Steel:
This is a solid bull we saw Sage Kimzey ride at the Velocity Finals for 86 points. Lambert should get a good score here, and he should be coming in here with a score from the first round already on the board. 
Dakota Buttar on +219 Blue Stone:
Blue Stone looked great at the World Finals carrying Cooper Davis to a 90-point score in the third round and throwing Brennon Eldred off in the 5th. Buttar has been on him twice and has ridden him once. This may be the best draw in the pen for a left handed rider, and he can deliver a round winning score. 
Coy Robbins on 917 Pound the Alarm:
Pound the Alarm is one of the highest rated bulls out tonight. He's had a long career. He spent some time in the States and has been to the World Finals three times and delivered 90 plus point rides there. He's always been a better draw for right handed riders, and he's been ridden often since his return to Canada early in 2017. Robbins is right-handed and has a chance to make something happen here.
Brock Radford on 506 Moves Like Pozzy:
This bull is unridden in Canada as far as I can tell, but that may change tonight. Radford is one of the better riders in the draw here, and this bull is not as difficult as his record makes him look. He has a lot of up and down, and he can be showier than many of the other bulls here, but there's nothing about him that would give a BFTS level rider too much trouble.