The Morning Line: Saskatoon - Day 2
By: Ted Stovin Saturday, October 21, 2017 @ 9:22 AM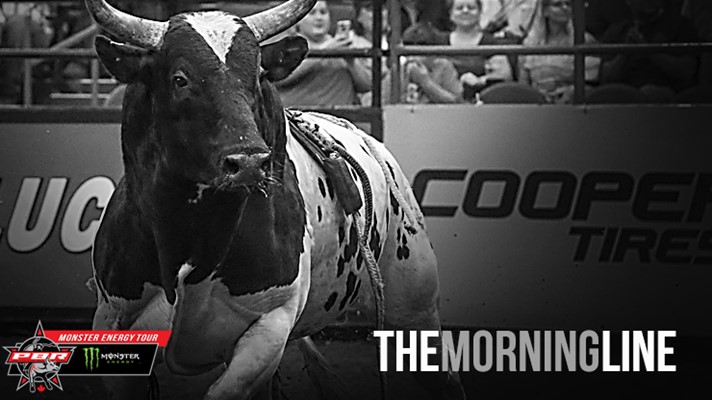 SASKATOON, Saskatchewan – After Round 1 on Friday night, PBR Canada's Monster Energy Tour, presented by Mac's and Circle K concludes on Saturday in Saskatoon, Saskatchewan.
Tonight, we crown the 2017 PBR Canada Champion and this race has been the best one I have ever seen. I have only been on this side of things since 2010 but never have I seen so many bull riders in contention on the last day of the season. There may be $20,000 on the line but the remaining 1,750 points are front of mind.
A win by Brock Radford in Round 1 edged him even closer to his first Canadian Title, 125 points further ahead of Zane Lambert in the No.2 spot. Ten bull riders are still mathematically still in the race and it's not even close to over. All Radford can do is keep staying on, if that's the case he's going to be tough to beat. A slip here or there could open the door.  
Those in contention for the 2017 PBR Canada title, competing in Saskatoon are: Dakota Louis (No.13); Thor Hoefer II (No.11); Edgar Durazo (No.10); Justin Lloyd (No.9); Jared Parsonage (No.7); Cody Casper (No.5); Lonnie West (No.4); Cody Coverchuk (No.3) along with Lambert and Radford.
All five of Canada's bulls heading to the 2017 PBR World Finals are out on Saturday with four of the five out in the Championship Round.
RELATED: Click here for the complete Day 2 daysheet from Saskatoon
Lonnie West vs. 051 Road Trip – In my opinion, we are down to a four-man race for the buckle even though the math says it could go differently. With a buck off from the Cody's in Round 1, it puts Lonnie, Zane and Brock a bull ahead. Lonnie is at the back of the pack but riding the hottest as of late. Road Trip is an ideal pick in Round 2. A white bull from Slim Wilson, Tyler Pankewitz rode him last week in Abbotsford for 86 points. On the stats he's been ridden twice in four outs. If Lonnie wants that buckle he has to ride this bull, and another and hope for some turbulence in front of him. This is part of why bull riding is so exciting, anything can happen. 
Jared Parsonage vs. 216 Big Shot – Jared still is in the race by the math but it would take a major upset for him to come out on top at this point. I can't not pick him in this situation when he's riding over 70% of his bulls in PBR Canada competition. Big Shot from the Skori's has been ridden 13 times in 17 outs which is incredible in itself. Look for Jared to contend in Round 2 at about 85 points and keep himself in the race until the end.
Cody Coverchuk vs. 325 Finning Overhaul – Cody was bucked off once again last night and dashed his hopes slightly. He's going to have to hope for some trouble in front of him and place high in the aggregate in order to claim his first Canadian title. Finning Overhaul from the Flying Four crew has been ridden twice in six outs with scores coming in at 81 and 83 points. That might not be enough bull to place in the round for important points but he has to stay on either way.
RELATED: Coverchuk Dedicates Pursuit of Canadian Title to Late Father 
Zane Lambert vs. 020 Crooked Nose – I was talking to Brady Oleson last night after the event and he said Zane was different and more serious in Saskatoon. I've never heard Zane call his shot before either but last night when talking to sideline reporter Jason Davidson he said he would be 88 points on Crooked Nose from the Stock Contractors of the Year, Vold Rodeo. In 23 recorded outs this bull has been ridden six times. Highest of those was by Oleson this past May in Prince Albert this spring. Crooked Nose has a ton of up and down but is the kind of bull top level riders love. Into Zane's hand I'm going to agree with the 88 and predict a long-awaited match with Minion Stuart in the Championship Round.  
Brock Radford vs. A3 Oklahoma Blues – For Radford, riding Minion Stuart in Round 1 for the win was an important task in pursuit of this National Title. It puts him over 500 points ahead of Lambert to remain No.1. First in the aggregate at the finals however awards 1,250 points and second is only 600 points. Each round awards 250 points for first reminding us of the fact that this race is far from over. Oklahoma Blues is a white horned bull with black spots from Girletz Rodeo Stock has been ridden four times in seven outs. This title means more than anything right now for Brock, at the No.41 spot in the PBR World Standings he turned down two opportunities to compete on the Built Ford Tough Series to stay here in Canada and pursue this goal. He who rides the most, wins and right now that's Radford.
The 2017 PBR Canada Finals conclude Saturday, Oct. 21 at 7:30 p.m. CT at the SaskTel Centre where the 2017 PBR Canada Champion will be crowned. Tickets are still available at PBRCanada.com or Ticketmaster.ca.
The event will crown the 2017 PBR Canada Champion who will earn a trip to the Real Time Pain Relief Velocity Tour Finals in Las Vegas, Nevada Oct. 28-30 where they will then have the opportunity to qualify for the Built Ford Tough World Finals on Nov. 1-5. 
Be sure to stay tuned to PBRCanada.com and follow the tour on Facebook (PBR Canada), Twitter (@PBRCanada), and Instagram (@PBRCanada) for the latest results.