25th PBR: Unleash The Beast Preview – Duluth
By: Kacie Albert Friday, March 9, 2018 @ 3:07 PM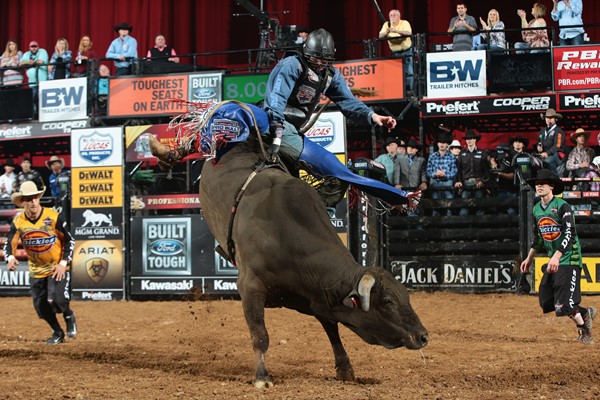 NEW YORK CITY – Seven athletes, human and animal, with ties to Canada will compete this weekend inside Infinite Energy Arena for the elite 25th PBR: Unleash The Beast's Duluth Invitational.
For the fourth consecutive week, the rider contingent will be anchored by Tanner Byrne and Dakota Buttar.
Last weekend, 2015 PBR Canada Champion Byrne led the duo of Saskatchewan-natives after he tied for fourteenth in Little Rock, Arkansas at the Bad Boy Mowdown.
After bucking off D&H Cattle/Buck Cattle/Tommy Julian's Money Talks at the 4.22-second mark in Round 1, the 25-year-old rebounded in Round 2 with an 83.75-point trip aboard EJ Cattle Co.'s Shishkabob.
Byrne, however, wasn't able to continue the momentum in the Championship Round, dispatched by 01 Cattle Co./HIdges/Shuler/SM Whitehead's After Midnight in 4.74 seconds.
The finish earned Byrne a paycheck for $1,085 along with 7.5 world points. He now heads to Duluth, Georgia ranked No. 15 in the world, 1,050 points behind No.1 Ramon de Lima.
For Byrne, he'll look to replicate his success from the elite tour's last visit to Georgia, the winner of the 2016 Duluth Invitational.  
RELATED: Tanner Byrne Wins Duluth Invitational
Much like that season, Byrne enters the event with one win already on his resume for the season having won in February at the St. Louis Invitational.
RELATED: Tanner Byrne Wins St. Louis Invitational
Byrne has drawn Foreman Bucking Bulls' Red Dawn in Round 1. The bovine athlete made his PBR debut last weekend in Little Rock, Arkansas when he sent Jake Gowdy to the dirt in 3.13 seconds to earn a score of 42.25 points.
RELATED: Click here for the complete Saturday day sheet.
Competing alongside Byrne will be two-time CPRA Champion Buttar who went 0-for-2 last weekend in Little Rock.
Buttar's event began after he lasted just 2.32 seconds aboard Jerry & Aaron Halpain's The King in Round 1, and ended after he was bucked off by Scott Winston/Melton Bull Co.'s Buster in 4.62 seconds in Round 2.
Looking to recapture the momentum he had to start the season, Buttar will face Blake Sharp/Sharp Farm & Cattle/Rio Rojo Cattle Co. LLC's Mr. Jim in Round 1.
The bovine athlete first made his PBR debut in October 2017 at the Real Time Pain Relief Velocity Tour Finals where he bucked off Alex Cardozo in 4.46 seconds during Round 1 to earn a bull score of 43 points.
Since, Mr. Jim has had two outs on the 25th PBR: Unleash The Beast, ridden by Brennon Eldred in his elite tour debut for 86 points, earning a bull score of 42 points. He last bucked in St. Louis where he dispatched Marco Eguchi in 4.64 seconds to earn a bull score of 42 points.
Buttar is currently ranked No. 25 in the world, 1,312.5 points behind No. 1 Lima
In the bull pen, five bulls with ties to Canada are set to buck.
Now hailing from Broken Arrow Bucking Bulls, Pit Bull is slated for Round 2, while Black Rose and Stunt Man Ray have both been selected for the Championship Round. Nailed will also make the trip to Georgia as one of the event's re-ride bulls.
Completing the animal athlete roster is Blue Stone, now being hauled by D&H Cattle Co. in partnership with Elnora, Alberta's Flying High Rodeo Co., also a re-ride bull for the event.
The Duluth Invitational in Duluth, Georgia, at Infinite Energy Arena gets underway with Round 1 on Saturday, March 10 at 6:45 p.m. ET, and concludes on Sunday, March 11 at 1:45 p.m. ET with Round 2 and the Championship Round.
CBS Sports Network will televise all the action from Championship Sunday starting at 6:00 p.m. ET on Sunday, March 11. 
Fans will be able to watch the action in its entirety, live, via PBR's new OTT platform RidePass. The stream for the two-day event will begin on Saturday, March 10 at 6:30 p.m. ET and Sunday, March 11 at 1:30 p.m. ET. On-demand replays will be available at 8:00 a.m. ET the next day at www.ridepass.com. The service can be found at www.ridepass.com, and in the Apple App and Google Play stores under the listing of RidePass.
While Byrne and Buttar represent the Maple Leaf south of the border, the 2018 PBR Canada season continues with the second Touring Pro Division event of the year in Teepee Creek, Alberta for the Teepee Creek PBR Classic, presented by Lyon's Production Services.
The one-day event starts at 7:00 p.m. MT on Saturday, March 10 at the Lyon's Production Services Event Centre.
The Canadian season got underway last weekend in Lethbridge, with Meeting Creek, Alberta-native Garrett Green delivering a 2-for-2 performance on the first night of action to secure the event win.
RELATED: Green Begins 2018 on a Winning Note
Green, who has drawn Marshals Law from Wild Hoggs Bucking Bulls in Round 1 in Teepee Creek, currently leads the Canadian national standings, 115 points ahead of No.2 Wyatt Covington.
RELATED: Green Holds on For Win in Lethbridge
Be sure to stay tuned to PBRCanada.com and follow the tour on Facebook (PBR Canada), Twitter (@PBRCanada), and Instagram (@PBRCanada) for the latest results.