25th PBR: Unleash The Beast Preview – Glendale
By: Kacie Albert Friday, March 23, 2018 @ 10:37 AM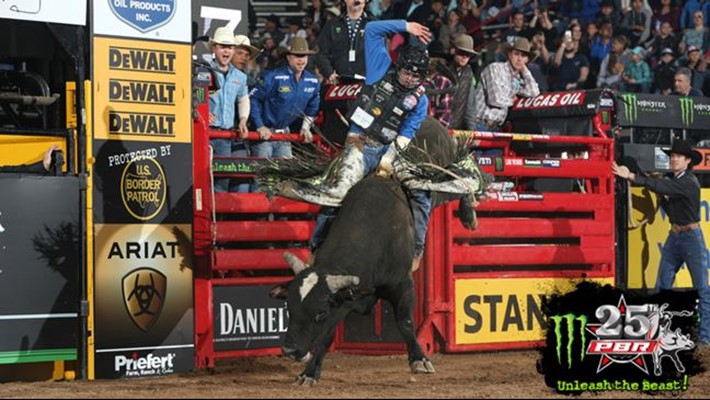 NEW YORK CITY – After Tanner Byrne was sidelined by the flu for last weekend's Ty Murray Invitational in Albuquerque, New Mexico, the 2015 PBR Canada Champion is back to full health, ready to join Dakota Buttar and five bulls with ties to the Maple Leaf for this weekend's 25th PBR: Unleash The Beast event in Glendale, Arizona.
Carrying a five out buckoff streak into last weekend's event, Dakota Buttar was fast to return to his winning ways in New Mexico. The first rider out on Friday night, the 2017 Glen Keeley Award winner was marked 88.25 points aboard 5S/Martinez/Curreu Creek's Kmag YoYo to tie with reigning World Champion Jess Lockwood for the Round 1 win.
RELATED: Jess Lockwood and Dakota Buttar Share Round 1 Win in Albuquerque
While the Kindersley, Saskatchewan-native would buckoff disappointingly close to the whistle in the final three rounds of the event, taking Talking Smack to 6.11 seconds in Round 2, Big Country to 7.14 seconds in Round 3, and Fire & Smoke to 7.98 seconds in the Championship Round, he finished the event tied for eighth.
The Top-10 finish, his fourth of the season, earned him $4,815 and 85 world points, pushing him from No. 26 to No. 23 in the world standings. He now trails No. 1 Ramon de Lima by 1,292.5 world points.
In Round 1 of this weekend's Ak-Chin Invitational, presented by Cooper Tires, Buttar has drawn PK Triplett Bucking Bulls' Sid's Wish. The bovine athlete made his PBR debut last weekend in New Mexico, marked 42.25 points for dispatching Ty Chandler in 3.27 seconds in Round 2.
RELATED: Click here for the complete Friday day sheet.
For Prince Albert, Saskatchewan's Byrne, he heads to Glendale ranked No. 18 in the world, 1,112.5 points behind No. 1 Lima.
In Round 1 of the two-day event, Byrne will face JD Nix Rodeo Co.'s Sampson, who much like Buttar's draw, has bucked at just one PBR event prior. The bull made his elite tour debut in Duluth, Georgia, marked 39 points for his 1.67-second buckoff of Juan Carlos Contreras in Round 2.
Due to the high number of injured riders currently ranked inside the Top 15, both Canadians will have the opportunity to ride in this weekend's 15/15 Bucking Battle, the third of the season.
Buttar has drawn D&H Cattle/Erwin Cattle's Frequent Flyer, while Byrne will attempt BMC Bucking Bulls/Jenkins Cattle Co.'s Bezerk.
In 18 attempts across all levels of competition, Bezerk has yet to be ridden. Brazilian Paulo Lima was last to drawn the unridden bull, bucked off in 1.89 seconds during the Championship Round in Albuquerque, earning the bull a score of 44.25 points.
Closest to making the 8 aboard the bull was Lockwood at the Springfield, Missouri event in 2016, lasting 6.88 seconds aboard the bull.
For Bezerk, the bull has been ridden five times in 22 attempts at all levels of competition. The bovine athlete has bucked off the last three riders to attempt him (Stetson Lawrence, Little Rock Round 2, 2.11 seconds, 43 points; Lima, Albuquerque Round 1, 2.9 seconds, 44 points; Brady Oleson, Albuquerque Round 2, 2.18 seconds, 42.5 points). The last rider to cover the bull was Lima for 86.25 points in St. Louis, Missouri.
Competing alongside the duo will be five bulls with ties to the nation. Leading the bovine contingent representing the Maple Leaf are Black Rose, Stunt Man Ray and Nailed, all now with Broken Arrow Bucking Bulls, and slated to buck in the Championship Round.
Joining them is Dakota Rodeo / Chad Berger / Clay Struve's Dead Calm, selected for Round 2, and D&H Cattle Co./Flying High Rodeo Co.'s Blue Stone, one of the event's re-ride bulls.
The Ak-Chin Invitational, presented by Cooper Tires, gets underway with Round 1 and the third 15/15 Bucking Battle of the season on Friday, March 23 at 7:45 p.m. MT, and concludes on Saturday, March 24 at 6:45 p.m. MT with Round 2 and the Championship Round.
CBS Sports will air the 15/15 Bucking Battle at 2:00 p.m. ET on Saturday, March 24. CBS Sports Network will televise all the action from Championship Saturday, including Round 2 and the Championship Round, starting at 5:00 p.m. ET on Sunday, March 25.
Fans will be able to watch the action in its entirety, live, via PBR's new OTT platform RidePass. The stream for the two-day event will begin on Friday, March 23 at 10:30 p.m. ET, and Saturday, March 24 at 9:30 p.m. ET. On-demand replays will be available at 8:00 a.m. ET the next day at www.ridepass.com. The service can be found at www.ridepass.com, and in the Apple App and Google Play stores under the listing of RidePass.
While Buttar and Byrne are competing stateside, Canada's best return to action for the third season of the nation's elite Montser Energy Tour, set to begin its season on March 24 in Calgary, Alberta.
The event gets underway at 7:00pm at the Agrium Western Events Centre on Stampede Park in Calgary, Alberta. Tickets are on sale now at Ticketmaster.com  
Be sure to stay tuned to PBRCanada.com and follow the tour on Facebook (PBR Canada), Twitter (@PBRCanada), and Instagram (@PBRCanada) for the latest results.