25th PBR: Unleash The Beast Preview – Kansas City
By: Kacie Albert Friday, February 9, 2018 @ 11:16 AM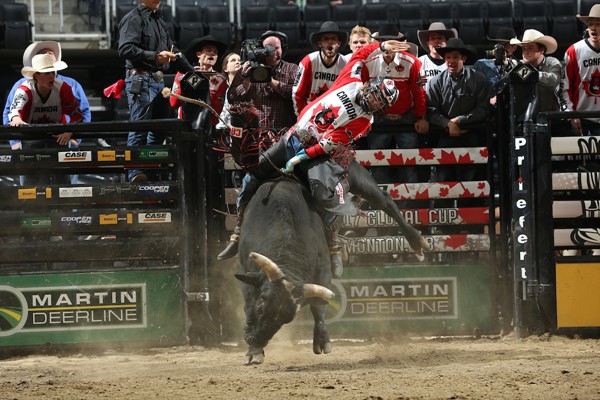 NEW YORK CITY – With three events set to take place this weekend across the 25th PBR: Unleash The Beast and Real Time Pain Relief Velocity Tour (RVT), four Canadian riders will be stateside, led by Dakota Buttar as the lone Canuck riding at the elite Caterpillar Classic.
After a fast start to the season, improving upon his overall finish week to week, 25-year-old Buttar has been shut out the past two weekends, failing to log a qualified ride on the tour's two-event swing through California.
Last weekend, in Anaheim, the Kindersley, Saskatchewan-native bucked off D&H Cattle Co. / Moe & Rusty Bandy's Bandy's Bad Boy at the 6.32-second mark in Round 1.  Dakota Rodeo / Chad Berger / Clay Struve's The Knuckle made faster work of the 2017 Glen Keeley Award Winner, sending him to the dirt in 1.48 seconds in Round 2.
This weekend, in Kansas City, Missouri, Buttar will face War Cloud in Round 1 inside the Sprint Center as he looks to regain the momentum he had earlier this season which saw him leading the event heading into the Championship Round in consecutive weekends.
RELATED: Click here for the Saturday day sheet.
In his seven career outs since making his PBR debut at the Allen, Texas RVT event in August 2017, Buttar's draw has yet to be ridden. The bovine athlete has been selected for four elite tour events, including the 2017 PBR World Finals, and in his last out in Oklahoma City dispatched Skeeter Kingsolver in 1.93 seconds to earn a bull score of 44.5 points.
Currently, Buttar enters the sixth event of the season ranked No. 18 in the world, 797.5 points behind No. 1 Dener Barbosa.
Ahead of the Caterpillar Classic, Feb. 10-11, Buttar arrived in-market early to participate in the event's media tour including appearances on local TV and a visit to the University of Kansas Hospital, seen here.
In the bull pen, seven bulls with connections to Canada are set to buck: Road Rage, Stunt Man Ray, Nailed, Seven Dust, Bad Touch, Time Bomb and Ram It.
The 25th PBR: Unleash The Beast Caterpillar Classic at the Sprint Center gets underway with Round 1 on Saturday, February 10 at 6:45 p.m. CT, followed by Round 2 and the Championship Round on Sunday, February 11 at 1:45 p.m. CT. 
CBS Sports Network will broadcast all the action from Round 1 on Saturday, February 10 at 10:00 p.m. ET, with Championship Sunday set to air the following day, Sunday, February 11, at 8:00 p.m. ET. 
Fans will also be able to watch the action in its entirety at PBR.com/ondemand. Action from Round 1 will be viewable starting at 8:00 a.m. ET on Sunday, February 11, while Round 2 and the Championship Round can be seen starting at 8:00 a.m. ET on Monday, February 12.
Nine-hundred miles east, the Canadian trio of Dayton Johnston, Coy Robbins and Lonnie West will compete in the RVT's two-day Youngstown Invitational beginning tonight, February 9 at 8:00 p.m. ET, and concluding tomorrow, February 10 at 7:00 p.m. ET.
RELATED: Click here for the Friday day sheet.
Cadogan, Alberta's West leads the contingent after his eighth place effort last weekend in Grand Rapids, Michigan.
The 22-year-old began the event earning a re-ride after marked 75 points aboard Cooper Bucking Bulls' Butch. In his re-ride, West once again made the 8, riding C Check Bucking Bulls' Chest Bump for 84.5 points to tie for seventh in the round.
In the Championship Round, West's ride streak came to an end, bucking off Dakota Rodeo / Chad Berger / Clay Struve / H&C Bucking Bulls' Don't Tread on Me at 1.64 seconds.
While the finish earned the up-and-coming rider $140 USD, he finished just outside of the points. He heads into this weekend's event ranked No. 43 in the world. West trails No. 35 Edgar Durazo by 45 points, with the second cut for the elite tour just three weekends away.
In Round 1, West has drawn Cornwell Bucking Bulls' unridden Mama's Bad Pet. With 13 outs to his name, the bovine athlete has been selected for one elite tour event, dispatching 2012 PRCA Champion Cody Teel in 4.03 seconds in Raleigh, North Carolina in October 2017. Last weekend, Mama's Bad Pet sent Justin Granger to the dirt in 1 second in Grand Rapids.
Also set to face a previously unridden bull in Round 1 is Johnston who has drawn Mike Miller Bucking Bulls' Zipline. While the bull has bucked at just one PBR event prior, the January RVT stop in Lexington, Kentucky, he made easy work of Josh Norman, bucking him off in 3.15 seconds.
RELATED: Johnston All in for 2018 Season Amid Second Stateside Push
Johnston will be looking to reverse his fate from last weekend's Grand Rapids event where he lasted just 1.91 seconds atop Cooper Bucking Bulls' Slim Ice.
Completing the trio is 2017 PBR Canada Rookie of the Year Robbins, who, like Johnston, also failed to make the 8 in Grand Rapids, lasting 5.95 seconds on Dakota Rodeo/Chad Berger/Clay Struve/Heald Pro Bulls' Humberto.  
 Akin to West's draw, Robbins will also face a bull from the Cornwell Bucking Bulls' pen in Round 1.
Set to attempt Peep Show in his eighth PBR out, three past riders have successfully covered the bull. Rubens Barbosa was the first to ride the bovine athlete, covering him for 87 points at December's RVT stop in Huntington, West Virginia, while Keyshawn Whitehorse most recently rode him, last weekend in Grand Rapids, for 88.5 points.
The bull has made one appearance on the elite tour, bucking at January's Chicago Invitational where Silvano Alves rode him for 81.5 points in Round 2.
Be sure to stay tuned to PBRCanada.com and follow the tour on Facebook (PBR Canada), Twitter (@PBRCanada), and Instagram (@PBRCanada) for the latest results.