25th PBR: Unleash The Beast Preview – St. Louis
By: Kacie Albert Friday, February 16, 2018 @ 11:37 AM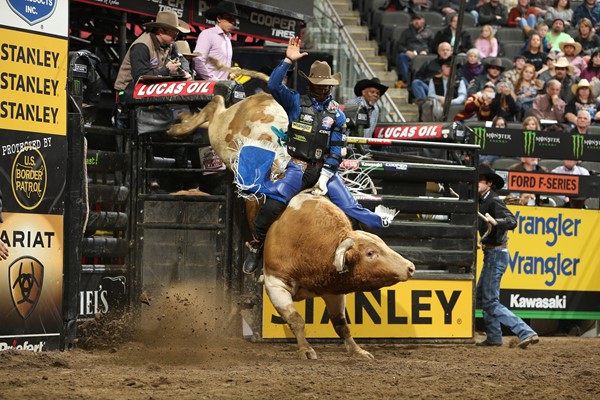 NEW YORK CITY – With the PBR's elite tour making its second stop in Missouri in as many weeks this weekend, taking over St. Louis' Scottrade Center for the seventh event of the 25th PBR: Unleash The Beast (UTB) season, Tanner Byrne will be the lone Canadian riding, while nine bulls with connections to the nation are set to buck.
Byrne used his last remaining injury exemption from the 2017 season to compete at the Anaheim Invitational two weeks ago where he was sixth.
The 2015 PBR Canada Champion went 1-for-3, with his qualified ride coming aboard Livin' Large for 87.75 points, to earn 97.5 world points. While the finish propelled him from No. 58 to No. 34 in the world standings, he did not compete at last weekend's Caterpillar Classic in Kansas City.
Now ranked No. 36 in the world, 2.5 points behind No. 35 Silvano Alves, Byrne heads to the Show Me State for his fourth elite tour event of the season poised to face Picking Up Pennies of Little Acres Ranch in Round 1.
The bovine athlete has bucked just once at PBR event's, with his debut at Oklahoma City's UTB event in January. There Picking Up Pennies earned a bull score of 42.25 points for dispatching Juan Carlos Contreras in 1.92 seconds.
Normally an elite tour staple, Kindersley, Saskatchewan's Dakota Buttar is sidelined this weekend with the flu.
Last weekend the 2017 Glen Keeley Award Winner finished 14th after going 1-for-3, riding La Malta for 86.25 points. He is currently ranked No. 20 in the world.
Joining Byrne in St. Louis will be nine bulls with connections to Canada.
Set to make his regular season debut on the elite tour is 2017 PBR Canada Bull of the Year Johnny Ringo from Vold Rodeo/Rafter G Cattle Co./Broken Arrow Bucking Bulls.
For the bull that now calls the Show Me State home, with Marshall, Missouri home of Broken Arrow Bucking Bulls, Johnny Ringo has bucked once prior on the elite tour During Round 3 of the 2017 PBR World Finals, he made his debut when he bucked off Troy Wilkinson in 4.42 seconds to earn a score of 42.25 points.
According to ProBulStats, across Johnny Ringo's 23 career outs at all levels of competition, he has been ridden just five times. Brazil's Eduardo Aparecido has drawn Johnny Ringo in Round 1.
Also now bucking under the Broken Arrow banner is Stunt Man Ray, who much like Johnny Ringo, made his 25th PBR: Unleash The Beast debut during the 2017 World Finals. In Las Vegas, the bull who formerly hailed from Girletz Rodeo Stock, bucked off Buttar in 7.77 seconds during Round 2 to earn a bull score of 43.5 points. Later that weekend, during Round 5, 2015 Rookie of the Year Kaique Pacheco rode him for 88.5 points.
Since, Stunt Man Ray has been selected for three regular-season UTB events, and has yet to be ridden in 2018. At the season-launching Major event in New York City, he was marked 42.75 points for bucking off Stetson Lawrence in 1.87 seconds, then scored 42.5 points in Chicago the following weekend for dispatching Fabiano Vieira in 3.75 seconds.
Most recently, at last weekend's event in Kansas City, Stunt Man Ray got the best of Stormy Wing, who lasted just 6.99 seconds atop the bull, to earn a 42.5-point bull score.
In Round 1 in St. Louis, elite tour rookie Brady Oleson will attempt to become the first rider this season to make the 8 atop the Girletz raised bull.
Also now from Broken Arrow Bucking Bulls are Black Rose and Nailed, who trace their roots to Nansen Vold and Vold Rodeo, and Pit Bull, originally from Lindsay Carlier's X6 Ranch.
All out in Round 1, Cody Nance will take on Black Rose, Colten Jesse has drawn Nailed, and Pacheco will attempt Pit Bull.  
Jane Clark/Gene Owen's pen of seven will include two bulls with Canadian ties in Seven Dust and Moto Moto, originally from Big Stone Rodeo and Girltez Rodeo Stock, respectively.
Heading into the St. Louis Invitational, presented by Express Employment Professionals, Seven Dust boasts a seven out buckoff streak, last ridden during the Tulsa, Oklahoma 15/15 Bucking Battle by reigning World Champion Jess Lockwood for 87.5 points in August 2017.
He last bucked during the Championship Round in Kansas City, where he sent Aparecido to the dirt in 2.71 seconds, earning a 43.25-point bull score.
Seven Dust is once again slated to buck in this weekend's Championship Round by one of the event's Top 15 riders.
Moto Moto is slated to compete in Round 2, drawn by world No. 2 Claudio Montanha Jr.
Rounding out the contingent of Canadian bulls is Bad Touch and Ram It, both now with K-C Bucking Bulls.  
The St. Louis Invitational, presented by Express Employment Professionals gets underway with Round 1 on Saturday, February 17 at 6:45 p.m. CT, followed by Round 2 and the Championship Round Sunday, February 18 at 1:45 p.m. CT.
CBS Sports Network will broadcast all the action from Championship Sunday, with coverage of Round 2 and the Championship Round, on Sunday, February 18 at 8:00 p.m. ET.
Fans will be able to watch the action in its entirety, live, via PBR's new OTT platform RidePass. Round 1 will begin streaming on Saturday, February 17 at 7:30 p.m. ET, while Round 2 and the Championship Round will start at 2:45 p.m. ET on Sunday, February 18. 
The service can be found at www.ridepass.com,  and in the Apple App and Google Play stores under the listing of RidePass.
Be sure to stay tuned to PBRCanada.com and follow the tour on Facebook (PBR Canada), Twitter (@PBRCanada), and Instagram (@PBRCanada) for the latest results.