Buttar and Byrne Look to Third Leg of Global Cup in Arlington
By: Ted Stovin Wednesday, August 22, 2018 @ 2:00 PM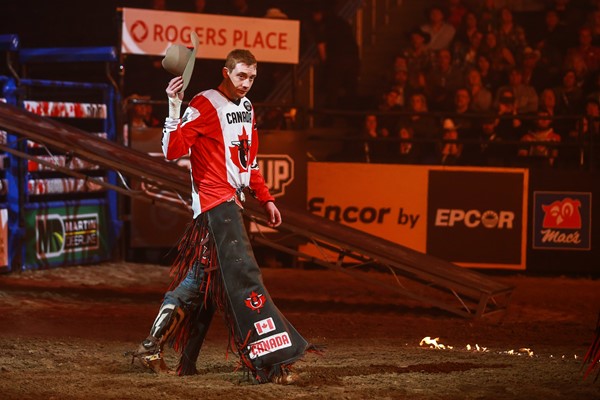 ARLINGTON, Texas – Ahead of the third leg of the PBR's Global Cup, Team Canada might be poised to get lucky on the threes, after finishing third in both Edmonton and Sydney.
As Coach Aaron Roy's first two picks, both world No. 13 Dakota Buttar and No. 19 Tanner Byrne are proud of the opportunity. 
RELATED: AT&T Stadium in Arlington to Host PBR Global Cup
"It's an honor to be one of the first guys picked again," Buttar said. "Since we've been having Global Cup events I've been pretty excited to ride at them so I'm pretty pumped to be the first pick again."
"Yeah it's huge," Byrne added. "Anytime that you can represent your country for anything I think is never anything to take lightly."
Despite being the top ranked Canadians on the planet, they are still thankful to represent the Maple Leaf.
"I know I take it to heart and it makes me really want to step up for the team, be a leader for the team, and do what I know that I can when it comes time to ride," Byrne, who most recently went 4-for-4 to finish second in the individual aggregate in Sydney, said. "It's gonna be in Arlington, so you know it's not a 16-hour flight to the bull riding which is always a little-bit better in my opinion. I'm looking forward to getting to it and winning for Team Canada."
Buttar's first taste of AT&T Stadium was for PBR's WinStar World Casino and Resort Iron Cowboy, powered by Kawasaki, this February.
"That's a pretty cool building, that was my first time riding there and it was awesome, it was a lot of fun, a lot of people there," Buttar said of the Major which set a record for largest single-day event in PBR history, welcoming more than 46,000 fans inside the home of the Dallas Cowboys. "I'm sure Team Canada is excited to go and get some payback on the U.S. guys.
Payback is right after the U.S, claimed Canadian soil via their win in Edmonton.
"I'm really excited to go to the U.S. cause when they came into Canada they came and took our dirt from us," Byrne explained. "It's my mission and I'm sure the whole team's mission is to go there and take their dirt and let them know how that feels to have another country come into your own country and win against you. I can't wait to get in there and get on a bunch of bulls, it's gonna to be the best bulls in the world and go and take some dirt back to Canada and get some bragging rights for Team Canada." 
As the standings sit, Buttar and Byrne gave a nod to coach Roy's next picks.
"I think Lonnie West for sure is there and Brock [Radford], get Brock healthy and he's good to go," Byrne said. "I think our team will be very similar to what it was last year, maybe with a couple changes just depending on how guys are riding around that time or around the times that Aaron has to pick them. But we've got some really good riders and those younger guys are starting to come into their own now and you can see them having success on this tour and I think that's just going to carry over into our Global Cup success too. I think that you're going to see Canada do some really good things in Arlington."
"I'm thinking probably Brock and Lonnie," Buttar echoed. "They have been pretty strong all year and they're on tour now too so they're both riding really good."
As Canada's winningest bull rider ever in the PBR, Coach Aaron Roy is the only coach still competing which Buttar believes may give the Great White North an advantage.
"I think so," Buttar said. "Aaron is still with it, he knows the bulls and what they are like and how they match up with us so I think it does give us a bit of an advantage with that and Aaron has been a pretty good coach the past two Global Cups."
The WinStar World Casino and Resort 2019 Global Cup USA will take over AT&T Stadium for two nights of action on February 9-10, 2019.
Tickets start at just $10 and will go on sale Thursday, August 23, at 10 a.m. CT. Tickets are available at SeatGeek.com, PBR.com, or by calling PBRDirect at (800)732-1727.