Buttar Seeks Top 10 Ranking at 2018 PBR World Finals
By: Kacie Albert Wednesday, November 7, 2018 @ 11:18 AM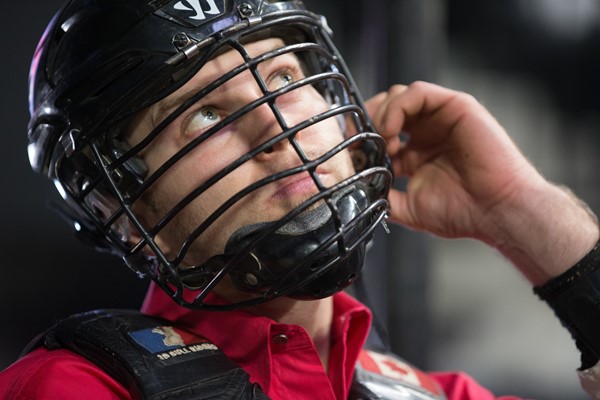 LAS VEGAS, Nevada – For the third consecutive year, Dakota Buttar's season will come to a close in Las Vegas, qualifying for the 2018 PBR World Finals.
RELATED: Buttar and Byrne Qualify for 2018 PBR World Finals
While in 2016 the Kindersley, Saskatchewan-native had to qualify into the most prestigious event in bull riding via the Velocity Tour Finals, and last year he found himself on the bubble near season's end, this November he makes the journey to Sin City in the best position of his career, ranked No. 14 in the world.
"It feels a lot better going in this year in a comfortable position," Buttar said. "The first year I just squeaked in there, last year I was kind of on the bubble most of the year, and this year I feel a lot better going in.
"I'm a little more confident and excited for it. "
In 2016, Buttar had his first opportunity to qualify for the World Finals, earning Canada's international invite to the Velocity Tour Finals as the late Ty Pozzobon, the nation's champion, was already ranked inside the Top 35.
Capitalizing on the opportunity, Buttar went 2-for-4 to finish sixth, earning 73.33 world points, which propelled him into the Top 35 and secured himself a spot at his career-first World Finals.
Again making the most of his fortunes, Buttar went 2-for-5 at the event's first edition inside T-Mobile arena, finishing 11th and leading him to conclude the year No. 30 in the world.
In 2017, after riding on the elite tour for the entirety of the season, Buttar's upward trajectory continued, using a 1-for-4 showing at the World Finals, sidelined early by injury, to finish 16th and conclude the year No. 26 in the world, earning his first Glen Keeley Award.
"The first year at the finals I kind of missed out on some things because I was the last guy in," Buttar reflected. "I didn't get the opportunity to see some stuff that the other guys did.
"But I got to see a little more last year and then this year, kind of being more comfortable on tour, knowing the places where I can go see stuff and have fun, it's been more of a relaxed year, kind of go and have some fun when I can and see some things. It's been a lot of fun this year."
Matching Buttar's increased comfort competing on the elite 25th PBR: Unleash The Beast has been the amount of career milestones he has reached in 2018, propelling him to his best career standing in the world standings prior to the finals.
After getting the season off to a hot start, twice leading the event aggregate heading into the championship round for the Chicago and Oklahoma City stops, Buttar recorded the first 90-point ride of his career on the 25th PBR: Unleash The Beast in Columbus where he made the 8 aboard Inferno for 90 points.
RELATED: Buttar Picks Up First 90-Point Ride; Eyes Last Cowboy Standing
During the summer break, Buttar returned to events on his home soil where he won the second night of action at the annual trio of Touring Pro Division events held at Calgary's iconic Ranchman's. His win was backed by the second 90-point ride of his career, 90 points on Brahma Boots Chrome.  
RELATED: Home Soil Crowd Elevates Buttar to New Career Highs
He continued his landmark season, recording yet another 90-point effort in Milwaukee, now his career-high ride, marked 90.5 points on Rising Sun.
Throughout the season, Buttar recorded two runner-up efforts, five Top-5 and nine Top-10 finishes on the premier series leading him to set a new season best for earnings, entering World Finals having collected $106.353.78 thus far in 2018.
RELATED: Buttar Breaks Through Slump, Sets Career Highs in Milwaukee
To cap his season on a high-note at World Finals, Buttar has a simple, yet focused approach to the event.
"Just going in and hoping to ride more bulls than I have in the past," Buttar stated. "I want to smash out a few more. "
"I'm feeling great," he said further. "My hip has been bothering me lately, but I think I got it feeling good now.
"And my head is feeling better from the other weekend there, so I'm going in taking it one bull at a time and use the most I can out of each bull I get on."
Yearlong Buttar has made his season-end goal clear -- crack the Top 10.
Prior to Round 1 of the World Finals, Buttar trails No. 10 Fabiano Vieira by 508.33 points. At the event, 300 points are available to each round winner, with 1,500 set to be awarded to the overall event winner.
"It is a big gap," Buttar acknowledged, "But there are a lot of points around to make up, I've got a lot of work to do."
In Round 1 Buttar has drawn Night Sweats from Plummer/Hart Cattle Co.
RELATED: See the complete Round 1 day sheet here.
In 19 outs across all levels of competition, the bovine athlete has been ridden just three times: Jess Lockwood for 91 points to win Round 1 of the 2017 Velocity Tour Finals; Dener Barbosa for 89.25 points during Round 1 of the 2018 elite tour event in Kansas City; and most recently by Alex Marcilio for 88.75 points during the 2018 Iron Cowboy inside AT&T Stadium.  
Night Sweats last bucked on the elite tour at the Music City Knockout where he sent Marcos Gloria to the dirt in 2.28 seconds to earn a 44-point bull score. His most recent trip came in September at the Belton, Texas Touring Pro Division event where he bucked off Cole Skender in 2.8 seconds to be marked 42.5 points.
At the World Finals, Buttar will ride alongside fellow Canadian Tanner Byrne who has drawn Concealed Carry in Round 1.
RELATED: Byrne Readies for Fourth World Finals Appearance
Despite falling outside of the Top 35, Lonnie West (No. 36) and Brock Radford (No. 39) will be on hand as alternates.
The human athletes will also be joined by 11 Canadian bulls set to buck at the 2018 PBR World Finals.
"That says a lot for our contractors up here," Buttar said of his four-legged countrymen.
RELATED: Eleven Canadian Bulls Selected to 2018 PBR World Finals
The 2018 PBR World Finals get underway with Round 1 on Wednesday, November 7 at 6:40 p.m. PT. Fans can watch all the action LIVE on CBS Sports Network, with the 30-minute pre-show starting at 9:30 p.m. ET, or via RidePass' listen LIVE stream, also beginning at  9:30 p.m. ET.