Byrne is Back and Aims for 2019 PBR World Title
By: Ted Stovin Tuesday, November 20, 2018 @ 5:34 PM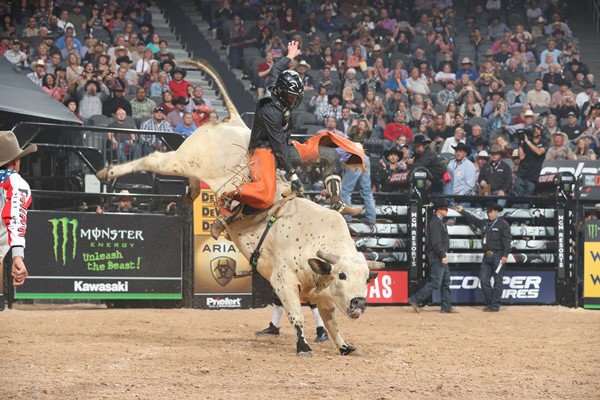 CALGARY, Alberta – Adversity. Trials. Tribulation. Hardship. Tragedy. Sorrow. Heartache.
Those are just a few words that have been used to describe the burdens that Tanner Byrne has had to overcome the past two years.

After finishing in No. 15 PBR world standings in 2016, competing alongside three fellow Canadians at the World Finals, the unthinkable happened on January 9, 2017 when Byrne's best friend, Ty Pozzobon took his own life.
When Byrne did make his way back into the arena to do his job after a month of grieving, things didn't click. For the entire season.
One injury after the other sidelined him for the majority of the year. He couldn't win. Mentally, he was drained and his focus was elsewhere despite every effort in the world to get back on track.
The start of the 2018 season marked a new chapter for Tanner Byrne, his brother, bullfighter Jesse Byrne was back and so was he. Injury exemptions allowed his return to New York City in January where he went 2-for-4 to finish inside the Top 15.
"With being injured and missing all the 2017 season and the injuries that I went through I honestly didn't know if I still would have it in me with no groins and everything that broke and gave out on me, if I could still ride at that level," Byrne said after his fourth appearance at the PBR World Finals in Las Vegas.
"I got my confidence back winning St. Louis and getting back on tour obviously," Byrne said of the February 2018 victory, his third at the elite level, the most to date by a Canadian.
RELATED: Byrne Cherishes Victory in St. Louis Amidst Emotional 'Roller Coaster'
"I got my goal completed of getting back to where I knew I was supposed to be at, as one of the top bull riders in the world."
Byrne is one of the two most successful Canadian ever to set foot in the PBR with career earnings of $711,115 USD, second only to three-time PBR Canada Champion Aaron Roy.
Roy's career earnings could pass the $1,000,000 mark this weekend in Saskatoon, however, Byrne leads Roy in premier series victories, a milestone Roy has yet to achieve in his career. The fellow Saskatchewan product thought has eight World Finals qualifications, while Byrne has reached the most prestigious event in bull riding four times.
"It was fun again, I enjoyed everything about going back to Vegas," Byrne said of the 2018 PBR World Finals. "It was like my first time all over again. You get going to all those [UTB's] and kinda take it for granted and that that's just what you do, but when it all gets taken away from you and you don't even realize how important it is and how special it is.
"You really wanna set your goals back to what they are supposed to be in being a world champ."
At his fourth finals, Byrne went 2-for-6 to conclude the year No. 31 in the world standings, his fourth-best career finish to date.
"I feel great, I went into the World Finals doing good, got a few rode, bucked off a few. All in all, it could have been better, it could have been a lot worse, but I feel like I had a good showing and can't complain at all," Byrne said.
Coming out healthy after facing the best bulls in the world for five days was all Byrne could ask for.
"A lot of injuries that go along with getting on that many bulls that many days in a row. It's always a bonus when you can come out healthy," Byrne said. "I'm healthy, I'm good to go. I'm back where I'm supposed to be, ready to roll for the 2019 season and we'll kick it off in Saskatoon and keep going.
"[I've] got that drive, and confidence back that I can ride the rankest bulls in the world and contend for that world title in 2019."
Saskatoon's 2018 PBR Monster Energy Canadian Finals, presented by Mac's/Circle K and Dakota Dunes Casino on November 23-24 will be Byrne's ninth qualification and first event of 2019.
RELATED: 2018 PBR Canada Finals Qualifiers Announced
"Saskatoon is one I always look forward to because I have to fly 20 to 30 hours a weekend and this time I get to drive one hour," he laughed. "So it's always one that I look forward to because it's in Saskatoon. It's only an hour, but it's still a world class event that could contend with all the best events that I go to.
"It's fun, the crowd's always great. I always have that hometown, home-province, home-country support behind me. Good bulls there, it's always just kinda the wrap to the year. I've had success there, I've won titles there, it's always one that definitely stands out to me."
Success there for Byrne includes the 2015 PBR Canada Championship.
"Cutting it down to 20 guys it's going to make that more elite," Byrne said of the new format. "You're gonna see the best guys getting on the best bulls. It's definitely something I look forward to and I can't wait to show 'em what I got."
Speaking of showing 'em what he's got, Byrne will have a new baby to show off in Saskatoon after Ruby Wilder Byrne was born while he was at the World Finals.
"I got on a red-eye out of Vegas on Sunday night at about 12:30," Byrne said of early Monday morning. "I got home, back to Prince Albert, about two in the afternoon. I got out of there on the first flight I could get so I could go and meet my new baby."
Being in Las Vegas at the World Finals during the birth of his second child was nerve-wracking.
"It was crazy man, it was a pretty wild week," Byrne said. "With not being there when Ruby was born, but it was pretty wild that with technology and FaceTime and all that sort of stuff worked so well that it was pretty much like I was there. It worked out pretty cool. I feel like I was more involved on this one even though I wasn't even there.
"It was pretty cool and amazing. She's healthy, Meghan's healthy, everybody's happy and healthy and back home."
After living through and surviving a hellish 2017, 2018 has been better to Byrne.
"I'm feeling good again, I'm healthy, I've got that confidence back in my body and I'm still able to do it through all the different stuff that's went on the last little while," Byrne said. "That's a big thing in this sport is that confidence and I feel good about what I'm doing. I feel ready to ride and feel that I can take on the rankest bulls in the world again.
"I'm really looking forward to 2019 with the Global Cup kinda kicking off the start of the year after New York and those first five events. We're going to L.A. at the Staples Centre. There's a bunch of cool events kinda off the hop and I always seem to ride good at the start of the year."
RELATED: AT&T Stadium in Arlington to Host PBR Global Cup
With Dakota Buttar finishing No. 17 in the world, Lonnie West ranking No. 37 and Brock Radford ending the season No. 39, the Canadian contingent will be fully stocked in 2019 as well.
"That makes it fun traveling down the road cause that's really who you live with all the time, with my brother and stuff is those guys," Byrne added of his brother Jesse who will also be in Saskatoon this weekend.
"You don't feel alone when you're traveling with some of your best friends and fellow countrymen and stuff like that. I got no doubt in my mind that I'm coming into this season like I did when I was three years old and that was to be a world champion bull rider. All I can do is ride my bulls week in and week out. Stay on my bulls and let the chips fall where they fall.
"I'm not gunning for anything other than that world championship."
Despite West and Radford needing to overcome injuries and potentially being alternates, Byrne is confident they will be on tour.
"I'm sure they will be getting in as alternates and stuff," He said. "The way those guys ride, they are going to be on tour. They are definitely the top guys in the world, there's no doubt in my mind that that's where they belong. They are gonna be there, Brock, Lonnie and we got Dayton Johnston, these young guys that are just killing it."
After the win in Yorkton, Saskatchewan, the first event on the 2019 calendar, Johnston ranked No. 1 in the PBR World Standings.
RELATED: Johnston Revels at PBR World No. 1 in Early 2019 Standings
"We've got a bunch of really good young guys coming up that I look forward to seeing," Byrne said. "Like me and Ty and guys before us down there, they can see us have that success and I think that makes them want to go and do it and it gives them the confidence to go and do it. They are from the same place as us. It doesn't really matter where you're from, it's about what you've got inside you.
"It's good to see and I look forward to doing that, just growing the sport as much as I can, moving forward with the Ty Pozzobon Foundation doing good things for the riders and the sport. For mental health and physical health. I'm doing my part in this world and this sport to make it better every day."  
The 2018 PBR Monster Energy Canadian Finals, presented by Mac's/Circle K and Dakota Dunes Casino begin on Friday, November 23 at 7:30 p.m. CST with Round 1 and Round 2. Tickets are still available and can be purchased at the SaskTel Centre Box Office, online at PBRCanada.com or Ticketmaster.ca, and by phone at 1-800-970-SEAT (7328). Fans purchasing a weekend package with tickets to both shows will receive a 15% discount.
Fans will also be able to watch all the action LIVE on RidePass. The stream will begin on both Friday, November 23 and Saturday, November 24 at 7:30 p.m CT.