Byrne Proud to Have Broken Canadian Curse
By: Justin Felisko Tuesday, February 6, 2018 @ 11:43 AM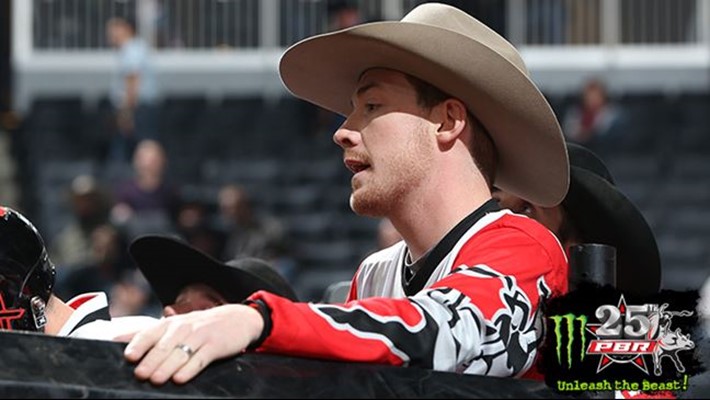 ANAHEIM, Calif. – Tanner Byrne leaned over in his seat and peered out the side window of the aircraft. Thousands of feet below him was a sea of green palms trees and a metropolis of traffic and sunshine.
The sound of the landing gear unloading began to cut in as the smile on his face slowly faded away while he saw the Honda Center and its red signage amidst Orange County.
Byrne's mind immediately raced back two years to his first career victory at the 2016 Anaheim Invitational.
"I was flying over and instantly got a smile on my face," Byrne said. "It is something about that city. That place. On top of it with Josh (Manson) playing hockey there and stuff, it kind of feels like my home rink. I love the city. Disneyland is right there. It always puts a smile on my face when I know I am going there."
Byrne ended a 12-year drought in 2016 when he became the first Canadian-born bull rider to win a premier series event since Rob Bell won the Raleigh, North Carolina, event in 2003.
Manson is Byrne's longtime childhood friend from Prince Albert, Saskatchewan, and plays for the Anaheim Ducks. Three months earlier, Manson had scored his first NHL goal in the same arena against the Columbus Blue Jackets.
That weekend was the first time Manson had seen Byrne compete at the professional level in person.
Byrne attended the Ducks 6-3 win last week over the New York Rangers at the Honda Center to promote last weekend's Anaheim Invitational.
Anaheim was the fifth stop of The 25th PBR: Unleash The Beast, and 2018 is the PBR's 25th anniversary season.
There have been plenty of historic moments over the years, but Byrne is hoping that someday a Canadian will finally hoist the World Championship trophy for the first time.
The only way that will happen is if Canadians can become successful at winning events on the PBR's highest-stage.
That had been a rarity until Byrne broke the ice in Anaheim.
"I feel like it got to be a curse of it happening," Byrne said. "I had won second a bunch of times. (Ty Pozzobon) had won second a bunch of times. Aaron (Roy) had won a bunch of seconds. It was just getting over that hump of somebody finally doing it."
Byrne went 4-for-4 in Anaheim and earned the victory with an 86.5-point ride on Doc Mosley.
"I drew good bulls that weekend and I rode good," Byrne added. "It all just went in my favor. I rode better bulls on a weekend and rode all my bulls and haven't won. It is just kind of the way the cookie crumbles, and the way it plays out that it is going to be good for you in the end."
A month later, Byrne made sure to get another win and was victorious at the Duluth Invitational.
He finished second four times in his career, including back-to-back weeks during his 2014 rookie season.
Roy had finished Top-5 24 times in his career, while the late Pozzobon had finished in the Top-5 on eight occasions.
Fellow Canadian Dakota Buttar is the highest-finishing Canadian so far this year with a fourth-place finish in Oklahoma City, and he is the last Canadian to have won an event courtesy of his victory last year in Nampa, Idaho.
No. 18 Buttar currently leads the Canadian contingent in the world standings, followed by No. 34 Byrne and No. 43 Lonnie West.
As Byrne entered last weekend's Anaheim Invitation he was ranked No. 58. Down to his final injury exemption, he needed to earn roughly 104 points to crack the Top 30 of the standings to have a shot an alternate spot for this weekend's event in Kansas City, Missouri.
"It is one of those deals where you have to get your confidence back and get things going again," Byrne said prior to the event. "I have no doubt in my mind I am World Champion caliber, and I feel like it is going to come. I just have to get rolling and it is that feeling, especially in this sport. You get hurt and everyone forgets about you right away. It is a very humbling sport and a very lonely sport. The only way to get back on top and have everyone talking about you is by kicking ass."
Byrne went 1-for-3 at the event, backed by a win in Round 2 for making the 8 aboard Livin' Large for 87.75 points, to tie for sixth overall and earn 97.5 world points. He is currently 17.5 points behind No. 30 Lucas Divino.
The 25-year-old, however, expects to not only stay on the premier series, but to do so with a lot more more red and white flags in due time.
"I am sure you will," he continued. "It was just about changing the mindset of the guys that changed everything for it. When me and Pozzy were 18 coming up, not many guys were wanting to come down here and do it. We said we didn't want to be Canadian champion bull riders, we wanted to be World Champion bull riders. It kind of paved the way for a lot of those younger guys that were looking up to us. They saw us competing and being successful on this tour."
Byrne mentioned riders such as 2017 PBR Canada champion Zane Lambert, 2017 PBR Canada Rookie of the Year Coy Robbins, Brock Radford, Jordan Hansen, Dayton Johnston, Logan Biever, Todd Chotowetz and the West brothers (Lonnie, Bryce and Billy) as potential premier series riders in the future.
Hansen – the 2016 Canadian Pro Rodeo Association bull riding champion and 2017 NFR qualifier – hasn't committed to a full-time run in the PBR this year, and he may decide to eventually rodeo instead, but he did compete as an alternate in Anaheim. Hansen failed to log a qualified ride, going 0-for-3.
West was one of three Canadians, joining Johnston and Robbins in Grand Rapids, Michigan, for the Real Time Pain Relief Velocity Tour event.
West finished tied for eighth at the event after covering Chest Bump for 84.5 points in Round 1.
 "You are seeing the success they are having," Byrne said. "They are world-class bull riders. They are just getting their feet wet. You are going to see a big improvement and a bunch of Canadians down here kicking ass soon."
Be sure to stay tuned to PBRCanada.com and follow the tour on Facebook (PBR Canada), Twitter (@PBRCanada), and Instagram (@PBRCanada) for the latest results.