Byrne Rebounds in Sydney Leading Canada to Third Place Finish
By: Kacie Albert Monday, June 25, 2018 @ 9:36 PM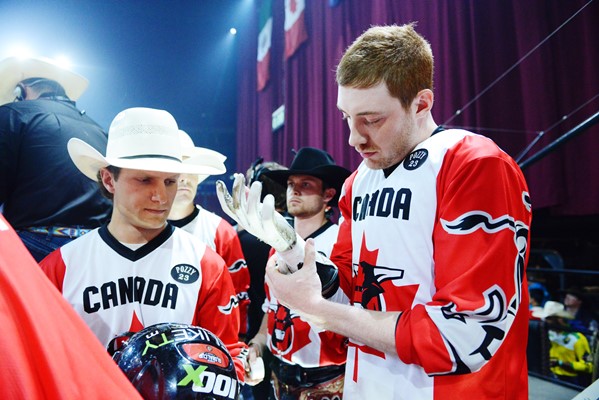 NEW YORK CITY – When Team Canada stepped foot on Australian soil earlier this June, they had one mission in mind – redemption.
"We knew that coming in that we were going to be the underdogs," Prince Albert, Saskatchewan's Tanner Byrne said. "Obviously everybody in the bull riding world, as I said before, was choosing the U.S. and Brazil, they're kind of the two main countries that are on the premier series tour, so they're obviously going to be the favorites coming in, and when knew that.
RELATED: Tanner Byrne Forecasts Redemption in Sydney
PBR's Global Cup held it's first-ever stop last November on Byrne's home soil, taking over Rogers Place in Edmonton, Alberta. While the host nation fielded a team of 14 contenders, double the size of the visiting countries, they were unable to surpass powerhouses Team USA and Brazil, concluding the five nation showdown third.
"But our team going in, we knew how much skill we had," Byrne added. "We knew just because what is said on paper because of the stats didn't mean we didn't think we were going to come in there and win first place.
"We had no doubt in our minds that we were the best team there -- and it came down to it."
After covering just 11 of their 32 draws in Edmonton, a leaner eight-man Team Canada went 13-for-18, racking up 986.8 points, to finish third, just 19.75 points behind event winners Team
RELATED: Team Canada Third at PBR Global Cup in Sydney
"We got 12 out of our 12 bulls ridden, we just had lower scores than the Brazilians to get the win," Byrne reflected. "But we proved to the world that we're just not there to compete, we're contenders to win the whole thing. It was a fun experience, and I couldn't ask for a better team."
And while the event was team-formatted with national pride on display each time the chute gate flung open, Byrne was the star member of the contingent representing the Maple Leaf.
After going just 1-for-3 in Edmonton, Byrne was one of just two riders to deliver a flawless 4-for-4 performance in Sydney. He finished second in the individual aggregate, trailing winner Kaique Pacheco by a slim 2.5 points.
On the first night, he covered Annihilation for 79.5 points in Round 1, then made the 8 on SweetPro's Hillbilly Deluxe for 83.5 points in the event's first bonus round. On the final night of action, his perfection continued with on 82.5-point ride aboard Light Em Up, capped by an 86-point trip on SweetPro's Fully Locked & Loaded.
"That's the thing with it, I was lucky that Aaron [Roy] trusted me enough to put me on those two bonus bulls because it's on a four-head average and there were lots of guys that didn't have the opportunity to get on four bulls.
"For me, it was definitely a win, I felt really solid and got going really well."
The headlining performance comes amidst another solid season for the 6-foot-4 rider on the elite 25th PBR: Unleash The Beast. Currently ranked No. 21 in the world, Byrne has gone 12-for-36 thus far in 2018, earning the third elite tour event win of his career this February in St. Louis.
RELATED: Tanner Byrne Wins St. Louis Invitational
"Like I said I had fun doing it," Byrne said further of the Sydney leg of the Global Cup. "[I] was fortunate enough my team and my coach believed in me enough to put me in that pressure situation and ride those short rounds."
While Byrne's talent for the sport is undeniable, his success down under was new for the rider, having gone 4-for-8 in his two previous trips to the nation. Most recently, Byrne traveled to Australia in December to kick start his 2018 season, going just 1-for-5.
When asked, Byrne credits one thing to his reversal of fortune, the team dynamic.
"I normally don't ride really good in Australia for some reason," Byrne said. "The last few trips that I went over there I didn't have the best of success, but I think this time with that team aspect I think it just brings out the best in everybody on all the teams, not just on our team.
"But, that support factor and that group and the atmosphere that comes along with it, is next to nothing if you ask anyone on that team. It's one of the coolest experiences in the sport of bull riding that we have ever been a part of.
"So I think that obviously helps when you're riding for your buddies and for your country. That added pressure, I usually ride better when the pressure is on highest, the bulls are the best, so I think that's why I was able to pull through there. I was fortunate enough to get the right bulls and had fun doing it."
And despite the purpose of the trip to Australia with the sole intent of bringing the nation's dirt encapsulated inside their glittering horn from the Global Cup trophy, it also allowed for the team members to deepen their relationships with one another.
"We all got to hang out," Byrne explained. "We all stayed together for the week leading up to it and got to be in a different country, and not knowing really the place or other people, we got to be tourists.
"But we got to do it together, so we got a lot of bonding time and got to know each other a lot better just in those few days, and you could see it in our riding.
"You look on the back of the chutes and the guy that just rode is fired up, but the seven or eight guys on the back of the chute they're even more excited than he was to stay on. "
While the nation's end result remained consistent from the Edmonton stop, Byrne is still proud of the effort given by his team.
"It was cool, and it was a really great team and we got to show the talent that Canada truly has and I've been saying for a long time here now, and we showed up and we showed out. "
Be sure to stay tuned to PBRCanada.com and follow the tour on Facebook (PBR Canada), Twitter (@PBRCanada), and Instagram (@PBRCanada) for the latest results.