Byrne Riding with Extra Motivation in 2018
By: Justin Felisko Wednesday, January 10, 2018 @ 11:54 AM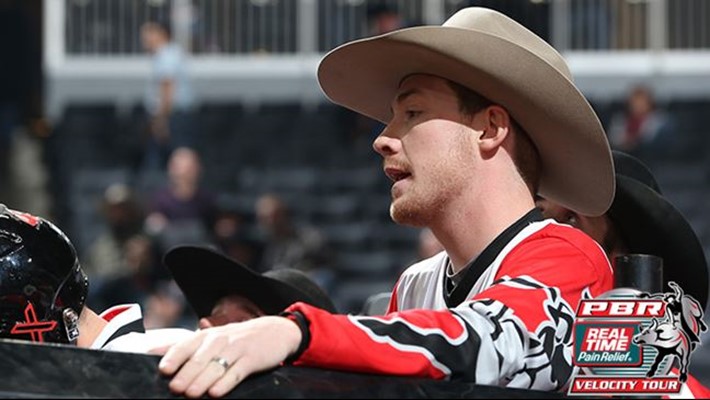 PUEBLO, Colo. – Tanner Byrne sat inside the locker room inside AT&T Stadium last February and looked down at his bull rope and began to unpack the rest of his gear.
There was a look of uncertainty as he prepared to make his 2017 debut on the PBR's premier series after missing the first month and a half of the season because of a broken collarbone he sustained in the practice pen a week before the season opener.
However, there was much more going on in Byrne's personal life – as it was for many of the bull riders that knew and loved Ty Pozzobon.
Pozzobon passed away a year ago yesterday in Merritt, British Columbia. He was 25 years old.
Standing in Pozzobon's riding boots almost a year later, Byrne said in New York this past weekend that he struggled with whether or not he still wanted to ride bulls for a living in 2017.
"It was a tough year all around losing Ty Pozzobon," Byrne said. "That had a lot to do with my year last year. My mind wasn't in the game. I wasn't right. I wasn't ready to be riding bulls and competing, especially at this level."
Byrne's 2017 season was marred with injury after injury as he tried to fight his way back to the PBR's top level of competition. Byrne sustained a torn groin later in the year and had a nagging wrist injury, as well as a broken ankle, that resulted in a 101st finish in the world standings.
None of that stacked up with the struggles Byrne was dealing with internally.
There was self-guilt and a hope that maybe he could have done something to help Pozzobon, who committed suicide.
"After it happened, you know the dangers of the sport," Byrne said. "100 percent. I have known it since I was a kid. It really came to the forefront with me when I carried my friend down the aisle in a casket. It was like, 'Is this worth it?' I have a wife and a kid, and it really makes you take a deep look into what you are doing. At that time, I didn't feel right about it. I didn't feel good about it."
Thanks to the support of his wife, Meghan, and his family and friends, Byrne decided he still wants to pursue a career.
Byrne thought a lot about what his buddy would have wanted him to do.
"I have a huge support of my family, and that is really what got me through all the tragedy and all the injuries and just their belief in me and their wanting me to keep going," Byrne said. "I fed off that and got my stuff back together. I got my mind back right and just trying to let it all go and take it one at a time and enjoy these moments.
"I am still battling to get back there, but I honestly do feel good and I know what he would want me to do. That is, 'Do what makes you happy. Enjoy your life.'
"This is what I enjoy doing. This is what I love. It is dangerous and scary, but we always say you could get hit by a car walking across the street and the same thing can happen to you. It is the choice we choose. I love this sport and I love now where it is going."
Byrne has moved on from the grieving process and is more so onto the remembrance stage. In honor of Pozzobon, Byrne is hoping to help continue to raise mental health awareness, especially when it comes to concussions, for bull riders and rodeo athletes throughout Canada and the United States with the Ty Pozzobon Foundation, the PBR's Western Sports Foundation and its sports medicine team.
"We are the toughest athletes in the world, but we want to make it to it being tougher to take care of yourself," Byrne said in regards to the Ty Pozzobon Foundation. "We are bull riders. We are not rational thinkers. We get on bulls for a living. Sometimes we need to be protected from ourselves."
Prior to travelling to the Real Time Pain Relief Velocity Tour Denver PBR Chute Out at the National Western Stock Show Byrne made some time to reflect on Pozzobon.
"It is going to hit me hard, and obviously I will take some time during the day to reflect and remember," Byrne said while in New York City.
"It is not going to be different than any other day. He is always on my mind. He is always there. It is a constant battle for sure."
When he steps onto the back of the bucking chutes, his longtime friend will be a part of his body as well. Byrne has a "Live Like Ty" decal on his riding vest.
The "Live Like Ty" slogan was first created by Pozzobon's good friend, Randy Quartieri, and it has since stayed true for Byrne.
"It kind of means different things for everybody," Byrne said. "For me, it means live like the way Ty treated other people. How nice he was to people. It didn't matter if he knew you for 10 years or if they knew you for a day. He was going to be your friend and sit and talk to you for 10 minutes. He made everyone around him feel good and he made the world a better place by doing that.
"For me, 'Live Like Ty' means being a better person overall, being good to your fellow man and making the world a better place and being better to mankind."
Be sure to stay tuned to PBRCanada.com and follow the tour on Facebook (PBR Canada), Twitter (@PBRCanada), and Instagram (@PBRCanada) for the latest results.