Calgary Stampede: Hansen and Wing Advance
By: Kacie Albert Saturday, July 14, 2018 @ 9:08 PM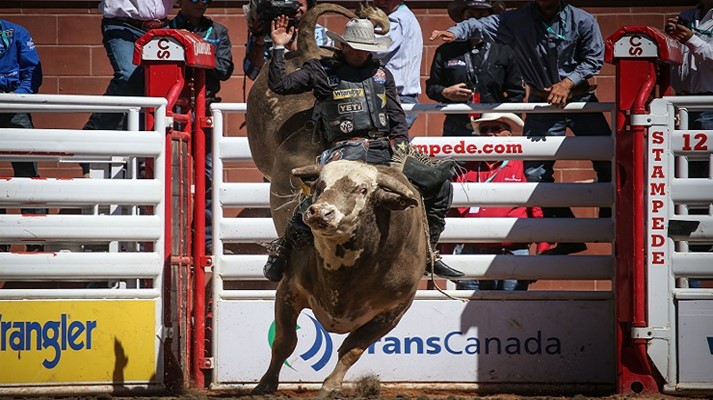 CALGARY – At the Calgary Stampede anything can happen -- especially on Wild Card Saturday.
With two spots vacant in the lineup for Championship Sunday, Jordan Hansen and Stormy Wing made the most of their Saturday afternoon draws, finishing first and second, respectively, to advance to the final round of the Greatest Outdoor Show on Earth, where a first-place $100,000 check is up for grabs.
 "This is definitely new," Okotoks, Alberta's Hansen told PBR Canada's Ted Stovin of the last-chance round. "It's not really the main plan that I had for myself that's for sure, but it's pretty cool they have this Wild Card Saturday. It gives us a second chance to do good, and luckily it worked out."
International fans living outside of Canada can watch Showdown Sunday from the Calgary Stampede on RidePass starting at 3:15 p.m. ET.
Hansen, who entered the Wild Card draw 1-for-4, rode Big Red for 88 points to win the Saturday afternoon round, in what was a rematch of his final draw from Pool A.
"I was pretty excited," the 24-year-old said of the ride. "That's a pretty good bull, been a good bull for a long time, and I was pretty embarrassed and upset there falling off the first time, so I made sure it didn't happen twice.
"I just had to go home, regroup and kind of just refocus things," he added. "I was kind of pretty upset with myself, that's a bull that should have never bucked me off, even on my worst day, so just kind of had to go home, regroup, and kind of just get feeling better too, and luckily it worked out today."
For Hansen, the Calgary Stampede comes amidst his recovery from a broken hip and vertebrae which sidelined him from competing at the second leg of the inaugural PBR Global Cup in Sydney, Australia.
"A lot better now," Hansen quipped of how his body felt. "Definitely after the first four days I was sore, after not being on for the long. So, but you know, bone wise everything feels good, just a little bit muscle sore so for the most part pretty good actually."
Awaiting Hansen in tomorrow's draw is Twisted, who according to ProBullStats.com remains unridden, including a buckoff earlier in the week of Wing.
"I'm not going to be picky with what I have." Hansen stated. "I think it's going to be a great pen of bulls and you can ride every one of them if you do things right. So I'm just going to go make the best ride I can and hopefully I'll be back tomorrow night with a big check in my hand."
Also advancing out of Wild Card Saturday was Dalhart, Texas' Wing who was 0-for-4 prior to the round.
"Let's just talk about today, because the week before that hasn't been worth a shit," Wing remarked.
In his ride-to-advance matchup, Wing made to 8 aboard Muddy Water for 87 points.
"I talked to Tanner [Byrne] and some of those guys, and they told me he was going to be good, around to the left," Wing said of his draw. "I usually like bulls that go to the left, so I was pretty pumped up when I got here today. I looked at the back pens and he was a little larger than what they had told me about, but it worked out good. First time to Calgary and, like I said, the week's been slow, but not a better day to do it than the Wild Card and make it back there tomorrow, and couldn't be happier."
Next on the docket for the 29-year-old is Pound Sand.
"I've kind of struggle throughout the week, but I'm not going to dwell on it and you can't dwell on it," Wing said. "I got the ball rolling today so I'm just going to try and keep it rolling and have fun and show up and just do my job."
For Wing the advancement comes amidst a dismal year where he is 8-for-43 across all levels of competition, now ranked outside of the Top 100 on the heels of the 2017 season where concluded the year a career-best No. 9.
"Just some stuff in my personal life," Wing said of his struggles. "You try to tell yourself throughout this sport that it's a mind game, and there was stuff within myself that I wasn't happy, and it's just kind of some personal stuff that I think has really kind of turned it around."
To advance, Wing and Hansen beat out the likes of PBR World Champions J.B. Mauney and Jess Lockwood, in addition to Canadian champions Zane Lambert and Scott Schiffner.
"He's sore and just got beat today," Wing said of Mauney who bucked off Colt 45. "He was riding his bull and tried his guts out, you just win some you lose some.
"I always hang out with him, he's one of my heroes, and I wish he'd of been there tomorrow with us, but he'll come back and maybe try to help me win $100,000."
The duo join Joe Frost, the victor from Pool A, alongside 2016 PBR World Champion Cooper Davis, seven-time PBR World Finals qualifier Fabiano Vieira and Ty Wallace.
RELATED: Joe Frost Wins Pool A at Calgary Stampede
From Pool B, the riders that automatically qualified for Championship Sunday included winner Cody Nance, and Sage Kimzey, Marcos Gloria and Ramon de Lima.
RELATED: Cody Nance Notches Pool B Victory at Calgary Stampede
While money earned has been the deciding factor the past nine days, once Sunday arrives, the slates are wiped clean and the Calgary Stampede champion will be the rider who posts the single highest-marked ride in the championship round, featuring the top four riders following Sunday's long round.
The winner of each of the six rodeo disciplines at the Calgary Stampede takes home $100,000. The bull riding victor earns 120 points toward the world standings.
"I love it," Wing said of the environment. "I came with Shane Proctor whenever he won it one of those years, but I was just a spectator, and told myself I'd never come back unless I was invited and I got invited this year, so I'm here.
"And this is a rodeo that's talked about throughout the Northern Hemisphere and the world, so it couldn't be better.
"That was kind of incentive and what pushed me, a little goal to make it, so now it's a little goal I reached and I've got some bigger goals now."