Calgary Stampede: Kolbaba Victorious in Pool B
By: Justin Felisko Wednesday, July 11, 2018 @ 8:58 AM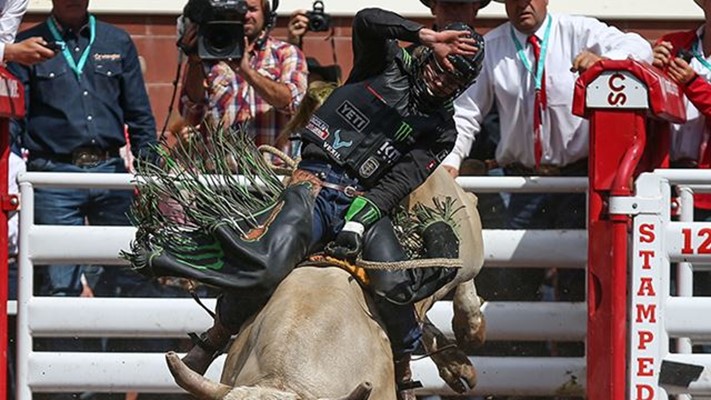 PUEBLO, Colo. – Derek Kolbaba's return from a torn right ACL in March has been an uphill battle, but Kolbaba is finally starting to take small steps toward regaining his previous World Champion contender form.
Kolbaba rode Tippin' Point for 86.5 points Tuesday at the Calgary Stampede to win the first day of Pool B competition.
International fans living outside of Canada can watch the Calgary Stampede on RidePass beginning at 3:15 p.m. ET every day.
The format for the Stampede, which has a combined $2 million worth of prize money up for grabs for the nine rodeo events, is different from a standard PBR event.
Riders battle it out for four days in highly-contested pool play with the goal of advancing to Showdown Sunday as one of the pool's top-four money earners. If they don't make it, they can then jockey with the remaining riders on Wild Card Saturday for the final two spots.
However, once Sunday arrives, the slates are wiped clean and the Calgary Stampede champion will be the rider who posts the single highest-marked ride in the championship round, featuring the top four riders following Sunday's long round.
The winner of each of the nine rodeo disciplines at the Calgary Stampede takes home $100,000. The bull riding victor earns 120 points toward the world standings.
Kolbaba earned $5,500 for his round-winning ride.
The 22-year-old has been competing at some various rodeos this summer to try and get himself back into peak riding shape after he tore his ACL in North Little Rock, Arkansas, on March 2.
He had bucked off his first 12 bulls back in PBR competition and admitted in Sydney, Australia, that the injury was giving him mental fits at times.
Kolbaba, who would have rode Cochise for $40,000 in Vinita, Oklahoma, if not for a slap last month, showed no ill effects from the injury on Tuesday.
The Walla Walla, Washington, bull rider is ranked 20th in the world standings and is 15-for-47 (31.91 percent) at all levels of PBR competition.
Another man that's no stranger to injuries is two-time World Champion J.B. Mauney.
In his first event back at the Calgary Stampede since sustaining a career-threatening shoulder injury last year, Mauney finished second to Kolbaba with 85.5 points on Poker Chip.
The qualified ride was also Mauney's first since returning to competition from a broken back he sustained on April 6.
RELATED: Mauney ready for his return to the Calgary Stampede
Jared Parsonage was a last-minute substitution for Trey Benton III on Tuesday, and the red-hot Canadian converted aboard Magic Show for 81.5 points and a third-place finish ($3,500).
Parsonage won the final day of the PBR Canada Touring Pro Division Ranchman's PBR BullBustin' last week.
Reigning Calgary Stampede champion Sage Kimzey placed fourth ($2,500) with 78.5 points on the back of Gangster Code.
Meanwhile, No. 3 Ramon de Lima turned down a re-ride option and kept his 74-point ride on Dense Fog for a fifth-place finish ($1,500).
Calgary is Lima's first PBR event since helping lead Team Brazil to victory at the PBR Global Cup in Sydney.
Defending PBR World Champion Jess Lockwood and No. 4 Cody Nance both bucked off their first bulls of pool play.
Fans can relive all the action from day one of Pool B competition Wednesday at 10 a.m. ET on CBS Sports Network.
POOL B CALGARY STAMPEDE BULL RIDING STANDINGS
Derek Kolbaba – 86.5 – $5,500
J.B. Mauney – 85.5 – $4,500
Jared Parsonage – 81.5 – $3,500
Sage Kimzey – 78.5 – $2,500
Ramon de Lima – 74 – $1,500
Marcos Gloria – 0 – $0
Stormy Wing – 0 – $0
Zane Lambert – 0 – $0
Jess Lockwood – 0 – $0
Cody Nance – 0 – $0