Coverchuk Aims for No. 1 Ranking in Canadian National Standings
By: Ted Stovin Tuesday, August 28, 2018 @ 5:04 PM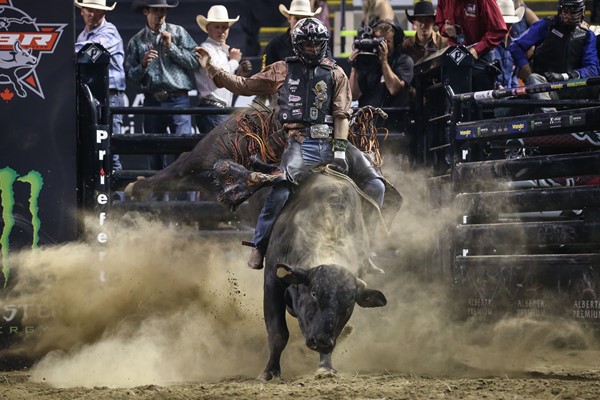 CALGARY, Alberta – The door is open, Cody Coverchuk just needs to step through it.
However, having faced this opportunity in numerous past seasons, the only problem for Coverchuk is he yet to seize the chance.
"We get to this point every year and it just seems like I choke," Coverchuk said.
"I'm just trying to go at it. Like I'm not trying to think about the placing or anything or where we are at or what it's for, just keep it simple. I just want to ride each and every bull I get on, it doesn't matter what it is, where it is, if it's for $1,000 or $100,000, just ride the bull for 8 seconds."
During his first PBR season in 2015, the Meadow Lake bull rider finished No. 12 in Canada. The very next year, in 2016, Coverchuk recorded the best finish of his career, ranked No. 3 at season's end behind Champion Ty Pozzobon and reserve titlist Dakota Buttar.
Most recently, Coverchuk held the No. 1 ranking in Canada for several weeks in 2017, but relinquished the spot in August, concluding the season No. 5.
"Ah, it's the pressure I think," Coverchuk said. "I think I let all the hype build up and really build up in myself and I try too hard. I honestly think that I want it too bad and I'm tensing up and trying way too hard to make it when I should just flow with it and let it work.
"In previous years I let all the pressure get to me and this year I'm just kind of, the chips are gonna fall where they are gonna fall and I'm just going to try to have fun riding bulls and ride each and every bull for what it is."
Having what is arguably his most successful season of his career, Coverchuk is currently No. 45 in the PBR world standings, 128.33 points behind No. 35 Emilio Resende and a berth onto the elite 25th PBR: Unleash The Beast.
Acting throughout the summer, Coverchuk most recently finished both fifth and sixth in Eureka, Montana at the Touring Pro Division event to net 15 world points.
"Yeah it went not too bad," Coverchuk said. "I ended up getting on four bulls, I double entered and I rode both my long round bulls, but unfortunately I came down a little early on both my short round bulls.
"But I got on two really got bulls in the short round and it really made me realize that my riding isn't right where I need it to be I guess."
In Round 1 he rode Born Free for 83.5 points and First Class for 83 points, but was unable to make the 8 on Chad Berger's Big Black Cat and Clevenger in the Championship Round.
"They were both pretty small and the first one just kinda spun away from my hand and was really good for about four seconds then he kinda quit me and got a little bit flat, but I managed to grit it out," Coverchuk said of First Class.
"My second long round bull was really good actually," he said further of Born Free. "I thought I could have been a few more points, but I guess I made It look too easy. He just went out there and faked left and set up and come around to the right and it felt really good.
"Just two nice bulls for sure."
Next up for the current No. 2 man in Canada is one of the most prestigious events of the year in Saturday's Glen Keeley Memorial Bull Riding on Saturday, September 1. Also on tap are two trips to Armstrong, British Columbia on the nearly complete Canadian Pro Rodeo Association (CPRA) schedule.
 "I go to Armstrong on Friday and then come back to Stavely for Saturday and then back to Armstrong for Sunday," Coverchuk said. "I'm trying to get Rookie of the Year so that's why I'm still going to all these and actually I'm leading the Pro Tour going into Armstrong. I would like to ride at the Calgary Stampede next year."
With his first Canadian Finals Rodeo (CFR) qualification all but notched, the winner of the Pro Tour earns a direct bye into the 2019 Calgary Stampede. If that doesn't happen, however, there's another spot awarded to the PBR Canada Champion set to be crowned at the Canadian Finals on November 23- 24 in Saskatoon.
Things are looking great for the new dad.
"It's great man, I love it," Coverchuk concluded. "It's definitely a whole new perspective on life.
"I'm not riding for myself anymore I have a whole family to feed now. Gotta hump up and quit falling off and always strive to be better."