Coverchuk Looks to Ride CFR Success into PBR's Canadian Finals
By: Kacie Albert Monday, November 19, 2018 @ 1:50 PM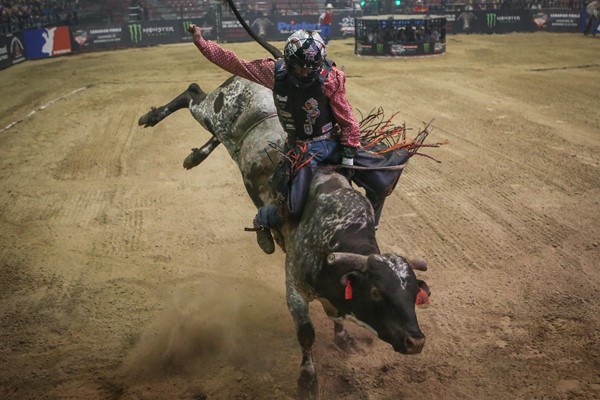 NEW YORK CITY – On Saturday, PBR Canada will crown its 2018 Champion, as one of the tightest title races in league history comes to a close inside Saskatoon's SaskTel Centre.
While Australia's Lachlan Richardson will lead the 21-man field into the thirteenth annual edition of the season-culminating event, Cody Coverchuk, currently No. 2 in the nation, just 83.33 points behind the top ranking, will hope to replicate his success for the 2018 Canadian Finals Rodeo (CFR) as he seeks his first PBR Canada Championship.
RELATED: 2018 PBR Canada Finals Qualifiers Announced
"I try not to think about that," Coverchuk said of his current ranking. "It's do or die at the finals with how many points are available. Just ride every bull you get on and hope for the best."
This year's PBR Canadian Finals will have a new format, with all riders attempting one bull each in both Round 1 and Round 2 on Friday, followed by Round 3 and the championship round featuring the Top 12 on Saturday.
Collectively, a rider could earn as many as 2,250 Canadian points, creating a viable pathway for all entered riders to leave the event as the Canadian Champion.
"I like the new format," Coverchuk stated. "It's a change because Saskatoon for myself hasn't always went the greatest, so kind of just going in there this year with a whole new mindset, and kind of throw caution to the wind and go for 90."
A four-time qualifier to the PBR Canadian Finals, the Meadow Lake, Saskatchewan native's best finish came in 2016 when he was seventh after going 1-for-3.
Last season, the home province hopeful, however, was shutout, going 0-for-2. After beginning the event ranked No. 3 in the national standings, 711.66 points behind then No. 1 Brock Radford, he concluded the year No. 5 and 1,632.5 points behind Champion Zane Lambert.
This season, however, Coverchuk will enter the Canadian Finals with a momentous performance at the 2018 CFR at his back.
After going 5-for-6, Coverchuk concluded the year with a second-place effort both at the CFR and in the Canadian Professional Rodeo Association's (CPRA) year-end standings.
"I felt really good after the CFR," he reflected. "It's not very often that you go into a Finals and come out after the Finals feeling better than when you went in, and that's kind of how I felt."
 Among the highlights from his efforts in Red Deer, were his back-to-back runner-up efforts in Round 3 and Round 4, covering Ray's Last Jump for 84.25 points and Mr. Sunshine for 85.25 points. His high-marked ride of the event came in the final round, marked 87 points for his qualified ride aboard Blackstone After Party.
Collectively, the 27-year-old earned $33,615 at the CFR, bringing his total season earnings in the CPRA to $59,503.72.
"That's what I went there to do was to make it all worthwhile," Coverchuk said. "We rodeo all year, spend all of our money to get to the CFR and that's where you have the chance to make bank. So I made the most of my opportunities, and I'm pretty happy with it."
Instead of taking the near three weeks between the two finals as a rest, Coverchuk was back to work the very next weekend, competing at the final regular-season PBR Canada event of 2018, the first-ever Touring Pro Division event in Yorkton, Saskatchewan.
"Going into Yorkton I was expecting good things, but in bull riding it doesn't always work out and that's part of it," Coverchuk said of his 0-for-2 effort at the event. "Got to shut that out and move on."
"I got on some really good bulls," he continued. "That second bull I got on, that Uptown Funk of Chris Hanson's, that bull was outstanding the second day. He really bucked."
Despite the less than desired finish, Coverchuk is armed with a positive attitude ahead of the PBR Canadian Finals, where he knows his performance will greatly impact his next goal, qualifying for Team Canada for the first-ever Global Cup on U.S. soil.
RELATED: AT&T Stadium in Arlington to Host PBR Global Cup
A member of the contingent for the first leg of the inaugural event in Edmonton, Alberta, Coverchuk did not get selected for the eight-man roster that traveled to Sydney in June.
"Hopefully it all works out, and hopefully I'll get to go down there," Coverchuk said. "I'm just going to keep trying to ride more bulls, that's all you can do, and really just try to standout, so Aaron [Roy] picks me."
Between the two marquee events, however, Coverchuk plans to take some much needed time off.
"I'm going to try and go to all the big ones here in the new year, but I am going to try and take a couple weeks off here," Coverchuk said. "After Saskatoon just reset the motors and hopefully we're good enough to go for Team Canada in February, but we'll see how that works out."
Looking even further forward, Coverchuk already knows where his 2019 season will come to a close.
"2019, the World Finals, that's the goal."
The 2018 PBR Monster Energy Canadian Finals, presented by Mac's/Circle K and Dakota Dunes Casino begin on Friday, November 23 at 7:30 p.m. CST with Round 1 and Round 2. Tickets are still available and can be purchased at the SaskTel Centre Box Office, online at PBRCanada.com or Ticketmaster.ca, and by phone at 1-800-970-SEAT (7328). Fans purchasing a weekend package with tickets to both shows will receive a 15% discount.
Fans will also be able to watch all the action LIVE on RidePass. The stream will begin on both Friday, November 23 and Saturday, November 24 at 8:30 p.m ET.