Game Notes - Halifax
By: Kacie Albert Saturday, May 26, 2018 @ 2:02 PM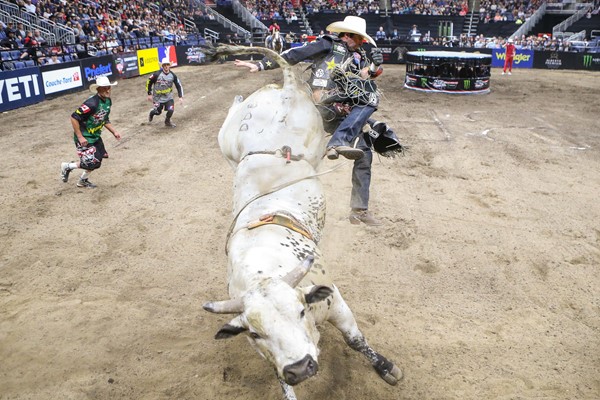 BULLS TAKE HALIFAX – This weekend, for the first time in series history, PBR Canada's Monster Energy Tour stops in Halifax, Nova Scotia at the Scotiabank Centre for the fourth event of the season. While the event marks the tours first event in the city, PBR Canada's Canadian Cup Series last visited the maritime city in 2011.
LAST TIME IN HALIFAX – When the PBR last stopped in Halifax in 2011, Matt Triplett captured the first event win of his career after going a perfect 2-for-2. In his first year competing at PBR events, the Columbia Falls-native used an 81-point trip on Renegade in Round 1, followed by an 85.5-point effort on Crunch Time in Round 2 to earn the win. Since, Triplett has become a tour regular on the premier 25th PBR: Unleash The Beast, twice finishing inside the Top-5 in the world rankings at season's end. After undergoing reconstructive shoulder surgery at the conclusion of 2017, the Halifax event will mark his sixth event of the season as he continues to climb the rankings, currently ranked No. 63. He has drawn Homeboy from Skori Bucking Bulls in Round 1.
GLORIA BASKS IN THE GLORY – Last weekend, for the first time his his three-year PBR career, Brazilian Marcos Gloria rode to an event win, victorious at the Canadian Iron Cowboy in Québec. Going 2-for-4, Gloria earned $17,928.29 in addition to 370 world points catapulting him more than 60 spots in the world rankings where he is now No. 32. Gloria also earned an impressive 650 Canadian points, launching him to No. 2 in the national standings, where he now trails leader Brock Radford by 367.5.
BULL PEN – Last weekend, for the first time this season on the Monster Energy Tour, a bull other than Happy Camper captured the top bull honors. In Québec, Vold Rodeo's Twisted was marked 46 points for his 2.15-second buckoff of Brock Radford. The top marks of his career, Twisted will once again buck in the event's Championship Round. Other notables from the Vold Rodeo pen include All Access, who earned a 41.5-point score in Quebec, and Tequila Jax, marked 41 points in Quebec. While Two Bit Bucking Bulls' streak of top honors was ended, the bovine athlete still logged an impressive, and career-best, 45.5-point bull score for his 6.26-second buckoff of Marcos Gloria. Much like Twisted, Happy Camper will also compete in the Championship round. Happy Camper is one of four from the Two Bit Nation in Halifax, alongside All Business, Big John and Catch My Drift, all bucking in Round 2.
THIS WEEKEND'S FORMAT –This weekend's Monster Energy Tour event in Halifax will feature a field of 14 riders, all competing in two rounds, with the Top 8 advancing to the Championship round will the event winner will be crowned. To begin the night, all entered riders will attempt one bull each in Round 1 and Round 2. The Top 8 based on the combined score from those two rounds will then advance to the Championship Round where they will attempt one final bull in an effort to win the event title and part of the $20,000 purse.
NEXT UP – PBR Canada's Monster Energy tour will next travel to Moncton, New Brunswick, and Moncton Coliseum on Saturday, June 2 for the fifth event of the season, set to begin at 7:00 p.m. AT.
PROVIDING PROTECTION – The bull fighters on hand for this weekend's event in Halifax are Dominic Roy, Ty Prescott and Brett Monea.
HALIFAX COMPETITORS BY COUNTRY  
Brazil (1) –Marcos Gloria 
Canada (7) –Wyatt Gleeson, Dayton Johnston, Zane Lambert, Justin Lloyd, Jacob Moore, Lonnie West, Cole Young
United States (5) –Cody Casper, Koal Livingston, Austin Richardson, Dayton Swearingen, Matt Triplett
BREAKDOWN BY PROVINCE –
Alberta –Wyatt Gleeson, Dayton Johnston, Zane Lambert, Lonnie West, Cole Young; Ontario – Jacob Moore; Saskatchewan –Justin Lloyd.