Game Notes - Kelowna
By: Kacie Albert Saturday, July 7, 2018 @ 12:00 PM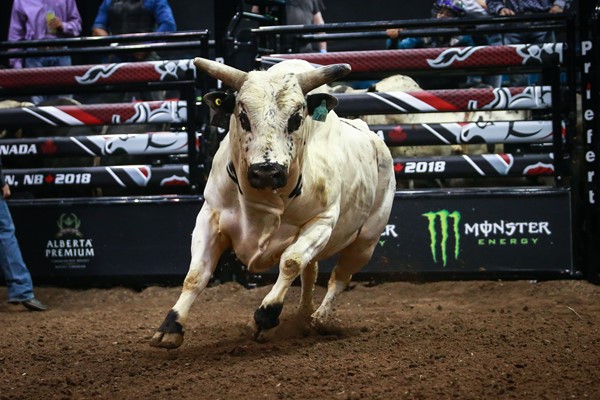 KELOWNA GETS RANK – This weekend PBR Canada's Monster Energy Tour stops in Kelowna, British Columbia at Prospera Place for the sixth event of the season. While the Touring Pro Division traveled to the city last season, the event marks the elite tour's inaugural visit.
RELATED: View the complete Kelowna Game Notes here.
SO FAR THIS SEASON – With the tour's second Western event of the 2018 season for the Monster Energy Tour set to take place in Kelowna, the already held five events have played host to the rise of new faces. After young-gun Brock Radford kicked off the elite tour's season with a win in Calgary, the series then travelled East for a four-event stretch. Beginning in Ottawa, fans watched on as 18-year-old Texan Austin Richardson went a perfect 2-for-2 inside the home of the Ottawa Senators to capture his first PBR event title. The following two weekends, however, belonged solely to surging Brazilian Marcos Gloria. Compliments of his wins in both Québec and Halifax, he surged to No. 30 in the world and catapulted to the top of the Canadian national standings. Concluding the slate of events, rising Canadian Lonnie West stunned the sold-out crowd in Moncton, going 2-for-3 to capture the title at the first-ever PBR event in the city. While West is out injured and Richardson stateside, Gloria could capture his third win or Radford could match the Brazilian's two-stop victory record in Kelowna.
LAST TIME IN KELOWNA – In 2017, the Canadian Touring Pro Division brought the first-ever PBR event to the city of Kelowna. In front of a packed crowd at Prospera Place, Brock Radford earned his second event win in eight days as the only rider to go a perfect 2-for-2. Radford went on to win a historic four consecutive events, catapulting him to the top of the Canadian National Standings, a spot he held until the final day of the season when Zane Lambert made a come-from-behind surge to win his second national title. Radford will return to the lakeside city again this season looking to earn points to broaden his current lead atop the leaderboard.
RADFORD REACHES CAREER HIGH – After a career-best season in 2017, which saw him finish No. 2 in the Canadian standings and make his debut on the sport's top tour, Brock Radford continues to reach new heights with the current season roughly halfway complete. After going 2-for-2 in Sydney, Australia to help Team Canada finish third at the second leg of the inaugural Global Cup, the 23-year-old remained in Australia to compete at the nation's Iron Cowboy in Brisbane. Going a perfect 3-for-3, Radford finished second rising to a career-high No. 28 in the world.
TEAM CANADA – Nearly the entire contingent that represented Canada at the most recent leg of the inaugural Global Cup in Sydney, Australia are slated to compete in Kelowna. Led by Tanner Byrne, one of just two riders to go a perfect 4-for-4 Down Under, Team Canada went 13-for-18, racking up 986.8 points, to finish third, just 19.75 points behind event winners Team Brazil. While the finish tied their result for the first-ever leg in Edmonton this past November, the leaner eight-rider roster improved upon their 11-for-32 effort on home soil. Joining Byrne in the draw is Jared Parsonage (3-for-3), Brock Radford (2-for-2), Justin Lloyd (1-for-1), Zane Lambert (1-for-2),  Lonnie West (1-for-2) and Wacey Finkbeiner (0-for-1). In his first season back since breaking his femur during the 2016 PBR World Finals, the nation's coach Aaron Roy is also set to ride. The field will also include several other riders who represented their home nation's at the event: Edgar Durazo – Team Mexico; Stetson Lawrence – Team USA; Lachlan Richardson – Team Australia; and Matt Triplett – Team USA.
HOME PROVINCE HOPEFULS – On Saturday night, two riders will vie for the event title in front of a home province crowd: Jackson Scott (Kamloops) and Jake Gardner (Fort St. John). Gardner leads the duo, currently ranked inside the Top 20 of the national standings, approximately 1,300 points behind the No. 1 spot. Fans will also be able to cheer on Williams Lake's Greg Loring Jr., working the dirt all night long as one of two bullfighters tasked with protecting the event's riders.
GLOBAL FLARE – The Okanagan PBR Challenge will feature a diverse draw of riders, with cowboys from five nations, Australia, Brazil, Mexico, Canada and the United States, anticipated to compete inside Prospera Place. While Lachlan Richardson is the lone Australian in the field, the Mexico contingent includes Juan Carlos Contreras and former Canadian resident Edgar Durazo, while Brazil will be represented by Marcos Gloria and Italo Aguilar Goncalves. Six riders will travel to Kelowna from the United States, led by Stetson Lawrence, ranked No. 17 in the world, alongside Matt Triplett and Koal Livingston, both amidst summer tears after they were sidelined the majority of the first half recovering from reconstructive shoulder surgery. The Canadian slate of riders includes 19 names, led by two-time and reigning Canadian Champion Zane Lambert, three-time Canadian Champion Aaron Roy and elite tour regular Tanner Byrne.
STAMPEDE BOUND – Following the Monster Energy Tour event in Kelowna, two riders will make the trip to Calgary to compete in the Greatest Outdoor Show on Earth – the Calgary Stampede. Both riding as part of Pool B from July 10-13, Zane Lambert will be making his fourth appearance at the legendary event, while Marcos Gloria will be making his debut.
BULL PEN – This weekend, three of the four high-marked bulls of the event from the past tour stops will compete for their chance at taking home another Bull of the Event title. Two Bit Bucking Bulls' Happy Camper leads the pack as the only bull to repeat as an event's best, the best bovine athlete in both Calgary and Ottawa. His top scores from the season include a 43.5-point bull score in Calgary for his 4.44-second buck off of Jake Gardner, 44.5 points in Ottawa for dispatching Austin Richardson in 0.93 seconds and another 43.5-point effort at the tour's lastest stop in Moncton which resulted in a 7.92-second buckoff of Brock Radford. Happy Camper is joined by Quebec's top bull Twisted, of Vold Rodeo Company, who earned a league-best 46-point bull score for sending Brock Radford to the dirt in 2.15 seconds, and the most recent title winner Two Point Oh, from Skori Bucking Bulls, who took the title in Moncton after delivering a 43.5-point bull score for his 6.51-second buckoff of Marcos Gloria. All three will buck in the Championship Round. Other notables include Pound Sand from the Wild Hoggs and Finning Milky Chance of Flying Four Bucking Bulls.
THIS WEEKEND'S FORMAT –This weekend's Monster Energy Tour event in Kelowna will feature a field of 30 riders. To begin the night, all entered riders will attempt one bull each in Round 1. The Top 10 will then advance to the Championship Round where they will attempt one final bull in an effort to win the event title and part of the $20,000 purse.
NEXT UP – PBR Canada's Monster Energy tour will take a three month break before next traveling to Abbotsford, British Columbia, and the Abbotsford Centre on Saturday, October 13 for the seventh and final regular season event of 2018. Action will get underway at 7:00 p.m. PT.
PROVIDING PROTECTION – The bull fighters on hand for this weekend's event in Kelowna are Greg Loring Jr., and Ty Prescott.
KELOWNA COMPETITORS BY COUNTRY
Australia (1) – Lachlan Richardson
Brazil (2) – Marcos Gloria, Italo Aguilar Goncalves
Canada (19) – Logan Biever, Tanner Byrne, Cody Coverchuk, Wacey Finkbeiner, Cody Floyd, Jake Gardner, Wyatt Gleeson, Garrett Green, Dayton Johnston, Zane Lambert, Wyatt Laughlin, Tim Lipsett, Justin Lloyd, Jared Parsonage, Brock Radford, Aaron Roy, Jackson Scott, Cole Young
Mexico (2) – Juan Carlos Contreras, Edgar Durazo
United States (6) –Cody Casper, Stetson Lawrence, Koal Livingston, Zac Peterson, Daylon Swearingen, Matt Triplett
BREAKDOWN BY PROVINCE –
 Alberta – Logan Biever, Wacey Finkbeiner, Wyatt Gleeson, Garrett Green, Dayton Johnston, Zane Lambert, Wyatt Laughlin, Brock Radford, Cole Young; British Columbia – Jake Gardner, Jackson Scott; Saskatchewan – Tanner Byrne, Cody Coverchuk, Cody Floyd, Tim Lipsett, Justin Lloyd, Jared Parsonage, Aaron Roy.