Gleeson Strikes Gold in Third Event Since PBR Return
By: Kacie Albert Friday, April 13, 2018 @ 9:00 AM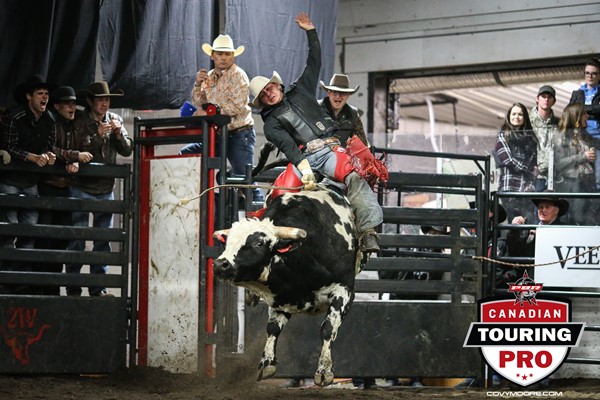 NEW YORK CITY – With just three Canadian Touring Pro Division events held thus far in 2018, a third different rider stood at arena center come event's end at the most recent stop in Marwayne, Alberta, with Wyatt Gleeson capturing the first victory of his career.
"It was my first PBR Canada win and I was pretty pumped," Gleeson told PBR Canada's Ted Stovin after. "I just about threw my hat into outer space it felt like. I was pretty fired up about it.
RELATED: Gleeson Earns First PBR Victory in Marwayne
"This is kind of the first bull riding buckle I've won in a little while. And it's really nice, I was pretty happy with it."
The 23-year-old opened the event winning Round 1 for covering Girletz Rodeo Stock's Jitter Bug for 86 points.
"The bull was really good, kind of hard to get out on," Gleeson recalled." I took him as best I could and then he kind of gave me some hard ones out of there. He was going right, and then left, and then found a spot back to the right and just really got on."
It was his Championship Round out, however, that caused everyone at the Marwayne Multiplex to take note of the Sundre, Alberta-native.
Marked 86.5 points, Gleeson became the first rider to cover Foley Bucking Bulls' Buck Nasty who had yet to be ridden at any level of competition, including a buckoff against Dayton Johnston at the most recent event in Calgary who was sent to the dirt in 2.37 seconds.
"I don't think he's been rode in 2018, and what I've been hearing is he's never been rode. I was pretty happy to ride him."
The victory earned Gleeson a paycheck for $4,179.45 in addition to 320 Canadian points. He is now ranked No. 4 in the PBR Canada standings, 537.5 points behind No. 1 Brock Radford.
The win came at Gleeson's third event of the 2018, shutout in Lethbridge and Teepee Creek, Alberta.
And his push this season comes after a several year break from the PBR, last competing in 2016.
"After the CFR [Canadian Finals Rodeo] I ended up having elbow surgery, that was in 2015," Gleeson said. "I had surgery in 2016, and then after that my elbow still didn't feel very good. So I kind of took a year off, went down to college in Texas, ended up getting hurt again, broke my hand and my wrist.
"So I was pretty well kind of out for the last couple years, just trying to get healthy again. And then last summer I went to some BRCs [Bull Riders Canada] and WPBs [World Professional Bull Riding] and just tried to go to a couple small bull ridings, get my confidence back up, and guess it kind of worked."
During his hiatus from PBR, Gleeson even competed in another discipline, bareback riding, however always felt pulled to the bulls.
"I always kind of felt like I was a bull rider that got on bareback horses.
"My coach kind of recruited me for bareback riding mostly," Gleeson said of his time as a college rodeo athlete. "Went down there, got hurt at the first one, so I think I went to three college rodeos and that was about it. I really struggled with the horses down there, they're pretty small and kind of soured me on the bareback riding almost.
"And then the bulls, I never got to get on too, too many bulls. I come home after a year and just kind of realized I just didn't want to ride bareback horses.
After a year of hard work on the pipelines, Gleeson, now focused on bull riding, is ready to commit to the summer slate of PBR Canada events.
"This winter I was just pipelining and just saving up for this summer. Went to a couple of practices and they went good, and went to Red Deer, and after that I went to Marwayne.
"The goal right now is to keep going with it," he added. "Go to all the Canadian PBR events."
"If I could pull a win out at one of these Monster Energy bull ridings then that would be huge for me. I'm pretty excited, I got a bunch of money saved up, so I don't see why I shouldn't be able to make it out there.
"I'm ready to go as hard as I can as long as I'm healthy and feeling good then I'll go to every single PBR Canada event."
PBR Canada's Touring Pro Division will next travel to Prince Albert, Saskatchewan on May 4-5 for the Clunie-Cooper Memorial PBR at the Art Hauser Centre. The nation's elite Monster Energy Tour will continue the 2018 season on May 12 in Ottawa, Ontario at the Canadian Tire Centre.
Be sure to stay tuned to PBRCanada.com and follow the tour on Facebook (PBR Canada), Twitter (@PBRCanada), and Instagram (@PBRCanada) for the latest results.