Green Begins 2018 on a Winning Note
By: Kacie Albert Wednesday, March 7, 2018 @ 6:31 PM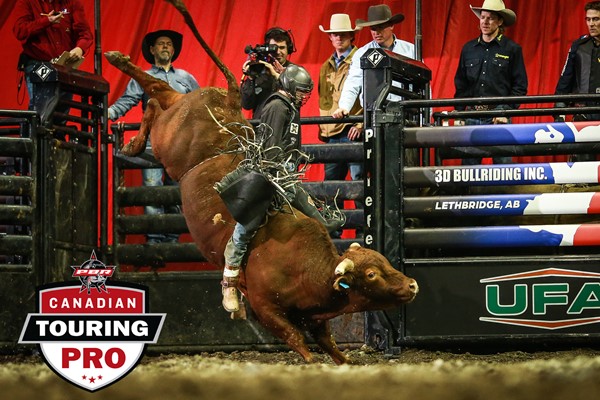 NEW YORK CITY – For 26-year-old Garrett Green, he entered last weekend's PBR Canada season-launching Touring Pro Division event in Lethbridge, Alberta fresh off a win and runner-up finish at the Canadian Professional Rodeo Association (CPRA) events the weekend prior in Claresholm and Red Deer, Alberta, respectively.
With momentum at his back, Green continued his winning ways, taking the title at the Bridge City Chrysler/LA Towing PBR Challenge in front of a near capacity crowd at the Enmax Centre.
"It's been a good start so far," Green said. "Getting second in Red Deer and then winning Claresholm and Lethbridge. I just got a new rope this year, so I'm really liking that, feeling really good."
A two-day event, the Meeting Creek, Alberta-native sat atop the leaderboard after the first night of action.
In Round 1 Friday night, Green rode Braithwaite Ranches' Fat Stacks for 78.5 points, before winning the championship round with an 86.5-point trip aboard Vold Rodeo/Prescott's Mish Mash, a bull with whom he had rich history.
RELATED: Green Holds on for Win in Lethbridge
Entering the Lethbridge event, the bovine athlete had been ridden just once in 13 attempts, with Brant Atwood marked 80 points on the bull in Elnora, Alberta in August 2016.
Green himself had even attempted Mish Mash in last season in Red Deer, lasting just 4 seconds.
"It felt really good," Green said of the duo's past meeting. "So I was looking forward to getting on him and getting him to the whistle, he felt really good."
Despite holding the lead after the first night, 30 riders, including himself as a double-entry, sat poised ready to overtake him on the final day of the event.
"Shoot, I was even going in there the next day trying to beat myself," Green said.
"And I had a really good opportunity there. In the long round I placed a good score of 84, drew my favorite bull Minion Stuart in the short round. Thinking I had it in the bag, and then I took Minion to about five or six and then he took my down over the head and ruined those chances for me."
But Green wasn't the only one who had his hopes dashed in the championship round, with all the riders who advanced with a qualified ride bucking off in the final round of the event.
For the win, Green collected a paycheck for $5,533.50, 60 world points, and 275 Canadian national points, now sitting atop the PBR Canada standings after concluding 2017 ranked No. 24.
"I had an alright year last year," Green reflected of 2017 when speaking of his recent success.
"I rode good and I won Claresholm last year too at the beginning of the year, so I think my hard work is just showing up a little more this year."
"And the rope sure feels good, but there's always a man behind the rope doing the riding."
One change Green has made of late is greatly altering his workout regimen.
"I decided to work out, lift weights and do yoga every day," Green explained.
"Then I ride horses bareback and getting my balance and my groin, doing a lot of balance work and what not. Just putting in a lot more effort than I used to that's for sure. "
Looking to improve upon his 2017 showing at PBR events, which included and event win in Marwayne, Alberta, in April, along with four Top-5 finishes at nine events, Green has set high goals for himself in 2018 with his eyes set on a trip to Sydney, Australia for PBR's second-ever Global Cup.
RELATED: Victory Sweet for Green in Marwayne
"I'd sure like to get on the team for the Global Cup to go to Australia," Green said. "That's one of them for sure, is to try and get on the Canada team, support the country."
"And then another one is to win the CFR and PBR Canada, I'd like to win those two."
"I'm going to go to Teepee Creek and then Calgary and then I think we've got a little bit of a break maybe, and then it starts to get really busy for May, June and July. I'm going to try to go to as many as I can and as hard as I can."
As the tour prepares to travel to Teepee Creek, Alberta and the Lyon's Production Services Event Centre for the Teepee Creek PBR, presented by Lyon's Production Services, Green leads No. 2 Wyatt Covington by 115 points.
Action for the second Touring Pro Division event of the season begins at 7:00 p.m. MT.
Be sure to stay tuned to PBRCanada.com and follow the tour on Facebook (PBR Canada), Twitter (@PBRCanada), and Instagram (@PBRCanada) for the latest results.