Hansen Starts 2019 on a Winning Note
By: Kacie Albert Tuesday, December 11, 2018 @ 5:11 PM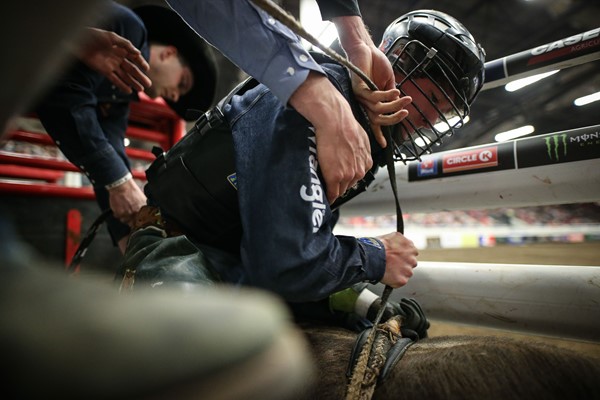 NEW YORK CITY – Much like in 2017, Jordan Hansen began his 2019 season in winning fashion, victorious at the first PBR Canada event of the year.
With the Canadian tour back in action just one week after crowing its 2018 champion, the 25-year-old replicated his winning ways from the Lethbridge Touring Pro Division (TPD) event in 2017, at the a one-day TPD stop held in Dawson Creek, British Columbia on Dec. 1.
 RELATED: Hansen Wins in Dawson Creek
"I kind of didn't really know what I was getting myself into at the start, but luckily it worked out for me," Hansen said of his win. `
In Round 1, the Okotoks, Alberta-native faced an unfamiliar foe in Vold Rodeo's Come on Over.
"I hadn't ever even heard of him," Hansen explained. "I had to text Nansen [Vold] to figure out what he was.
"He was just a young bull, he's not really sure what he's going to do, he kind of has a few different trips, but he bucked pretty much every time."
Despite the uncertainty of what to expect, Hansen reached the 8-second whistle, and recorded a score high enough to win the round, 88 points.
Much the opposite, in the championship round Hansen drew who he dubbed as the "pick of the pen," in Sure Shot Panda Haus.
"That's a bull all of us know pretty good," Hansen said. "I knew if I stayed on him, and made a pretty good ride, I had a pretty good chance of winning and it worked out for me."
According to ProBullStats, in six outs across all levels of competition, that bull had been ridden just once prior, by Thor Hoefer II for 82 points in Stavely, Alberta in Sept. 2017. In his two most recent trips, both at the Calgary Stampede, the bull dispatched Cody Nance and Cole Melancon to earn 42.5 and 44-point bull scores, respectively.
Just as predicted, Hansen's qualified ride aboard the bovine athlete earned him the event win, however, it also earned him an accolade he did not foresee – the first 90-point ride at a PBR event on Canadian soil for the 2019 season.
His 90-point score at the first event of the season came on the heels of the 2018 year which saw just three 90-point efforts, with the first coming in July at the second of three days of TPD action in Calgary.
As one of four riders to go a perfect 2-for-2 in Dawson Creek, British Columbia, the 25-year-old's early win netted him 350 Canadian and 60 world points.
While the calendar still reads 2018, compliments of the victory, Hansen already finds himself No. 1 in the 2019 Canadian national standings and No. 15 in the world.
Looking forward, Hansen hopes the parallels to the 2017 season will continue, with his sights set on a return to Vegas at season's end.
"It's definitely one of those things that sucks," Hansen said of not qualifying for either the PBR World Finals or National Finals Rodeo (NFR) in 2018 after he was plagued by injury. "Getting to see everyone down there and winning rounds, making money and having fun. It is Vegas, so you're not going to have a bad time that's for sure.
"It definitely kind of puts a little salt in the wound I guess," he continued. "But that's just more incentive to get a good healthy year and make some money next year and get right back at 'er."
RELATED: Hansen in Search of Historic Trifecta
But while 2017 was a banner year in that he became the first Canadian bull rider to qualify for the NFR since 2001, he missed out on achieving a trifecta achieved by just three other Canadians in history – riding at the Canadian Finals Rodeo (CFR), NFR and World Finals in the same season.  
Checking off both the CFR, finishing fourth in the year-end Canadian Professional Rodeo Association (CPRA) standings, and NFR, where he was sixth, he fell just short of qualifying for the 2017 PBR World Finals, concluding the year No. 41 in the world standings.
"I know it kind of sucked," he admitted. "I was so close to getting all three, like the CFR, PBR and NFR. Kind of being that close sucked, but that's another goal I would like to achieve as well."
A large obstacle to Hansen attempting to achieve the goal in 2018 was a broken vertebrae and hip, which also sidelined him from the most recent edition of the Global Cup in Sydney, Australia.
He however, believes he is on the mend looking to 2019.
"I've been feeling a lot better," he said. I had another doctor's appointment, got [cortisone] injected, and I've won both events I went to ever since that."
"So [they] definitely made a difference, made me feel a lot better. It's crazy how much of a difference it makes. I couldn't even run before if I wanted, and I can now. I still have some pain, but it's definitely tolerable."
With just three weeks left until the New Year, Hansen will now turn his sights stateside, preparing to next compete in Denver, Colorado for the National Western Stock Show.
The 2019 PBR Canada season resumes on Jan. 26 in Winnipeg, Manitoba at Bell MTS Place with the Monster Energy Tour's Winnipeg Classic.