Johnston All In for 2018 Season Amid Second Stateside Push
By: Kacie Albert Wednesday, February 7, 2018 @ 6:59 PM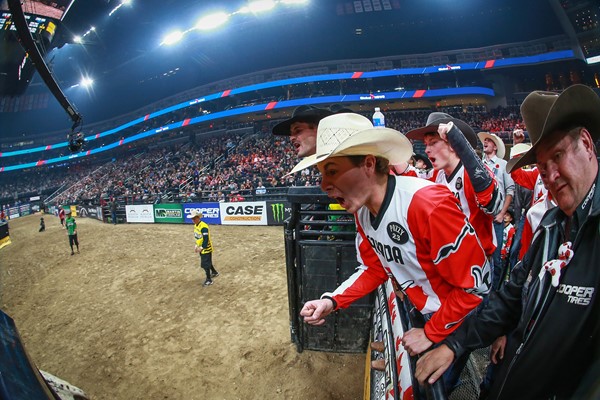 NEW YORK CITY – In 2017, Dayton Johnston made a fast name for himself, winning the second-ever PBR Canada Touring Pro Division (TPD) he entered, just eight days after his rookie debut.
And the Milk River, Alberta teen plans for this season to be no different, currently stateside for his second campaign of events on the PBR's Real Time Pain Relief Velocity Tour (RVT), all in hopes of reaching the elite 25th PBR: Unleash The Beast.
RELATED: Johnston Claims First PBR Victory in Teepee Creek
"I quit my job, so this is what I'm planning on doing," Johnston said.
"The goals are big. I'd love to win one of these and at least get a shot to get on tour, that would be unreal."
"A lot of people told me that I have the talent and the ability to be doing this fulltime, and there's a window you can do it in, so I needed to take advantage of that."
Johnston made his first push for points during the 2018 season at the start of the year, competing in Fort Worth, Texas on the TPD, followed by a three event swing on the RVT in Oakland, California, Denver, Colorado, and Portland, Oregon.
Collectively, he went 1-for-5, with his best finish coming in the Golden State where he covered Julio Moreno/Dallas Schott's Light Out for 81.5 points to finish eighth overall. While Johnston netted $140 USD, he just narrowly missed out on earning world points.
Alongside fellow Canucks Lonnie West and Coy Robbins, Johnston has once again returned to the states and the RVT in search of crucial world points ahead of the start of the PBR Canada season.
Last weekend he competed in Grand Rapids, Michigan, but once again failed to log a qualified ride, bucking off Cooper Bucking Bulls' Slim Ice in the first round.
"I know they just did cuts to the Top 35, so it makes it a little tougher for a guy to get in there," Johnston said of his fight to earn enough points to crack into the elite tour.
"But I've still got a chance. I've got to start riding bulls, get that going and hopefully end up at the big show there."
Next on the up-and-comer's schedule is this weekend's two-day event in Youngstown, Ohio on Feb. 9-10. 
"They haven't given out the draw to us yet for Youngstown so I'm not sure what we've got here."
"I think it will be some of the same guys, but probably some different bulls too," he said of the bull pen him and his travelling partners will most likely face.
While his efforts are all aimed at earning a spot on the elite tour, Johnston's confidence to compete is due large in part to last November's Global Cup in Edmonton, Alberta, which he said helped him, "tons."
"It was mainly just because of the caliber of bulls and the guys that you're riding against," Johnston explained.
"I mean that's what you're riding down here. It gave a huge confidence boost knowing that I could ride against those guys."
And the boost comes despite Johnston failing to reach the whistle inside Rogers Place.
"I just couldn't finish and that's what I need to work on, mainly is finishing bulls off," Johnston reflected.
"Not thinking, just having fun and riding bulls."
"That's mainly why I decided work wasn't going to work for me. I just wanted to focus strictly on that."
Leaving his job with a local electrical company to focus solely on his career as a professional bull rider, Johnston has moved back home where he helps his family with their farming operation.
"During the day I'm helping dad do chores, feeding cows, just little things like that around the house, we've got about 2,500 acres that we farm," he said of his new routine.
"[Dad]'s been doing it by himself for the last couple years since I was down south, but I kind of like it now that I am back at home and can help him out." 
"In the afternoon once we get all that done, I go downstairs and do a quick hour and a half workout, a little run, push-ups, sit-ups, stuff like that."
After this weekend's Ohio event, Johnston will return home with the PBR Canada season on the horizon.
The initial events will once again included TPD stops in Lethbridge and Teepee Creek, the first two cities he competed in to launch his PBR career. Adding to the significance of the pending events is the hometown nature of the Lethbridge stop, and sentimentality that will come with his return to Teepee Creek.
"I went into Teepee Creek and Lethbridge was the event before and I just bucked off." Johnston recalled of last year's events.
"I started riding the first one and about six seconds I bucked off. I was just disappointed, so disappointed. I had so many family members and friends that came to watch, and I tried to put on a show, but just came up short."
"Then went to Teepee and I was ready to get something rode, and ended up getting the event."
This weekend's Youngstown Invitational will get underway on Friday, February 9 at 8:00 p.m. ET and conclude on Saturday, February 10 at 7:00 p.m. ET.
Be sure to stay tuned to PBRCanada.com and follow the tour on Facebook (PBR Canada), Twitter (@PBRCanada), and Instagram (@PBRCanada) for the latest results.