Morning Line – Kelowna
By: Ted Stovin Saturday, July 7, 2018 @ 6:42 AM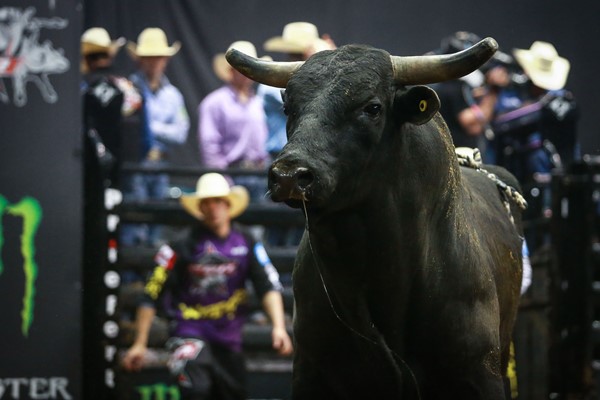 KELOWNA, British Columbia – The Calgary Stampede may be taking over Western sports headlines this week, however, the best bull riders in the country are all making their way to Prospera Place on Saturday.
The Monster Energy Tour returns just in time for the summer rush in Kelowna and I'm really disappointed I'm not there. You all were one of the greatest crowds we worked with last August and your city is incredibly beautiful.
Anyway, here's a look at a few of my picks for the sixth stop of the 2018 PBR Canada Monster Energy Tour. Kelowna concludes what are quite possibly the busiest six days in PBR Canada history. When the dust settles come Monday we will have a completely different set of standings.
Tonight can change that even further as it features one round of competition and a Championship Round of ten. A total of 120 world points and 550 Canadian points are available to win, in addition to $20,000 in prize money.
RELATED: Click here for the full Saturday day sheet.
Matt Triplett vs. 792 Big John
I've seen a lot of guys have trouble with this bull before -- I actually haven't seen anyone ride him yet. But I did sayd same thing the other day before Cluny about Triplett against Hillbilly Heaven from the Wild Hoggs, and he made that look incredibly easy. I'm thinking the same could happen tonight.
Daylon Swearingen vs. 410 Catch My Drift
This guy has been at every event this week, beginning with Cluny on July 2. He has rode a few bulls, but has yet to put together a 2-for-2 performance. This could be the one. Catch My Drift, from the Two Bit Nation, is another one that I like, most recently covered by Wyatt Gleeson for 85 points in Halifax at the end of May.
Lachlan Richardson vs. L11 Broken Trigger
It's not often a bull has three recorded outs on ProBullStats.com, where all ended as qualified rides. With the heater that Lachlan has been on this week, I think he can ride anything in our country. On Friday in Edgerton he earned a split of third for 17.5 world points bumping his week of earnings to 122.5 world points, pushing him into the Top 50 on the planet. This Skori bull doesn't stand a chance in my opinion.
Zane Lambert vs. 40 Forty Creek
S&E Bucking Bulls and Coyote Creek Bucking Bulls bring a few PBR bovine athletes to town that I haven't seen yet or heard about. If this event wasn't during the busiest week of the year, and I was more organized, I would have called Ed and Wade and got the low-down. My apologies to the crew there, but, it doesn't matter with this one because he's drawn up against Lambert. Zane has been healing up lately after flaring up an old injury in Halifax. After coming back in Ponoka last week he's ready for the rest of this summer run.
Jackson Scott vs. 215 Spot On
This pick is for the people of British Columbia. I'm pulling for Jackson to do good in Kelowna and he's drawn a fantastic bull in Spot On from Slim and Heather Wilson of Wilson Rodeo. Scores have been as high as 87 on the bull and if Jackson does exactly what he's supposed to, that'll be his score and win him Round 1.
Jared Parsonage vs. 103 Hillbilly Heaven
I talked about the ride of Triplett's on this bull on Monday in Cluny. There, Hillbilly Heaven from the Wild Hoggs went left, away from Triplett's hand and he still made him look easy. It's amazing how well the guys at the top ride, just like Parsonage, making things look easy. Coming off a win on Thursday in Calgary, the Saskatchewan man took a quick trip to St. Paul, Oregon last night before travelling to Kelowna on Saturday. Bet on the tall guy, his riding percentage is higher than anyone else's in the country.
The sixth stop of the PBR Canada Monster Energy Tour begins at 7:00pm P.T. from Prospera Place. Tickets are still available at SelectYourTickets.com.  
Be sure to stay tuned to PBRCanada.com and follow the tour on Facebook (PBR Canada), Twitter (@PBRCanada), and Instagram (@PBRCanada) for the latest results.