No.10 – Edgar Durazo Ties for PBR Canada Finals Event Title
By: Ted Stovin Monday, February 19, 2018 @ 9:35 PM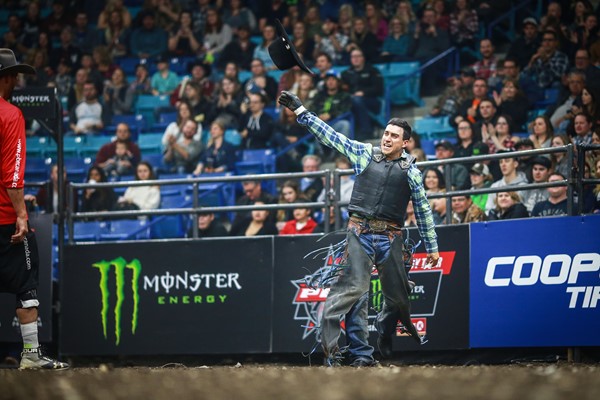 CALGARY – With the third season for the premier PBR Canada Monster Energy Tour set to get underway in a month's time on March 24thin Calgary, we look back at the Top 10 moments from the 2017 season.
Coming in at No.10 is Edgar Durazo. The Moctezuma, Sonora, Mexico bull rider holds down this first entry of the countdown courtesy of splitting the event title with Zane Lambert at the 2017 PBR Canada Finals.
Inside Saskatoon's SaskTel Centre this past October, Durazo first rode Vold Rodeo/Prescott's Heaven's Basement for 85.5 points to tie for fourth in Round 1.
In the Championship Round, Durazo rode Two Big Bucking Bulls' Herf for 88 points to take first place in the season-ending round and match Lambert's total of 173.5 points on two bulls.
Lambert had reached the total after covering Flying Four Bucking Bulls' Finning Lil Shorty for 86 points in Round 1 before making the 8 aboard Vold Rodeo/Prescott's Crooked Nose for 87.5 points in Round 2.
Collectively, Durazo earned $3,838.53 and 1,362.5 points to finish the season No.3 in the PBR Canada National Standings after entering the event ranked No.10. The stellar Canadian competitive season came on the heels of a year, 2016, where Durazo was unranked in the nation.
Since October's PBR Canada Finals, the final Monster Energy Tour stop of 2017, Durazo has gone on to reach career milestones.
In November, Durazo led Team Mexico to a fifth-place finish at the inaugural PBR Global Cup in Edmonton, Alberta. There he went 2-for-4 to finish seventh in the individual event rankings highlighted by an 86.75 on Chad Berger/Julie Rosen/Clay Struve/Silent Seven's South Texas Gangster in the bonus round.
Last month, on January 13, Durazo won the first Real Time Pain Relief Velocity Tour event of his career, victorious in Portland, Oregon. A week later, he made his debut at the 25th PBR: Unleash the Beast in Oklahoma City.
RELATED: Durazo's International Journey to the PBR's Highest Level
In his first-ever elite tour event, Durazo finished 11th, earning 15 world points and $1,325. Since, he has competed in Sacramento, Kansas City and St. Louis. He is now ranked No.40 in the PBR world standings.
With 2018 marking his debut season at the sport's elite level, Durazo is eligible for the Rookie of the Year title. Not only could he win that title but after a No.3 finish in Canada he's a contender for the 2018 PBR Canada title. If he were to do that he would be only the third non-Canadian to do so. (Beau Hill - 2009, Stetson Lawrence – 2014)
Next up for Durazo is the PBR's Iron Cowboy at the famed AT&T Stadium in Arlington, Texas. With the 25th PBR: Unleash the Beast off beginning the second week in May, look for Mexico's talent to return to Canada indefinitely in Ottawa on May 12th.
Stay tuned later this week for the second entry in the countdown, No.9.
PBR Canada's Monster Energy Tour begins its third season on March 24th, 2018 starting at 7:00pm at the Agrium Western Events Centre on Stampede Park in Calgary, Alberta. Tickets are on sale now at Ticketmaster.com
The Winstar World Casino and Resort Iron Cowboy, powered by Kawasaki gets underway on Saturday, February 24 at 5:50 p.m. CT.
CBS Sports Network will broadcast Inside the PBR Majors starting at 10:00 p.m. ET followed by Rounds 1 and 2 at 10:30 p.m. ET on Saturday February 24th. CBS will broadcast the Championship Round beginning at 12:00 p.m. ET on February 25th.
Fans will be able to watch the action in its entirety, live, via PBR's new OTT platform RidePass. All rounds will begin streaming on Saturday, February 24th at 6:50 p.m. ET.  
The service can be found at www.ridepass.com,  and in the Apple App and Google Play stores under the listing of RidePass.
Be sure to stay tuned to PBRCanada.com and follow the tour on Facebook (PBR Canada), Twitter (@PBRCanada), and Instagram (@PBRCanada) for the latest results.