No.7 – The PBR's Debut in Toronto
By: Ted Stovin Wednesday, February 28, 2018 @ 8:32 PM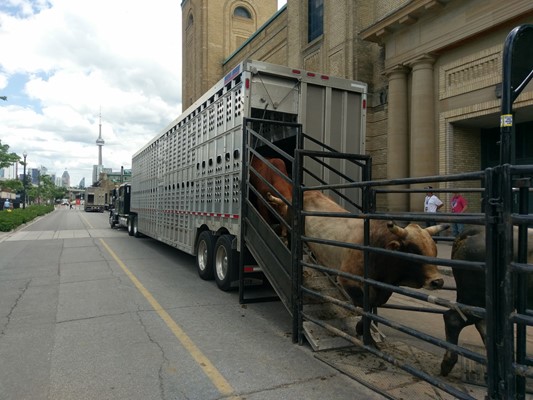 CALGARY – With the launch of the 2018 PBR Canada Monster Energy Tour less than a month away, before we begin year three in Calgary, Alberta on March 24, we look back to the Top 10 moments from the 2017 season.
Coming in at the No.7 spot is the PBR's inaugural visit to Toronto, Ontario.
RELATED: PBR Makes Debut in Toronto
As Canada's largest centre, The Big Smoke, as it is known, is the fourth most populated city in all of North America trailing No. 1 Mexico City, No. 2 New York City and No. 3 Los Angeles.
On June 24, 2017 the PBR Canada's Monster Energy Tour bucked into Ricoh Coliseum as the third stop of the season. Bull riders from Australia, Brazil, Canada, New Zealand, and the United States competed in The Six for their shot at the championship buckle and $20,000 available in prize money.
Eager fans packed the arena for the premium chute tours to learn more about the sport making its first trip to the city. When the first bull broke the plane of the chute the crowd went Wild.
National media such as The Globe and Mail along with other interested outlets, including local fashion blog, It's All Style to Me, were all in attendance to witness man vs. beast action first hand. A Canadian bull rider would prevail for the title but we will get to that later in the countdown.
As an additional highlight to the stop in Toronto is the featured image in this very post which will go down in PBR Canada history as one of the most widely shared photos to date. Not every day is it that bulls get unloaded with the CN Tower in the background.
Stay tuned next week for the fifth entry in the countdown, No.6.
Biggest Moments of the 2017 Monster Energy Tour Countdown
The PBR's Debut in Toronto

Robbins Wins Rookie of the Year

The Biever Breakout

Durazo Splits Monster Energy PBR Canada Finals Event Title
PBR Canada's Monster Energy Tour begins its third season on March 24th, 2018 starting at 7:00pm at the Agrium Western Events Centre on Stampede Park in Calgary, Alberta. Tickets are on sale now at Ticketmaster.com
Be sure to stay tuned to PBRCanada.com and follow the tour on Facebook (PBR Canada), Twitter (@PBRCanada), and Instagram (@PBRCanada) for the latest results.