PBR Announces Qualifiers and Coaches for Second Global Cup Event
By: Andrew Giangola Saturday, February 24, 2018 @ 11:02 PM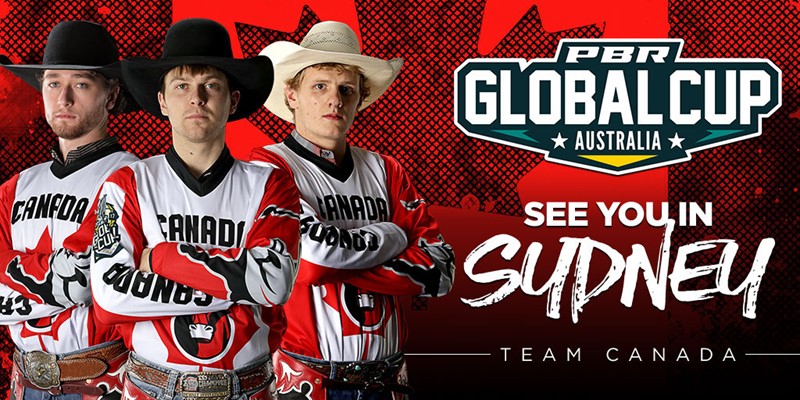 PUEBLO, Colo. (February 24, 2018) – Professional Bull Riders (PBR) has announced the riders who have qualified to compete in the second leg of the inaugural PBR Global Cup along with the coaches leading the five-nation competition at Qudos Bank Arena in Sydney, Australia, on June 9-10.
Each PBR Global Cup team will feature three competitors based on the final 2017 PBR world standings for the tournament that started in Edmonton, Alberta, last November:
-  Australia: Lachlan Richardson, Aaron Kleier, and Troy Wilkinson
-  Brazil: Eduardo Aparecido, Kaique Pacheco, and Jose Vitor Leme
-  Canada: Dakota Buttar, Jordan Hansen, and Brock Radford.
-  Mexico: Edgar Durazo, Francisco Morales, and Juan Carlos Contreras
-  United States: 2017 World Champion Jess Lockwood, Derek Kolbaba, and 2016
World Champion Cooper Davis
Each Global Cup team, with the exception of host country Australia, will field seven riders in Sydney. The final riders for each team's rosters will be chosen by their respective coaches and announced at a later date. 
Team Australia, benefitting from the host country's "home-field advantage" in the Global Cup will compete with 14 riders on their team versus the visiting teams' seven riders. Australia's 11 additional riders will be chosen by 1998 PBR World Champion Troy Dunn, the team's newly named coach. 
The 2018 Global Cup coaches, selected following consultation with the bull riders in each nation, were also announced this week.
Australia: Troy Dunn
Brazil: Renato Nunes
Canada: Aaron Roy
Mexico: Gerardo Venegas
United States: Justin McBride            
McBride seeks to defend Team USA's possession of Canadian dirt following a dramatic come-from-behind win at Rogers Place in Edmonton, while Roy also returns to the helm of his nation's team. 
Dunn, Nunes and Venegas are new to leading their fellow countrymen's quest for global bragging rights and the pursuit of a home nation's soil in the new competition. 
Dunn started to rodeo professionally in Australia in 1987. After moving to North America in 1990, he won the PBR World Finals in 1995 and 1997, highlighted by his memorable ride on champion bucking bull Red Wolf for 95 points in the final round of competition. Dunn moved back to Australia after the 1999 season, but still consistently qualified for the PBR World Finals over the next five years. In 2005, at the age of 38, Dunn retired after qualifying and competing at the PBR World Finals. He was inducted into the PBR Ring of Honor that same year.
Nunes, the 2010 PBR World Champion, concluded an 11-year career in 2015 with 308 qualified rides and a 44.25 percent riding average. The Brazilian cowboy won 10 premier series events, posted 37 90-point rides, including famously riding Chicken on a Chain for 95.75 points, the 11th highest-ride score in PBR history, and qualified for the World Finals 10 times. 
Venagas, a native of Juarez, Mexico, was the first Mexican-born rider to reach the PBR World Finals. He began at PBR's elite level in 2003, winning his third event at Grand Rapids, Michigan. Venagas qualified for the World Finals that year and again in 2005, where he finished 14th in the event average.
The dates and venues for PBR Global Cup competition in four additional countries will be announced in the future.
In Sydney, the prestigious Global Cup Trophy will be awarded to the team with the highest aggregate score over the course of the event based off each team's best 12 qualified rides.
The Global Cup Trophy emphasizes native soil as the object of national pride.  The trophy consists of five individual horns featuring each country's national colors and serving as a vessel for each nation's dirt. In order to complete the trophy and proclaim world dominance, one team must win and possess each respective country's horn.