Radford and West Riding Hot Into Tulsa
By: Kacie Albert Tuesday, August 7, 2018 @ 7:29 PM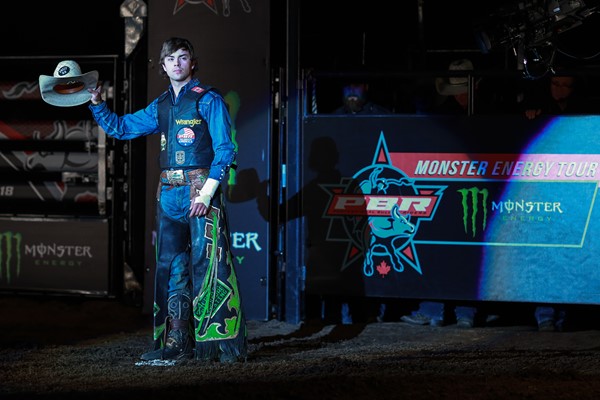 NEW YORK CITY – When the elite 25th PBR: Unleash The Beast (UTB) returns from summer break this weekend in Tulsa, Oklahoma the draw will include the most Canadians thus far this season, with the four-rider contingent including young guns Brock Radford and Lonnie West.
"It'll be good," Radford said of the draw which will also include Dakota Buttar and Tanner Byrne. "I imagine it will feel a lot like the Global Cup with four of us there.
"That team mentality, you know, we'll bring that, and shoot it works pretty good when we're riding for our country, so if we can bring that to the table it should be good for the second half of the season."
"It's good to have some Canadians getting out, getting their names out there," West added. "Dakota and Tanner, they're awesome buddies of ours so it's nice in the locker room. You can sit down with some of your old pals, but that's the cool thing about the PBR, everyone is just close family no matter who it is or where you're from.
"But to get more Canadians on tour, that's damn sure a cool thing to do, so [I'm] looking forward to it." 
Prior to the summer break, Radford was a near regular on the sport's top tour, appearing at six UTB events, with his best finishes coming in Billings, Montana (13th) and Tacoma, Washington (15th).
After bucking off four consecutive bulls to close the first half of the season, the 23-year-old caught fire during the summer slate of events, going a combined 21-for-45 (46.67%) across PBR events in Canada, Australia and the United States this summer, propelling him to No. 29 in the world.
"I'm excited for it and it was cool to get back on tour and kind of get into that groove," Radford, who debuted and rode at three elite tour events in 2017, said of the first half.
Collectively, Radford rode at 20 events, in addition to representing Team Canada at the most recent leg of the inaugural PBR Global Cup in Sydney, Australia, recording an event win along with eight Top-5 finishes.
RELATED: Radford Wins Czar Lake Bullarama
"The summer's been good, staying busy and hitting a pile of events. I haven't had many days off so just staying healthy is the biggest part right now."
Of his top finishes, his event win and six Top-5 efforts came on Canadian soil, allowing him to retain his lead atop the Canadian National standings as he looks to earn his first national title. He currently leads No. 2 Cody Coverchuk by 195.84 points.
While Radford sits atop the PBR Canada standings, he also ranks No. 1 in the Canadian Professional Rodeo Association (CPRA) standings, having won $29,071.61 thus far in 2018.
As the leader of both standings, Radford could make history in November as the first rider to win both titles should he end the year in the same spot.
"That's something I've been thinking about," Radford said. "I'm kind of at a crossroads, I don't know what to do. It's hard to decide, because right now I'm just trying to get my rodeo count in which is already a tough task for me doing the PBR side of it.
"Winning two Canadian titles in the same year, that's something no one's done and I'd like to be the first one to do it for sure, but the World Finals is what I set my goal at at the start of the year, I wanted to make Vegas, so that's what I'm going for right now is to make Vegas for sure -- winning Canada, I guess we'll find out come November. We'll just let it all hang out there."
To make Vegas, however, Radford will need to remain in the Top 35, where he is currently just 235 points ahead of No. 35 Matt Triplett, or qualify into the 2018 Real Time Pain Relief Velocity Tour Finals which overlaps with the Canadian Finals Rodeo (CFR).
"That 25-35 mark, that's not a safe spot by any means," Radford stated. "So you just keep picking away and climbing the ladder so we can punch our ticket to World Finals and compete at the CFR, that's a big thing right now.
"We're going to try not to think about it too much right now, take it bull-for-bull, day-by-day, but we'll get that made and it will take a lot of pressure off a guy and we can roll into the Canadian Finals in Red Deer the week before World Finals and do that."
With finals for both the PBR and CPRA months on the horizon, Radford is hyper-focused on his week leading into the Tulsa event.
"We've got a big week lined up going into Tulsa," he explained. "We have some pro rodeos we're going to hit. We're going to La Crete on Wednesday, Jasper Thursday, Whitecourt Alphabull event on Friday and then we'll fly out Saturday, me, Lonnie and Lachie for Tulsa."
"The summer has been awesome and fun and it's been good for us," Radford concluded. "We've won some money, been kicking some butt and keeping it in the rig with the guys we travel with. We've had a bunch of guys come through the truck, like Lachlan Richardson and a bunch of Aussies, and Cody Casper and them guys they jump in with us when we're down south, so we've got a good group of guys that we've all been rolling together and we'll just keep 'er going on tour."
Making the journey to the Sooner State alongside Radford to "keep 'er going," is travel mate West.
Cracking into the Top 35 for the first time in his career, the 22-year-old currently finds himself ranked a career-best No. 33 in the world. Making his UTB debut in Billings  as a result of the expanded draw, the Tulsa event will mark West's first within the world rankings threshold.
"I'm looking forward to it," West said. "It's been a good summer, I can't complain. I say as long as a guy is healthy you've got no reason to complain.
"It's been my best summer yet to date. We've been having fun doing it, so I can't complain, and I'm pretty excited for the next few weeks coming up."
Much like Radford, West also used a slate of events in Canada, Australia and the United States to earn an impressive 340 world points, going 13-for-32 (40.63%) across 17 events.
His campaign was highlighted by two event wins on Canadian soil, including his second career title on the premier Monster Energy Tour at the first-ever, and sold-out, event in Moncton, New Brunswick.
RELATED: Lonnie West Wows Sold-Out Crowd to Win First-Ever PBR Event in Moncton
Most recently, West used an 89.5-point ride on Cooper Tires Semper Fi to finish second at the Livingston, Montana Touring Pro Division event.
"We're staying busy, and that's been the best part about this summer is we've been going hard," He explained. "We have hardly had any days off which is good, it gets a guy in riding shape, and that's what a guy needs going into Tulsa too. We've been staying busy, we're not taking time off, so we'll be rolling in there and we won't be rusty or nothing and we're riding good."
While the Tulsa event will mark just his second appearance on the elite tour, West delivered an impressive eighth place effort at his debut at the Billings Invitational, covering Big Slick for 85.5 points.
"I've only been to one UTB before, which was Billings," West detailed. "That was the coolest bull riding I've ever been to and I had good luck there, so I'm double excited for Tulsa. I mean we've been getting on these good bulls we're going to see in Tulsa, Chad Berger's pen, we've been getting on them week in and week out, so it's nothing different for us, it's not out of our comfort zone because we've been riding those bulls, so it should be a really good time."
Again mirroring Radford, West is already preparing for a hard decision come November with the overlapping rodeo and PBR dates.
"We don't know what we're doing for sure yet, but we're going to play all of our hands we've got, try and make every finals," he said. "There is some stuff overlapping, but until that time comes we won't worry about it, we're hitting every event we can.
"A lot of good Canadian rodeos left, and PBR Canada events too, so we're going to hit everything we can between these tour events."
The Express Employment Professional Classic, presented by Osage Casino and Hotel gets underway in Tulsa, Oklahoma at the BOK Center on Saturday, August 11 at 6:45 p.m. CT, concluding on Sunday, August 12 at 1:45 p.m. CT.
Fans will be able to watch the action in its entirety, live, via PBR's new streaming digital platform RidePass. The stream for the two-day event will begin on Saturday, August 11 at 7:30 p.m. ET, and Sunday, August 12 at 2:45 p.m. ET. On-demand replays will be available at 8:00 a.m. ET the next day at www.ridepass.com. The service can be found at www.ridepass.com, and in the Apple App and Google Play stores under the listing of RidePass.
Be sure to stay tuned to PBRCanada.com and follow the tour on Facebook (PBR Canada), Twitter (@PBRCanada), and Instagram (@PBRCanada) for the latest results.