Radford Looks to Win PBR Canada Championship Before Undergoing Surgery
By: Justin Felisko Wednesday, November 21, 2018 @ 10:00 AM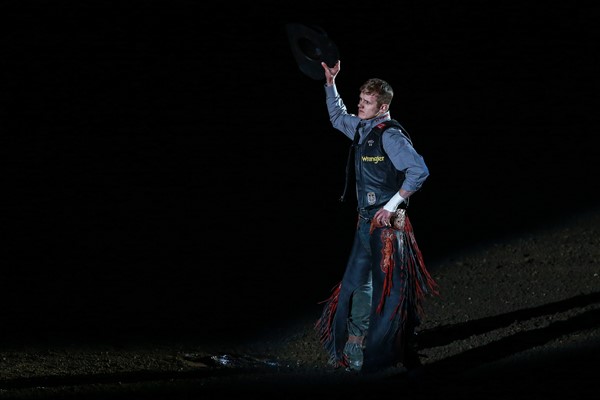 PUEBLO, Colo. – Some days, Brock Radford will walk down the stairs at his house and his left knee will buckle and give out from underneath him.
Even the simplest of tasks, such as walking, have become difficult for the bull rider with a torn left ACL and MCL.
Regardless, Radford is not ready to throw in the towel just yet on 2018.
He still has some fight left in him.
Radford has spent the last three months chasing, and he is not going to quit just yet.
He was already chasing Canadian bull riding history prior to tearing ligaments in his left knee at a Canadian Pro Rodeo Association event in Jasper, Alberta, in August.
Radford then returned to competition two months later to chase a Top 35 ranking and spot at the World Finals.
Then it was a last-ditch effort to pursue an international wild card spot for the 2018 World Finals during the Real Time Pain Relief Velocity Tour Finals after deciding to skip the Canadian Finals Rodeo.
Frankly, Radford is tired of being the chaser, but he will embrace the role again this weekend at the 2018 PBR Canada Finals.
This time, though, Radford expects to catch his prey after failing to qualify for the World Finals and win his first PBR Canada championship.
Radford, who did compete at the World Finals as an alternate, heads into the SaskTel Centre in Saskatoon on Friday night ranked third in the PBR Canada national standings.
The 23-year-old trails No. 1 Lachlan Richardson by only 94.99 points.
One rider can earn a maximum of 2,250 national points at the PBR Canada Finals.
"I am excited, and it should be a good one," Radford said. "There are so many points available at our Finals, and all of us are so close, that it will come down to this weekend to who wins it."
Fans can watch the 2018 PBR Canada Finals on RidePass at 8:30 p.m. ET.
Any of the 21 riders competing can mathematically win the PBR Canada championship.
Radford revealed on Tuesday that he will have to undergo reconstructive left knee surgery in December to repair his torn ACL and MCL.
The De Winton, Alberta, bull rider had tried to ride through the injury for the last two months to no avail.
Radford met with Dr. Tandy Freeman during the PBR World Finals and they decided surgery would be his best option.
"My second half, plain and simple pissed me off," Radford said. "This has been the best year I have had, but the worst second half I have had. To finish the year on a good note would be good because I am going to get surgery on my knee. I am going to be out for the next few months of next year.
"Ending the (PBR Canada) Finals on a positive note would be ideal."
According to Radford, he will get the surgery at some point in December and miss roughly four-and-a-half months. 
Radford is only 1-for-13 since returning from his knee injury, which occurred the day before he was supposed to ride at the Unleash The Beast event in Tulsa, Oklahoma.
The rookie was coming off a hot summer run in which he rose to 29th in the world standings.
Radford appeared poised to qualify for his first World Finals, but instead finished 2018 ranked 39th. The finish is still the best of his career.
"I talked with Tandy in Vegas and my knee is a little bit worse than what we thought," Radford said. "There is a bit more in there roughed up than I originally thought."
Radford said he has no regrets about not getting the surgery done back in August.
"I am happy I put it off," he said. "I went for it. Shoot, it didn't work out for me, but it wouldn't have worked out for me if I stayed home on the couch. This is a good time for me to get surgery now anyway. Finish this weekend off and then hopefully get surgery and I'll be back ready for the (2019) summer run."
Radford can still end 2018 on a high note.
He is 18-for-38 (47.37 percent) in 16 PBR Canada events with two wins and nine Top-5 finishes and can still leave Saskatoon with a gold buckle.
Radford is especially motivated after coming oh-so-close last year to winning the 2017 PBR Canada championship.
A year ago, Radford was the No. 1 bull rider in PBR Canada before bucking off his final two bulls of the season, including a heartbreaking 7.81 second-buckoff aboard Buck Nasty.
Radford likely would have won the PBR Canada championship with a qualified ride.
Instead, it was Zane Lambert winning a second PBR Canada championship in a dramatic come-from-behind performance.
Radford now will hope to pull off what Lambert did a year ago.
The easiest way for him to notch that first PBR Canada championship would be by winning the PBR Canada Finals event average.
Radford has bucked off six consecutive bulls at all levels of competition, including three at the 2018 PBR World Finals when he was summoned to ride as an alternate beginning in Round 3.
The World Finals featured some more heartbreaking buckoffs for Radford with two coming past 6 seconds.
"It is very frustrating," Radford said. "I have kind of been the 6-second cowboy lately. I have had a lot of 6-, 7- second rides. Those have cost me."
Radford knows the 2018 PBR Canada champion also receives an automatic bid to the Calgary Stampede, and that is another motivator for his pursuit.
At the end of the day, Radford believes he has four qualified rides left in him before getting his knee repaired.
If Kaique Pacheco could win a world title despite a torn PCL / MCL, then why cannot he go win the PBR Canada title?
"I feel good when I am getting on," Radford said. "Anything is possible. It is definitely not holding me back.  I just need to block it out for four more bulls and get the job done. I don't feel too bad.
"I need to dig a little deeper this weekend and whatever it takes for four more of them."