Radford Not Deterred by ACL Injury
By: Ted Stovin Monday, September 24, 2018 @ 8:41 PM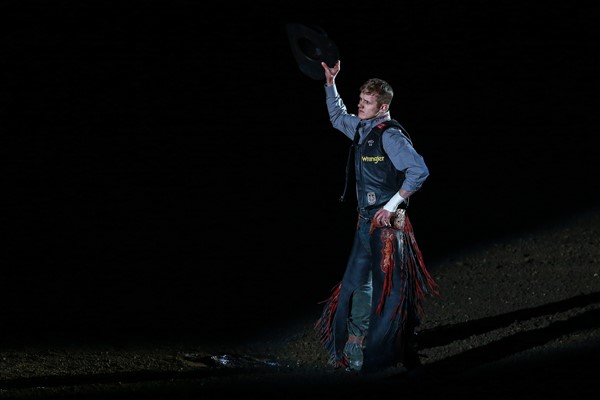 CALGARY, Alberta – While Brock Radford's season plans changed on August 9 in Jasper, Alberta, his goals remain intact, not wavering in the face of his torn ACL.
"Just ride everything, it hasn't changed for me," Radford said from his home in De Winton, Alberta. "It just feels like I've had a little break and I feel fresh. Everything else has had time to heal too. I feel ready to go. I'm going to go do what I do, one bull at a time, one event at a time."
At the time of his injury, a torn ACL, he was ranked No. 1 in Canada and No. 29 in the PBR's World Standings.
Today he ranks No. 2 in Canada, 94.99 points behind No. 1 Lachlan Richardson, while on the world stage he has slipped to No. 36, 5 points behind No. 35 Marcos Gloria. Fellow Canadian Lonnie West, who is also injured, is No. 31, 57.5 points ahead of Radford.
RELATED: Radford Tears Left ACL, MCL in Jasper
At the time of this interview, he eyed a return to the elite 25th PBR: Unleash The Beast on October 6 in Milwaukee, Wisconsin.
"My knee is feeling good I'm getting around pretty good," Radford said. "I still have an ACL brace on. It restricts certain movement in my leg. I'm getting the muscles to tighten up again so they are strong and not loose. I should only have a little longer in this.
"When I see Brandon [Thome] and he says 'game on' then I can start doing rehab and get it ready to go for bull riding. If I can get a good month in, obviously it depends how my knee is feeling and whatnot, but as it feels right now I'm feeling like it'll be the start of October I'll be back."
Now back in the gym, the first event back may end up being Nampa, Idaho on October 20-21.
"I'm aiming to get the last three events in. That's what I'm shooting for. Definitely one of them but I'm aiming for three," Radford said. "I feel good, it's strong now. I walk around, move back and forth on it pretty good, a little standing light jog. I'm easy on it.
"I've been on my drop barrel and stuff. I've probably been doing more stuff than normal people would. It's feeling good so I think a month of giving it a good workout and kind of rehabbing it and getting it back strong again. I ordered some new top of the line knee braces. Brandon helped me order them. I got sized up for them so hopefully they will help me out quite a bit.
"With sports med I should be good to go I shouldn't have no worries."
However, the new knee braces aren't cheap.
"They are $3,000 for two of them," Radford answered.
With an expense like that on the table, he's ready to get back to the arena, and not just to get in a count.
"CFR, they have got the four spots up for Calgary so that's a big thing there," Radford said of the Canadian Finals Rodeo which runs from October 30- November 4 in Red Deer, Alberta.
Calgary is important in his mind through the CPRA, however winning the PBR Canada title would also give him a spot at the Greatest Outdoor Show on Earth.
"Winning a Canadian title is obviously a big thing. My goal hasn't changed here I still want to win both Canadian titles," Radford said. "I only just got passed this last weekend and I've been sitting out for a month. My goal hasn't changed a bit."
Will 2018 be the first year in Canadian history for a bull rider to win both the CPRA Championship and PBR Canadian title in the same season -- Radford sure hopes so.
"My end goal is still to win two Canadian titles this year and make the World Finals. I had a minor speed bump but the game plan is still the same."