Roy Poised to Set New Canadian Records
By: Kacie Albert Wednesday, October 24, 2018 @ 5:06 PM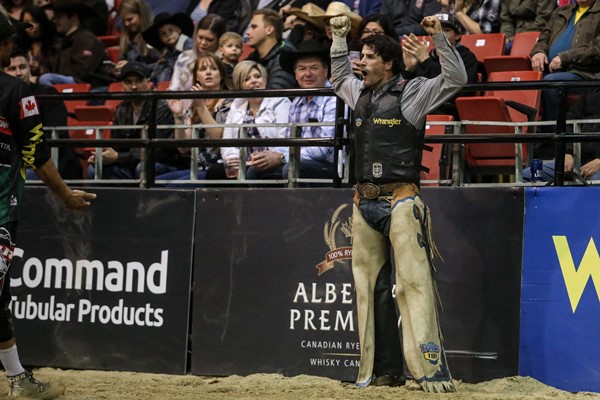 NEW YORK CITY – In his 12-year career with the PBR, Aaron Roy has established himself as one of the most prolific Canadian bull riders in league history.
Not only is he the nation's only three-time Champion, but he is a five-time Glen Keeley Award winner and all-time Canadian money leader.
And last weekend, Roy continued to reach new career milestones, capturing his career-first win on the nation's premier Monster Energy Tour, victorious at the Command Tubular Edmonton Classic, presented by Mac's/Circle K.
RELATED: Aaron Roy Wins Career-First Monster Energy Tour Event in Edmonton
"To win on that Monster tour, you're riding against the 24 best guys in Canada, and the best bulls, so to win at one of those, it comes very rare for some guys, and to be able to get a win at it means a lot," Roy reflected.
Roy's march to the win began with his 84-point effort on Rhythm & Blues in Round 1.
"He was kind of a bull everyone would want to get on," Roy detailed. "His name fits him, he's got a lot of rhythm and if you fall off him you should have the blues."
He capped his first-ever win on the nation's premier tour with an 87.5-point ride aboard Hanna Motors Two Point Oh in the Championship Round, the high-marked ride of the event.
"Two Point Oh is actually a bull I've been wanting to get on for a long time," Roy said of his final round draw. "I'd seen him, and he was one of the ones I wanted in the short round. There were a few other ones, but I really wanted him, and it worked out that way.
"The last couple of times I've seen him he's been really outstanding, and I'm not saying that he didn't buck hard, but he didn't have as outstanding of a trip. He's still a really good bull and you've got to be on top of your game to stay on top of those ones."
While the victory was yet another career moment for the 31-year-old, it also poised Roy to further etch his name in the history books.
Collecting 490 Canadian points, Roy rose from No. 12 to No. 7 in the national standings. Now 999.99 points behind No. 1 Lachlan Richardson, should Roy's hot streak continue, he could become the first four-time PBR Canada Champion in league history.
"It's always in the back of your mind," Roy said of the possibility of earning his fourth Canadian title. "I think it's kind of a long shot.
"It will all depend on how I do in Yorkton, but it would be pretty cool to win a fourth one. But it's a longshot, and a lot of things would have to go wrong with the guys that are ahead of me for me to be able to win it."
Additionally, compliments of the win, Roy collected a cheque for $3,901.20, bringing his total career earnings to $991,682.44 USD.
With two events remaining in 2018, including the PBR Canada Finals on Nov. 23-24 in Saskatoon, Saskatchewan, Roy could not only become the first four-time PBR Canada Champion in league history, but also the first ever Canadian to eclipse $1 million in career earnings.
"There's going to be guys that make way more than me, but to be the first Canadian to get across, that is going to be a huge accomplishment," Roy said.
"I don't really seem to look at it," the always humble Saskatchewan-native added. "It's a great accomplishment, but I don't really look at it. I like just to be able to go and stay on bulls and let everything play that way.
"It's not one of my goals to get to that, I go every weekend just to try and stay on my bulls."
Exclusively competing on Canadian soil thus far in 2018, Roy has captured three event wins and 12 Top-10 efforts, leading him to a No. 64 ranking in the broader world rankings.
While Roy last competed at the sport's top level at the 2016 PBR World Finals, he still holds eight injury exemptions for 25th PBR: Unleash The Beast events.
"I'm still undecided," Roy said of his plans for his exemptions. "I may pick and choose and go to a couple that I can drive to, but I really enjoyed myself just sticking around home and going to the odd one.
"It made bull riding a lot more enjoyable."
With the next Canadian event not set until Nov. 9-10 in Yorkton, Saskatchewan, Roy will have several weeks at home with his family, giving him the opportunity to return to his second job.
"I work for some friends that live by Yellow Grass, our kids play hockey together," Roy said of what occupies his time when not traveling to bull ridings. "The Monday after I got home from Edmonton we had two more herds of cows to pick out of the pasture, and then right back into the tractor to get these fields ready for next year."
"I've always liked working during the week, I get pretty bored running around with nothing to do, so it keeps me busy and it's really enjoyable work actually," Roy added.
"Just getting to run machinery, it's always something new for me every day, I never grew up grain farming, so it's something new every day and you're always learning. "