Roy – Team Canada Ready to Reclaim Global Glory
By: Kacie Albert Thursday, June 7, 2018 @ 8:00 AM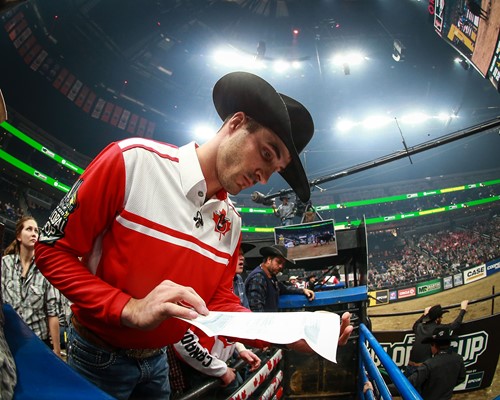 NEW YORK CITY – After the first night of competition for the first leg of the inaugural Global Cup, Team Canada stood atop the world, however when the dust settled after the final out in Edmonton last fall, the hosts of the event concluded the global showdown third.
With the second installment of the event less than 48 hours away, Team Canada coach Aaron Roy forecasts a much different outcome for his roster of riders competing in Sydney, Australia for the Maple Leaf.
"We're going to go over there and take back what we should have won last fall," Roy declared without hesitation.  "We've got a really good team going over there. Everybody's been riding really good, taking care of their bodies, so they're all prepped and ready for this.
"Our whole game aspect of it is going over there and taking that soil back. U.S.A got the Canadian soil, so we want to take soil back so we have something that's there and everybody is chasing us for."
Returning to Team Canada is Dakota Buttar, who's competition in Edmonton was limited after breaking his foot on the first night, Lonnie West, the top finishing Canuck in the individual aggregate at the inaugural event, in addition to 2017 PBR Canada Champion Zane Lambert, 25th PBR: Unleash The Beast regular Tanner Byrne, the No. 1 ranked rider in the Canadian national standings Brock Radford, and Justin Lloyd (alternate).
The team will also welcome two newcomers in Jared Parsonage and Wacey Finkbeiner, who was recently selected by Roy to replace an injured Jordan Hansen.
"Every event I've been to, every guy on the team has been killing it," Roy noted. "We kind of had a little mix up there with Jordan getting hurt, which comes in bull riding, guys are going to get hurt.
"Zane's been doing really good everywhere, so has Wacey. Jared's been hot, riding everything he gets on, it doesn't matter what runs underneath him. And Tanner, when doesn't he ride hot? Dakota Buttar, he's the lead guy in Canada right now. And Lonnie, he's been on a tear, riding everything. Our alternate Justin Lloyd he caught fire here lately too.
"And that's what we want right before we left to go here, is guys to get hot."
 In addition to taking a deep roster of riders who have previously competed at Global Cup down under, Roy also notes his contingent of cowboys has a wealth of experience competing in Australia.  Not only did Byrne and Radford begin their 2018 seasons in the nation, but Lambert has competed in the country during four past seasons, including a trip to Australia in 2009 for the World Cup.
"It's just getting relaxed," Roy forecasted as one of the hurdles he thinks his team could face. "Hopefully nobody gets jet lagged or whatever.
"But just getting back into your comfort zone, I'm not really over there to preach to them, I let them do their own thing and I give them my advice, just words of encouragement or advice before they get on if I've seen a bull more than they have. I let all the worries be on my shoulders, not there's.
And Roy is just one of two coaches, alongside Team USA's Justin McBride, set to resume their role as head of their home nation's team.
"For them to want me as a coach again, it means a lot to me," Roy said. "They talked about me riding again and I told them there's no way I'd be ready in time, and I'd rather, if they wanted me to, coach again and give them my advice. That's what everybody wanted and it means a lot to me, to do actually more than riding myself."
"I find it way more nerve-wracking than actually when I was riding," Roy added, noting, "It's definitely a cool experience to be able to coach these guys, help them along in their riding and coaching them and giving them advice and everything."
While Team Canada will look largely similar to the contingent that competed one marked difference is the roster size, halved from 14 to seven as Canada no longer holds the home nation advantage.
"It's going to be a lot different now," Roy said of the change. "We kind of had a little bit of leeway to put guys on easier bulls.
"With seven guys it's going to be a little bit different, but I feel like I've got the seven strongest guys going in Canada right now so I have no doubt whatever bulls we get put on. It's a team thing, so we'll discuss what bulls everyone wants to get on and we'll go from there. "
Ahead of the event, Roy, much like prior to the Edmonton stop, has been researching the bovine athletes his riders could potentially draw.
"I've been watching a few videos and they all look pretty good," he explained. "From when I went over there and rode, and from what everybody talks, they're similar to getting on bulls in Canada with the exception of the odd draw that gets really wild or whatever. But I found it really similar to Canada when I was over there riding.
"I talked to Lachlan Richardson a while ago about it and he said that the guys save all their good bulls for this event to bring them down, and it'll be a really good pen of bulls there; should be a fairly even pen too."
Despite the change in roster size, and new pen of bulls awaiting the, Roy says the team's approach remains the same – be consistent.
"Stay on your bulls, that's all it is," he simply stated. "Before when it was the World Cup, you had to pick the scores you wanted to keep, now it's just you stay on your bull and the highest score wins.
"So it's just going to be consistency, stay on bulls. And I've got guys that ride 70% of their bulls in Canada so I have no worries about them having any trouble over there."
And Roy looks to his team as a silent threat, with much of the pre-hype directed at the Americans and Brazilians, alongside the hosting Team Australia.
"I don't think that anybody thinks we have, again they're giving us zero chances, there's been kind of really no talk about Canada," Roy explained.
"it's all been Brazil or U.S. or Australia with all the guys coming up, so I think these guys are going to go over there and surprise everybody, be very dominate."
With most of the Team Canada riders having a similar approach to the sport as their coach, Roy sees them as a silent threat.
"They don't like to brag about anything too much," he explained. "They like to just show it in their riding and just kind of shut everybody up when they're talking, just go out there and whoop everybody's ass."
With the action on the dirt not set to get underway until Saturday night inside Qudos Bank Arena, Team Canada's unity was on full display when the majority of the team flew to Australia from Vancouver, British Columbia as a unit earlier this week.
"That was kind of what everybody wanted, Roy said, adding, "They didn't want to fly over there separately.
"We wanted to fly over there as a group because it's a long boring flight. So you want to fly over there with guys you can hang out with and be with once you get there."
Now on the ground in Australia, with nothing but the event ahead, the team's focus lies solely on Global Cup.
On night one, each of the seven riders will attempt one bull as assigned by Roy. He will then select two competitors to climb aboard one more bovine athlete each in the bonus round. The format will duplicate the second night, with the team's Top 12 efforts counting towards their overall score. Team Brazil, Mexico and U.S.A will follow the same format, while Australia, as hosts, will have 14 riders out the first night and 10 the second, in addition to two riders in the bonus round each night.
On the line, the title of "toughest nation on dirt," the Australian horn from the glittering Global Cup trophy with the nation's dirt encapsulated inside, and a piece of the $750,000 AUD purse.
"Hopefully we come home with the Australian horn and the dirt in it!"
Global Cup action gets underway at 7:00 p.m. ACST on Saturday, June 9 and will conclude on Sunday, June 10 at 7:00 p.m. ACST.
RidePass coverage will begin at 5:30am ET on both Saturday, June 9 and Sunday, June 10.
Fans will also be able to watch all the action on TSN2 when the network airs a one-hour highlights program from the event on Tuesday, July 3 at 7:00 p.m. ET.
Be sure to stay tuned to PBRCanada.com for the latest event information, and follow the team's journey on Facebook (PBR Canada), Twitter (@PBRCanada), and Instagram (@PBRCanada).