Twisted Awes in Québec with Career Best Out
By: Kacie Albert Tuesday, May 22, 2018 @ 9:56 AM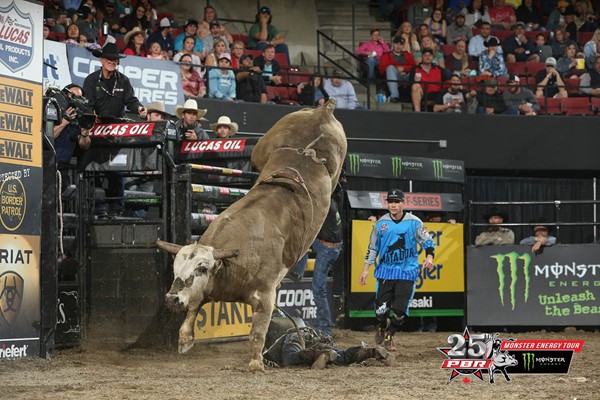 NEW YORK CITY – For the first two Canadian Monster Energy Tour events of the season, one bull, Happy Camper, reigned atop the standings.
However, inside the Videotron Centre for the second-ever International Major, a new king of the bull pen was crowned when Twisted delivered a career-best out, earning a bull score of 46 points for his 2.15-second buckoff of the nation's top ranked rider Brock Radford in the event's final out.
RELATED: Twisted Earns Bull of the Event Honors in Québec
"Born and raised at the ranch," Nansen Vold said of his five-year-old bovine athlete. "I bought him as a two year old and here we are, very happy with him."
"He was a young two-year-old when I got him, and he wasn't much of nothing," the three-time and reigning PBR Canada Stock Contractor of the Year added. "I left him kind of alone, and we brought him back around last year a little bit and so this year we brought him back and  he's been pretty good ever since."
Error loading Partial View script (file: ~/Views/MacroPartials/RichtextEmbedVideo.cshtml)
Beginning the 2018 season, Twisted bucked at the sport's highest level, selected to compete at the elite 25th PBR: Unleash The Beast event in April in Billings, Montana.
In his PBR debut, Twisted was marked 42.5 points for dispatching Cristiano Figueredo in 3.04 seconds during Round 1.
"He had a good run there," Vold said. "I really liked him there, so did Cody [Lambert]."
Upon returning home to Canada, Twisted continued to improve, earning a 44-point bull score just two weeks later in Prince Albert, Saskatchewan at the Clunie-Cooper Memorial PBR. 
Twisted's performance not only impressed Vold, but also garnered the attention of PBR Canada's Director of Operations Jason Davidson leading the bull to be selected to make the journey East to buck at the four Monster Energy Tour events.
"It's a big trip for those bulls," Vold said. "That's why we sent out what we sent out, bulls we think can handle the trip."
"I like it," Vold added of the nation's premier tour travelling to four Eastern provinces. "It's good for the sport, [these are] great event[s], and we're going to keep going with it."
In his first out at a Monster Energy Tour event, Twisted continued his buckoff streak, dispatching Australian Lawson Nobbs in 2.38 seconds during the Championship round to earn a bull score of 42.5 points.
Then came his eruptive out in Québec, leaving many excited to what the bull will bring this weekend in Halifax. Not only was the score the best of his career, but the 46-point effort is the top bull score thus far during the 2018 PBR Canada season.
"I knew he had it in him," Vold stated. "Because I've seen him before when he was young he had a couple of good trips, and then he kind of got left in the back pens and never really did much with him."
Fans can relive all the action from Québec, including Twisted's out, on Tuesday, June 5 at 7:00 p.m. ET on TSN2.
"TV's great," Vold said of the pending program. "We like TV."
Vold will now return home to High River, Alberta for various rodeos and events the remainder of his bull pen are entered in, leaving his prized animal athletes under the care of Jake Wilson while out east and flanked by Two Bit Bucking Bulls' Josh Berezay at events.
The Monster Energy Tour next travels to Halifax, Nova Scotia and the Scotiabank Centre on May 26, marking the tour's first trip to the Canadian Maritimes, and PBR's first event in the city since 2011.
RELATED: PBR Canada's Elite Monster Energy Tour Invades Halifax on May 26
Tickets can be purchased at the Scotiabank Centre box office and Atlantic Superstore ticket outlets, online at ticketatlantic.com, and by phone at (877) 451-1221.
Be sure to stay tuned to PBRCanada.com and follow the tour on Facebook (PBR Canada), Twitter (@PBRCanada), and Instagram (@PBRCanada) for the latest results.