Buttar Eyes 2019 Canadian Title After Pair of Wins in North Battleford and Frog Lake
By: Kacie Albert Wednesday, August 7, 2019 @ 6:20 AM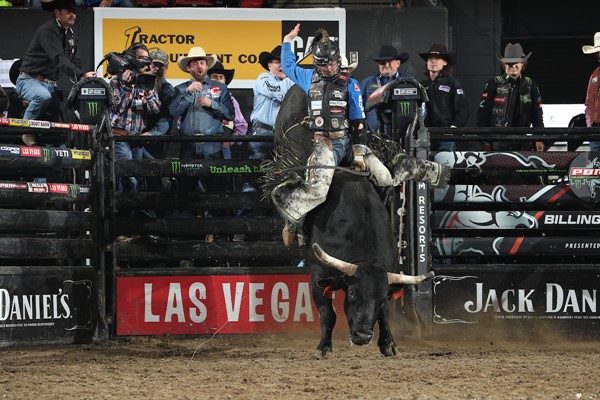 NEW YORK CITY – For the last two years Dakota Buttar has claimed the Glen Keeley Award as the top ranked Canadian in the world standings at season's end.
On pace to qualify for his fourth career PBR World Finals, where he could yet again be the recipient of the prestigious honor inside T-Mobile Arena in Las Vegas, Buttar is eyeing yet another accolade – the 2019 PBR Canada Championship.
RELATED: Buttar Honored to Win 2018 Glen Keeley Award
"It's definitely a goal on my bucket list," Buttar said. "It's something I want to get done, and this year being in the mix of things, I'm right there, I'm not too far out, so I would like to keep pushing at that."
After earning his third Canadian event win of the season in late July in North Battleford, Saskatchewan, the Kindersley man surged to No. 3 in the nation, then a mere 474.99 points behind No. 1 Jared Parsonage.
Less than two weeks later, Buttar was again atop the leaderboard in Frog Lake, claiming his fourth Canadian event win of the season, and closing the gap on the top ranking to a mere 134.99 points.
RELATED: Dakota Buttar Closes in on Canadian No. 1 Ranking with Win in Frog Lake
Contextually, at a given Touring Pro Division event a rider has the chance to earn as many as 350 national points, while 550 are available at a regular-season, two-round Monster Energy Tour event.
Leading into the 2019 PBR Monster Energy Canadian Finals, presented by Dakota Dunes Casino, there are seven Touring Pro Division events and two Monster Energy Tour stops remaining on the calendar.
"It's been a good month and a half here," Buttar said of his surge up the national standings. "I'm kind of torn, because I want to go to the World Finals, but I also want to make a good Canadian push here too."
For PBR Canada, all roads will culminate in Saskatoon, Saskatchewan on Nov. 22-23 when the nation's Top 20 riders will contend for the 2019 PBR Canada Championship and $50,000 bonus. But there, the competitive intensity will be even further amplified as one rider has the chance to earn as many as 2,250 national points.
In the current title race, that would make the title mathematically attainable for all riders who have earned points thus far in 2019.  
"2016 is really the only year I made a push at PBR Canada," Buttar reflected "But that incentive this year kind of makes a guy want to go a lot harder."
After making his PBR Canada debut in 2014, Buttar concluded the 2015 season ranked No. 5, finishing 190 points behind champion Tanner Byrne.
The 2016 season, however, was his best to date on Canadian soil. Earning two events wins, in addition to 16 Top 10 efforts, including a runner-up finish at the Canadian Finals, Buttar finished No. 2 to Ty Pozzobon by 123.34 points.
Since, he was No. 47 in 2017 and No. 12 in 2018.
"I've just got to keep riding bulls," Buttar said of his strategy to become the No. 1 man in Canada. "Those other guys, week in and week out, they're riding all their bulls, they're pretty consistent, so I think it's going to take consistency for the rest of the year I think."
And in North Battleford, the site of his third win, Buttar was the picture of consistency, sweeping both Round 1 and the championship round en route to his third victory of 2019.
RELATED: Dakota Buttar Earns Third PBR Canada Event Win of 2019 in North Battleford
He recorded the top marks in Round 1 when he reached the 8 on Devour for 84 points, which he followed with an event-best 87.5-point ride on Rat Trap.
"I was pretty pumped to draw Devour in the long round, that's a pretty solid draw anywhere really," Buttar explained. "Then come back in the short round, that Rat Trap of the Byrnes, I was looking forward to getting on him. He's another good spinner. I was pretty lucky to draw two good bulls up there."
In Frog Lake, Buttar's win included an 85.5-point ride on Honky Sam in Round 1, followed by an 87.5-point trip on OMB Legal Issues in the championship round. A double entry, Buttar was also fourth after riding Act Naturally for 84 points in the first round.
Adding to the impressiveness of Buttar's accomplishments is the short time window with which he has racked up the four wins and eight additional Top 10 efforts on Canadian soil.
Buttar competed in his home nation for the first time in 2019 on June 8, winning the Touring Pro Division stop in Moose Jaw. The event marked Buttar's return to competition after his doctor cleared him to compete following what some thought was a season-ending shoulder injury sustained in Billings, Montana on the Unleash The Beast in mid-April.
RELATED: Acing The Test – Buttar Returns to Action, Shoulder 'Feels Awesome'
"Quite honest, I'm thankful my shoulder has been feeling as good as it has." Buttar said. "I didn't have to miss the rest of the year, so I'm looking forward to taking advantage of the rest of the season now."
Next on the docket for Buttar, who is now ranked No. 28 in the world, a trip to Tulsa, Oklahoma for the next Unleash The Beast event on Aug. 10-11 at the BOK Center.
Fans will be able to watch the action in its entirety live via PBR's new streaming digital platform RidePass. Round 1 will be broadcast LIVE on RidePass with the stream starting at 7:30 p.m. EDT on Saturday, August 10. The listen LIVE stream of Championship Sunday will begin at 2:30 p.m. EDT on August 11.