Radford Sets High Goals for 2020 After Strong Finish to 2019 Season
By: Kacie Albert Friday, December 27, 2019 @ 2:32 PM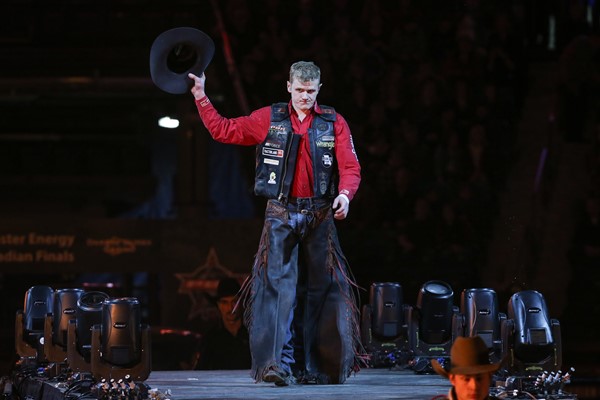 NEW YORK CITY – When PBR Canada action began for the 2019 season, the draws were missing one of the most talented bull riders to emerge from the nation in recent years – Brock Radford.
Battling through a torn ACL/MCL initially sustained in August 2018, Radford underwent surgery to repair the torn ligaments following that November's PBR Canada Finals, where he one again finished runner-up in the national standings.
The initial prognosis foretold an entire 2019 season without the DeWinton, Alberta rider.
However, compliments of a diligent rehab plan crafted with sports medicine expert Brandon Thome, Radford returned to competition in July.
In five months' time, Radford went from unranked to concluding the year No. 6 in Canada.
"Obviously not what I wanted, but I'm happy for it," Radford said. "Originally the doctors told me I wasn't even supposed to get on a bull in 2019 so I can't complain one bit. I was supposed to be out for 12 months and not get on a bull until this January.
"Brandon helped me out a lot, we pushed the limit, and he got me back in five and a half months to ride at Calgary."
Radford made his return to PBR action on July 4, riding at what would be voted the PBR Canada Event of the Year at the Ranchman's in Calgary. Despite being shutout in his 2019 debut, Radford rebounded with a strong 2-for-5 showing the following week at the Calgary Stampede.
While he did not claim an event win in 2019, Radford earned 14 Top-10 finishes before qualifying for the PBR Canada Finals.
Of those efforts, Radford notably finished runner-up on four occasions, including on the Monster Energy Tour in Abbotsford, British Columbia.
RELATED: Radford Channels Fellow Championship Athlete in Bid for 2019 PBR Canada National Title
"The PBRs went good for me," Radford explained. "I was able to kind of climb the ladder and give myself a shot at the PBR Canada Finals."
He capped his Canadian season with a 3-for-4, fourth-place effort at the 2019 PBR Canada Finals to conclude the season No. 6 in the nation, 1,764.17 points behind the season's Canadian Champion Daylon Swearingen.
"It came down to the last bull and he got me at the end," Radford added. "I don't think I would have got Daylon, but I would have passed some other guys riding that last bull.
"I'm happy with the season I had. I will get a full year in, and I will be back with a vengeance this year. I like being on the top, as anyone would, but we'll look back to be No. 1 in 2020."
And while the events may have fell in the 2019 calendar year, 2020 PBR Canada competition is well underway with events already taking place in Dawson Creek, British Columbia, and Lloydminster, Saskatchewan.
Radford is now ranked an early No. 10 in the world and No. 4 in Canada courtesy of a runner-up effort in Lloydminster.
"A good way to finish off the year and start the New Year," he said. "When I get home I will go to the Red Deer event, then I'll probably go down and do Portland and start doing the PBRs. And obviously Denver is a big one that I'll do, and then Calgary.
"Then hopefully I can get on tour and go to Los Angeles the weekend before Global Cup, and then I will be at the Global Cup in February."
For Radford, key to not only continuing his success in Canada, but also in actualizing his dream of returning the elite Unleash The Beast and Team Canada for the Global Cup, is staying healthy.
"That's the biggest thing with bull riding," Radford said. "When I'm healthy, I'm 100% confident in my riding, I can bang with the best and ride the best bulls."
He also points to one area of improvement, that should he remedy, could be the barrier between him and taking the next step in his career – the get off.
"My goal is just my get off," he said without hesitation. "Riding and dominating my bulls and making sure I am not doing stupid get offs. Even if I've got to ride those suckers 10, 12 seconds, that's what I'll do. I've got to try and get some control of my get off."
"That's probably one of the weaknesses in my career," he said further. "I hear that dinger go and I just wheel it. I've kind of got the hang of not letting that happen anymore, being more aggressive and finishing my rides, staying on for 10 seconds and getting off when I have the chance.
"The better you feel and are going, the more bulls you're going to ride. In the end, that's what will win Canada."
Among his many goals in 2020, Radford also hopes to return to Team Canada, joining already named riders Dakota Buttar, Jordan Hansen, Shay Marks and Jared Parsonage.
Radford, however, is quick to note that while a return to the national team would be a great honor, he more so wants the nation to travel to AT&T Stadium on Feb. 15-16 with the strongest chance of winning the Global Cup Championship.
"If there is someone riding better than me, then they're going in my spot,' Radford said. "I feel great, I've been riding my bulls, I've been staying on stuff and doing my job, but a bunch can happen and what not.
"But whatever happens, and if I'm feeling I'm not going to be the best I can for the team, I'm going to let someone else go down there because I want Canada to be represented its absolute best."
PBR Canada action continues on January 24-25, 2020 with the season-launch Monster Energy Tour event in Calgary, Alberta. The Calgary Classic gets underway inside the Nutrien Western Event Centre on both nights at 7:30 p.m. MT. Tickets are still available and can be purchased at Ticketmaster.ca.
Be sure to stay tuned to PBRCanada.com and follow the tour on Facebook (PBR Canada), Twitter (@PBRCanada), and Instagram (@PBRCanada) for the latest results.