Resilient Buttar Eyes First Canadian Championship in 2020
By: Kacie Albert Friday, December 13, 2019 @ 5:54 PM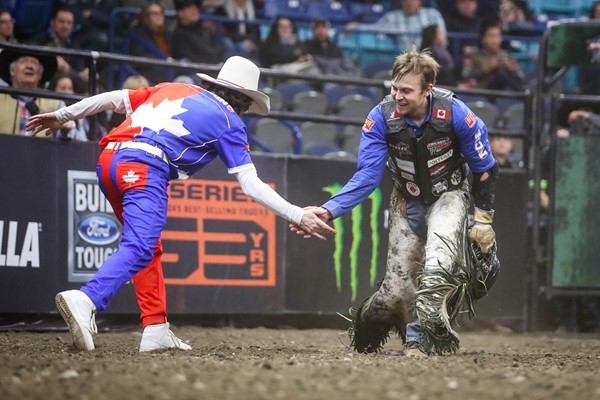 NEW YORK CITY – On the morning of November 23, no man appeared better position to win the 2019 PBR Canada Championship, and accompanying $50,000 bonus, than Dakota Buttar.
While he entered the 2019 PBR Monster Energy Canadian Finals, presented by Dakota Dunes Casino, No. 2 in the nation, 32.49 points behind then No. 1 Jared Parsonage, the Kindersley, Saskatchewan native, dominated the opening rounds of competition.
Buttar first won Round 1 with an 86-point ride on Mish Mash.
Then be topped Round 2, making the 8 aboard Finning Young Trent for 87.5 points.
The performance allowed him to reclaim the No. 1 ranking in the nation, a position he had only surrendered a few weeks prior, and enter the final night of action inside the SaskTel Centre with a massive 457.51-point lead.
RELATED: Dakota Buttar Reclaims Canadian No. 1 Ranking After Sweeping Opening Two Rounds of 2019 PBR Canada Finals
Buttar, however, wouldn't reach the 8-second whistle the remainder of the event.
"That's going to haunt me forever," Buttar said.
His event first began to change its trajectory when he was bested by his Round 3 draft Grey Tower III.
Having previously ridden the Vold Rodeo bovine athlete for a massive 89.5 points in June to win his first of  a league-best five Touring Pro Division events in Moose Jaw, inside the SaskTel Centre, Buttar was bested in a swift 2.01 seconds.
"If I could have went back and picked a bull, that would have been the bull I picked in the third round," he said without hesitation. "it just really didn't go for me that day."
"That was the bull I wanted," Buttar continued. "When I went in there, I saw he was in the second day, I had my mind set, I went in there and I wanted that bull. Then the first jump out he popped my foot up and I just couldn't get it back down.
"I knew he was going to do that though. The first time I got on him my feet kept popping the entire time, but I was able to get that back down. That night, it was too far, too gone when he did it there. I only went a couple jumps on him."
In the championship round, Buttar's 2019 season came to an end when he was bucked off by White Tie in 2.44 seconds. He finished the event fifth.
"I had a good finish to the year, I can't complain about it, but the second day I was feeling pretty bad."
The back-to-back buckoffs by Buttar opened the door for Daylon Swearingen who went a perfect 4-for-4 to make an awe-inspiring come-from-behind surge and claim the 2019 PBR Canada Championship.
Swearingen, who entered the final night No. 4 in the nation, 987.08 points back, concluded the season 450.42 points ahead of No. 2 Buttar.
With the 2020 season getting underway just one week later, with back-to-back Touring Pro Division events in Dawson Creek, British Columbia on Nov. 30, followed by a return to Lloydminster, Saskatchewan on Dec. 7, Buttar wasted no time in starting his bid to be the 2020 Canadian Champion.
Once again displaying his dominance fans had become accustomed to seeing on Canadian soil in 2019, Buttar won both rounds of action in Lloydminster en route to winning the event title.
RELATED: Dominant Dakota Buttar Wins Lloydminster PBR Winter Classic to Claim No. 1 Ranking in Canada
His 85-point ride on Obvious Enterprises Savage Sensation and event-best 89-point trip on Kubota's Big Orange Tractor earned him 350 Canadian points, allowing him to ascend to the nation's No. 1 ranking.
"I was pretty disappointed the way it ended in Saskatoon, so it was good to go and get on a couple more and finish the year on a good note, and I guess start the New Year too," Buttar said.
"I can't let it haunt me," Buttar said as he reflected further on the Canadian Finals. "It will bug me for a long time, but I kind of turned things around going to Lloydminster.
"I want to have another good showing this year, it would be nice to have the year won before I got to Finals. Going in there, Daylon showed it's anyone's game going in there and coming from behind. So that's kind of my goal this year."
Next up for Buttar is a trip stateside to New York City for the season-launch Unleash The Beast event on January 3-5, 2020 inside Madison Square Garden.
"We'll see how the first couple of months go," Buttar said looking to the new season. " I'm really pushing for the Canadian title this year, I feel like that is one that just kind of slipped for me this year, and I don't really want to have that happen again.
"There's so much money to win in Canada this next year, I want to try and take advantage of that."
During the 2020 season, Buttar also plans to return to his rodeo roots.
"I just brought my rodeo card today," Buttar said. "I'm looking forward to it. I've missed them a couple of years. They are a little more relaxed, not as quite fast paced, and I have lots of buddies in the barebacks and stuff.
"I like all of the events, and going and helping my buddies in the bareback and steer riders. It's a more laid back, a little more fun, not quite as stressful.
"They both have the things I like about them, I kinda wanted a change before from rodeo, that's why I went PBR. I went three years. Now I'm kind of missing the rodeos."
One event, however, which is locked on Buttar's competition calendar is the 2020 WinStar World Casino and Resort PBR Global Cup USA, presented by Monster Energy, on February 15-16 in Arlington, Texas.
RELATED: PBR Canada Champion Scott Schiffner Names Dakota Buttar, Jordan Hansen and Jared Parsonage to Team Canada for 2020 PBR Global Cup USA
Buttar joins already named Parsonage, Jordan Hansen and Shay Marks as the initial four members of the team set to return to AT&T Stadium.
RELATED: Shay Marks Selected to Team Canada Ahead of 2020 PBR Global Cup USA
"I think we have a shot anytime," Buttar said of Team Canada who finished last in 2019. "Nothing just went our way last time. We have a lot of really good talent, it's just going to depend on the draw, and everything like that.
"We have a lot of guys here that have experience down south, just have to use it this time."
Three spots, including the alternate, remain up for grabs on Team Canada with just a few short months before the international event.
"You think Brock [Radford] and Lonnie [West] for sure, they're two top guys if they can stay healthy," Buttar said as he forecasted potential picks. "Other than those two, Jake Gardner like he's been kicking ass too all year, he's been in my mind too. If he gets one into his hand, he's pretty tough to buck off.
"Another thing I was looking at too, other than Shay, the team is all lefties really, so you put some righties in there like Zane [Lambert] and Jake."
And in Buttar's mind, Lambert, a three-time Team Canada rider has a lot to offer the team hungry to better itself.
"That's one of the guys where he's got the experience down there," Buttar explained. "Anytime Zane's in a spot like that, he steps his game up and that's one thing you can't count out.
"He didn't have the year he wanted, but when you get to a place like that he can step it up and he has the experience. "
"There's a lot of good guys to pick from, I wouldn't want to have to be picking."
The 2020 PBR Canada season resumes on January 24-25 with the season-launch Monster Energy Tour event in Calgary, Alberta.
RELATED: 2020 Monster Energy Tour Schedule Announced
The Calgary Classic gets underway at 7:30 p.m. MT both nights inside the Nutrien Western Event Centre. Tickets are still available at Tictetmaster.ca.
Be sure to stay tuned to PBRCanada.com and follow the tour on Facebook (PBR Canada), Twitter (@PBRCanada), and Instagram (@PBRCanada) for the latest results.