Team Canada Rider Hansen Proud to Represent his Country at NFR
By: Justin Felisko Wednesday, December 11, 2019 @ 3:06 PM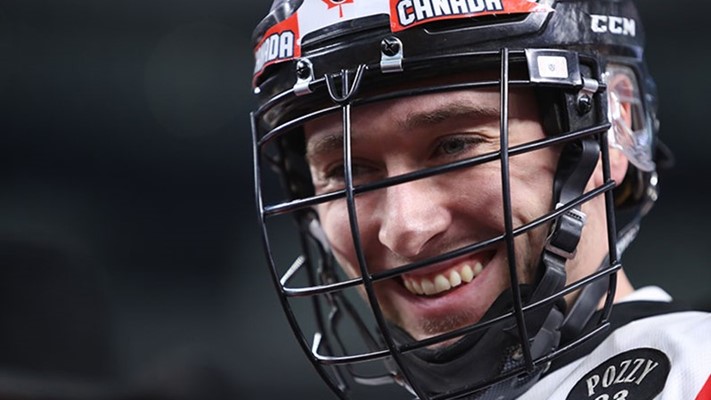 PUEBLO, Colo. – There was a cloud of doubt hanging over Jordan Hansen's head when he crutched his way out of AT&T Stadium in Arlington, Texas, 10 months ago.
Hansen had been hooked by Legit during the 2019 WinStar World Casino and Resort Global Cup USA, presented by Monster Energy, and was sent flying across the dirt, causing further damage to his right knee (MCL) that he had injured a few weeks earlier at a PRCA rodeo.
The Team Canada rider was in rough shape, and he knew it.
Hansen would try to compete at the San Antonio Stock Show & Rodeo two days later before ultimately deciding to shut things down for almost two months.
The Okotoks, Alberta, native had goals of qualifying for the National Finals Rodeo for the second time in three years, but it was beginning to feel like 2018 all over again.
Hansen came up short of qualifying for the National Finals Rodeo last year because of a broken back, and here he was again stuck on the sidelines.
"I was out for three months last year, and I didn't put myself in a really great spot to qualify for much," Hansen said. "Even this year, I tore my knee up this winter at the Global Cup, and I honestly thought this year may have been a write-off. I had no money won this winter. Maybe $2,000 coming into the summer. I had nothing.
"I had a lot of catching up to do. I didn't even know if it was doable."
Hansen's path to the 2019 Wrangler National Finals Rodeo, where he is currently in tenth place through six rounds of competition, may not be as noteworthy as Team USA Eagles' Jess Lockwood's return to the No. 1 ranking in the world following a broken collarbone at the Global Cup, but Hansen also put forth quite a performance to return to one of the largest stages in professional rodeo.
Hansen returned to PBR competition on March 22 with a victory at the PBR Canada Monster Energy stop in Calgary before he began his much slower, and methodical, climb back into contention in the PRCA during the summer months.
The 26-year-old was still close to $18,000 out of the Top 15 of the PRCA standings before he won $12,956 at the Mountain Valley Stampede Rodeo in Heber City, Utah, at the beginning of August to begin his march to the 2019 National Finals Rodeo.
Hansen did not sneak into the NFR this year. Instead, he won 10 events and pocketed $114,747.21 to begin the NFR ranked 11th in the PRCA standings. According to ProRodeo.com, Hansen is 28-for-48 (58.33%) on the rodeo trail in 2019.
"Heber City, Utah, was definitely the first one," Hansen said. "I was kind of catching up slowly. I needed a good win. That definitely pumped me back into the Top 15. Then I won Puyallup, another $18,000, and that kind of solidified it there."
The lone Canadian bull rider competing this week inside the Thomas & Mack Center has begun the NFR 2-for-6, including a 90-point ride on Jive Turkey on Saturday night.
Hansen is tenth in the event average and trails leader Sage Kimzey by 257.5 points.
"I should be 4-for-4, so I got six rounds left to make up for some lost time the last couple of days," Hansen said following Round 4. "We will make it work."
Hansen went 4-for-6 at the 2017 NFR for a sixth-place finish, but he had never hit the 90-point threshold until this past Saturday night.
"It was pretty exciting, and I was hoping for a round win, but I think I deserved second after Koby (Radley) rode Spotted Demon (for 92 points), so I don't really look at too much of the scores," Hansen said. "If I can stay on my bull, I did my part. I will just kind of let the rest take care of itself."
Hansen did say that there is a benefit from this year not being his first NFR.
In 2017, he became the first Canadian since 2001 to qualify for the NFR.
"Last time I came, I had never even been to Vegas before," Hansen added. "Even just being in the city, the whole NFR, was a lot to take in, for sure."
The No. 62-ranked rider in the 2019 world standings will be making his second appearance at the Global Cup on Feb. 15-16 after being named to the squad by coach Scott Schiffner last month along with Dakota Buttar and Jared Parsonage.
"I didn't know when I was going to be picked," Hansen said. "I had a pretty good feeling, and felt like I should be on the team. I didn't know if I would be part of the first three or the last, but I had a pretty good feeling I would get a spot on the team."
Hansen led Team Canada with a 2-for-4 performance at the 2019 Global Cup USA despite his right knee injury.
Whether it be at the Global Cup or the NFR, Hansen said there is always tremendous pride representing the Maple Leaf in the United States.
"I am definitely pretty proud of getting here. It would be nice to have a couple of other Canadians with me. I am hoping even me coming, I can light a fire in a couple of guys and get them to try and do the same thing. The PBR is definitely an accomplishment as well, but I would like to see a few more guys make the NFR. There hasn't been too many (Canadians) in the history, so it would pretty cool to see a couple more."
Hansen now hopes to become the first Canadian since Daryl Mills (1993) to win the event average at the NFR.
"That is definitely the goal," he concluded. "For a guy to win the average and say you beat everyone else at the Finals, that is the goal for sure. To finish this year off and do something like that would give you all the confidence in the world going into next year."
Follow Justin Felisko on Twitter @jfelisko