Happy Camper Prepares for 2019 Debut in Front of Hometown Crowd
By: Kacie Albert Wednesday, February 27, 2019 @ 12:26 PM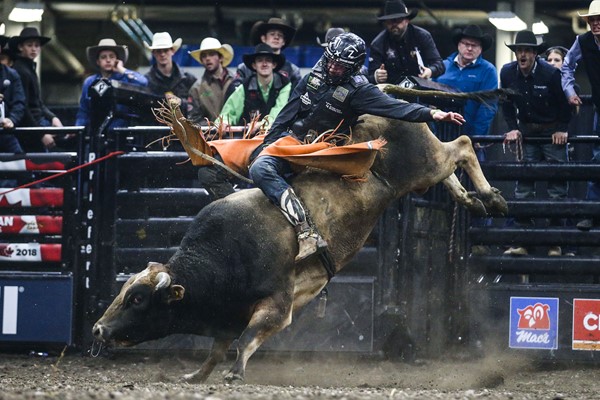 NEW YORK CITY – Last season on Canadian soil there was no bull more dominant than Two Bit Bucking Bulls' Happy Camper.
Amid his second PBR season, the four-year-old earned a league best three Bull of the Event titles, including capturing the honor at the Finals in Saskatoon, propelling him to the 2018 PBR Canada Bull of the Year honor.
RELATED: Happy Camper Caps Dominant Season with Canadian Title
"I thought he really put an exclamation mark on it when he did that," Two Bit Bucking Bulls' Josh Berezay said of the bull's season culminating performance at the 2018 PBR Canadian Finals. "It sure made us proud."
The four-legged freight train's 2018 campaign began in the very city where he is preparing to make his 2019 debut – Lethbridge, Alberta – less than 40 kilometers from his home in Magrath.
At the two-day event, then part of the Touring Pro Division, Happy Camper delivered the top bull score both nights, marked 44.5 points for both his 5.7-second buckoff of Zane Lambert, and 2.7-second buckoff of Dayton Johnston.
"That was awesome," Berezay reflected. "It's so friggin' cold here right now, but he's ready to go."
After his two trips in Lethbridge, Happy Camper next traveled to Calgary where he bucked at just the third Monster Energy Tour event of his career.
Continuing his success, the bovine athlete captured his first bull of the event honors on the nation's premier series, recording the top bull score of the sold-out event, 43.5 points, when he bucked off Jake Gardner in 4.44 seconds.
RELATED: Happy Camper Begins Second PBR Season with Win in Calgary
"He's a lot more mature bull this year," Berezay said following the Calgary event. "He's probably put on 300 pounds, 350 pounds since the 2017 season. He can throw a little more power that way, that's for sure. And he's getting smarter, with every trip he's kind of starting to feel those guys."
As part of the contingent that travelled to the slate of four eastern Canadian events, Happy Camper earned his next bull of the event title in Ottawa when he was marked 44.5 points for his 0.93-second buckoff of Austin Richardson.
RELATED: Happy Camper's Dominance Continues in Ottawa
"That's a heck of a trip to go down there," Berezay said. "He was pretty rank there that night."
In the summer, Happy Camper achieved yet another milestone, named the high-marked bull of the event at the Calgary Stampede when he dispatched Marcos Gloria in 4 seconds to earn a career-high 46.5-point bull score.
Compliments of his dominant performance, Happy Camper was selected to buck at the second PBR World Finals of his career in November inside T-Mobile Arena in Las Vegas, Nevada. In what was almost a mirror performance of his debut in 2017, Dener Barbosa once again covered him in Round 3 of the most prestigious event in bull riding, scoring 84.75 points in their second meeting.
His storied season came to a close at the Canadian Finals in November where Happy Camper was not only crowned the 2018 PBR Canada Bull of the Year, but was also the bull of the event after he dispatched Tanner Byrne in 3.9 seconds to earn a 45.5-point bull score.
"It's hard for me to brag," Berezay said humbly. "I think that you've got to let the animals do what they do. I don't know how to put it all into words."
Now, less than three months later, Happy Camper is preparing to return to competition.
While he is set to buck in the championship round on Saturday, fans will first see him Friday night.
Unique to Lethbridge, the top-marked rider in Round 1 will get to attempt Happy Camper at the end of the first night as the event's bounty bull. Should the rider cover Happy Camper, he will take home a pay check for $2,500.
In 21 attempts across all levels of competition, Happy Camper has been ridden just four times. Aside from Barbosa's two qualified rides at the World Finals in 2017 and 2018, the other two 8-second efforts were seen on the Touring Pro Division in Canada last season.
Jared Parsonage rode the bull in May in Prince Albert for 88 points, while Lambert recorded one of Canada's three 90-point rides of the year aboard Happy Camper in September at the Staveley event, scoring 90.5 points.
"The crowd's great there every night," Berezay said of the pending Lethbridge event. "They get into it and it seems to get more popular every year.
"And I know everywhere we go around here people are excited to see Happy."
While PBR has a rich history in Lethbridge, the Bridge City Chrysler/LA Towing PBR Challenge will mark the Monster Energy Tour's first-ever stop in the Alberta-city.
RELATED: PBR Canada's Monster Energy Tour Makes First-Ever Stop in Lethbridge
"They're doing it better every time we go to one," Berezay said of the tour. "It's a great event, and we hope everybody comes out."
While many fans will be eagerly awaiting Happy's debut, numerous others will be watching the world standings.
As part of the Monster Energy Tour, the event will now award 170 world points to the winner, as opposed to 60 last season, an amount which could hold great significance in the current world standings, with the second cut of the 2019 season looming for the elite Unleash The Beast.
In the current standings, should a rider with no world points capture the event win, they would sky rocket to No. 43 in the world, and trail the Top 35 by 57.5 points.
The standings are even greater for seven Canadians set to ride at the event.
For Byrne, Shay Marks and Johnston, an event win could help punch their ticket to next weekend's Unleash The Beast event in Duluth, Georgia.
Currently ranked No. 38 in the world, and event win would propel Byrne to No. 18, while the victory would take Marks from No. 42 to No. 21 and Johnston would rise from No. 70 to No. 31.
The remaining four Canucks would be within striking distance of a berth onto the elite tour should they capture the Lethbridge event victory.
As the No.83-ranked rider in the world, Garret Green would climb to No. 36, just 2.5 points outside of the Top 35. For No. 91 Parsonage, he would climb to No. 39 and be just 17.5 points outside of the threshold. Further down the standings, No. 96 Lambert would rise to No. 40 and be 20 points on the outside, while Lonnie West would jump from No. 98 to No. 40 and be just 27.5 points removed from a return to the Unleash The Beast.
The Bridge City Chrysler/LA Towing PBR Challenge gets underway Friday, March 1 at 7:00 p.m. MST and concludes Saturday, March 2 at 7:00 p.m. MST inside the ENMAX Centre.