Parsonage to Make Elite Tour Debut in Glendale
By: Kacie Albert Saturday, January 19, 2019 @ 12:29 PM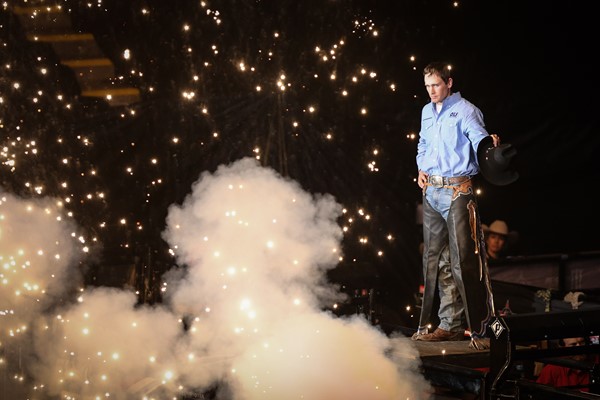 COLUMBIA, South Carolina – For the third consecutive weekend, the PBR Unleash The Beast draw will feature three Canadians. However, with Tanner Byrne stranded in Prince Albert as a massive snow storm hits the province, Jared Parsonage will take over his position in the draw, making his elite tour debut, alongside countrymen Dakota Buttar and Lonnie West.
"It was quite an unexpected phone call," the Maple Creek-native said. "But a guy's not complaining any. It was perfect, good opportunity, exciting and I hope to take advantage of it."
For Parsonage, the call came as he, along with travelling partners Todd Chotowetz, Wacey Finkbeiner and Jordan Hansen, were beginning the drive home from Denver.
Now, as opposed to being in a truck for more than 13 hours, he is in Glendale, Arizona after a short plane ride preparing to face BAMF in Round 1 of the Ak-Chin Invitational, presented by Cooper Tires.
RELATED: View the complete day sheet here.
While his bovine athlete opponent now hails from Hart Cattle Co., the matchup is an all Canadian showdown, with BAMF originally calling High River, Alberta's Vold Rodeo home.
"I've watched him lots," Parsonage said. "I would like an opportunity for sure, didn't expect this to be the place to get one."
In 10 outs across all levels of competition, BAMF has been ridden just twice. The first rider to reach the 8 on him was Cody Nance at the elite tour event last season in Billings, marked 78 points, while Ramon de Lima earned an 88.5-point score aboard him at the Calgary Stampede.
Last year, Parsonage concluded the 2018 season ranked No. 53 in the world and No.4 in Canada. He went a collective 25-for-46 across all levels of competition, to hold a 54.35% riding average.
So far in 2019, he's 3-for-4 with a second-place effort at the Canadian Touring Pro Division event in Dawson Creek, British Columbia, and a 25th-place result at this week's Velocity Tour event in Denver.
Knowing the full weight of the opportunity in front of him, Parsonage is ready to seize the moment.
"This is an opportunity I've got to take advantage of, and at the end of the day it's just bull riding – stay on."
Parsonage will be joined by both Buttar and West in Arizona, both of whom competed last weekend at the Chicago Invitational.
After a dismal start to the season in New York City, Kindersley's Buttar rebounded in the Windy City, going 1-for-3 to tie for eighth. Now ranked No. 28 in the world, he'll attempt Spectacula in Round 1 and Wicked Hou in the 15/15 Bucking Battle.
While Spectacula has now outs on record according to ProBullStats.com, Wicked Hou is no stranger to the elite tour.
After his 2018 season ended with a 1.3-second buckoff of Valdiron de Oliveira in Round 5 of the World Finals to earn a 43.5-point bull score, Wicked Hou returned to action at the season-launch event in New York City, ridden by Matt Triplett for 88.75 points in the championship round.
Across all levels of competition, the bull has been ridden three times in 12 outs.
Last year in Glendale, Buttar recorded one of the best finishes of his season. Going 2-for-3, including a win in Round 1, the 2018 Glen Keeley Award winner finished fourth.
The Canadian contingent will be completed by West, who after riding in Round 1 in New York City, was unable to reach the 8-second mark in Chicago.
A first-time rider at the Ak-Chin Invitational, the Cadogan, Alberta-native will attempt Air Assault in the first round.
From D&H Cattle Co., the bull has been ridden three times in six outs, however has yet to buck at a PBR event.
The Ak-Chin Invitational will get underway on Saturday, January 19 at 7:45 p.m. MT, with Round 1 and the second 15/15 Bucking Battle of the season, and conclude on Sunday, January 20 at 1:45 p.m. MT.   
CBS Sports will air the second 15/15 Bucking Battle of the season at 1:00 p.m. ET on Sunday, January 20. CBS Sports Network will broadcast all the action from Championship Sunday, including Round 2 and the championship round, on Sunday, January 20 at 8:00 p.m. ET.
Fans will also be able to watch the action in its entirety live via PBR's new streaming digital platform RidePass. Round 1 will be exclusively seen on the platform, with coverage beginning at 9:30pm ET on Saturday, January 19. The listen LIVE stream will begin on Sunday, January 20 at 3:45pm ET.