The PBR Community Reflects On The Memory Of Mason Lowe
By: Justin Felisko Thursday, January 17, 2019 @ 9:39 PM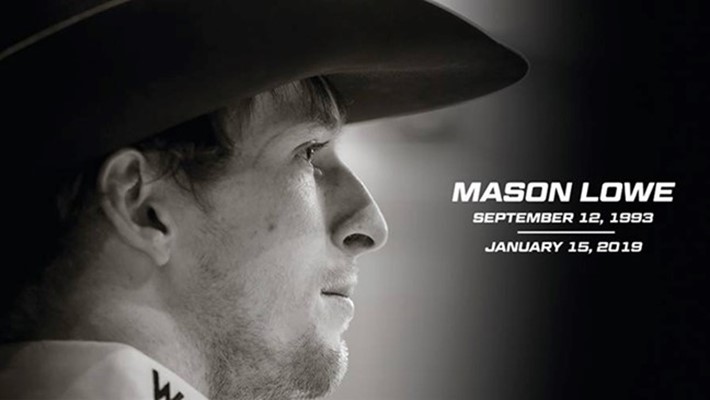 PUEBLO, Colo. – Mason Lowe leaned back into a plush couch in the lobby of the University Plaza Hotel in Springfield, Missouri, late on September 11, 2016.
Lowe's future wife, Abbey, was there next to him, as were a handful of other PBR bull riders and their wives or girlfriends.
The group had just finished the annual three-day premier series bull riding in Lowe's home state, and the Missouri cowboy was holding court on the eve of his 23rd birthday alongside two-time World Champion J.B. Mauney.
It was never hard to find Lowe during a weekend PBR tour stop. He always had a knack for bringing the room to life and entertaining the masses.
That was certainly the case in Springfield for the Exeter, Missouri, native.
With a Coors Light in hand and a warm, but sarcastic grin from ear to ear, Lowe began to rib on PBR youngsters Jess Lockwood and Derek Kolbabawith Mauney right alongside him in jovial fun.
The two teenage bull riders with baby faces could not stop laughing as Lowe continuously gave them a hard time about being the bright future of the PBR with their good looks and flashy riding style.
"Mason was a guy that always brightened the room when he walked in," Kolbaba said on Wednesday night. "His smile and his laugh kind of brought everyone in and cheered everybody up. He always had a good joke to say. There was a group of us sitting around in a hotel lobby once, and my God, he had everybody rolling on the floor. That's just the kind of guy he was."
Lowe just could not seem to get past the fact that Lockwood enjoyed watching SpongeBob SquarePants.
Lowe had Mauney laughing as well, and the legendary bull rider was joining in on the fun.
After a bit, Lowe grinned. He then backpedaled as he often did whenever he tried to bust his pals' chops.
"He talked shit, and he was funny as hell about it," Mauney said on Wednesday. "He made you laugh all the time. He was somebody you looked forward to seeing in the locker room because he was always joking, laughing no matter what. He was always having a good time and he was always fun to be around.
Lockwood smiled Wednesday inside the Denver Coliseum reminiscing back to that night.
"Mason was so funny," Lockwood said. "He'd always like to give people crap, but he let them know at the same time he was kidding. Mason, the shit he would say, most people aren't that quick and witty."
Lowe always loved and had the utmost respect for his fellow bull riders.
"Ah, I am just kidding," Lowe, said that fall night in Springfield to Lockwood and Kolbaba. "You two are alright."
Lowe then took a swig of his beer and pointed across to Mauney in a much more serious tone.
"You see that guy right there?" Lowe asked the two young bull riders. "Now that is more like my kind of cowboy. If I came around when J.B. started, oh the things I could have done,'" Lowe said.
Lowe still had plenty of bulls ahead of him, but there was this doubt inside him sometimes that he was living up to his high expectations he had for himself.
He was a Top-35 bull rider, but he aspired to be better.
He had gold buckle dreams.
"You guys have no idea," Lowe said. "I wish I was going up and down the road with him when J.B. was your age."
Lowe had a special appreciation for the old school bull riders of the PBR, and he modeled himself after the likes of the J.B. Mauneys, Chris Shivers, Justin McBrides and J.W. Harts of the world.
As he sat there on that couch on that Springfield night, all Lowe kept coming back to was wanting to one day be remembered as a tough, hardnosed cowboy.  
Lowe, 25, passed away on Tuesday night at Denver Health as a result of injuries sustained in competition when Hard Times bucked him off and stepped on his chest at the Denver PBR Chute Out Velocity Tour event inside the Denver Coliseum at the National Western Complex.
This week, the PBR community and the entire world has begun to reflect and remember Mason Lowe.
Lowe developed a reputation over his eight-year career as one of the warmest and most welcoming riders in the PBR. He was also one of the most sarcastic, which was always a plus to his pals.
One of his idols – Mauney – immediately gave Lowe the kind of compliment he desired on Wednesday morning.
"He was a cowboy," Mauney said. "We kind of had the same mentality. No matter how bad you're hurt, you've got a job to do, and you do it, and you try to the bitter end. That's how he was, and that's why we got along so good.
"When he put his hand in the bull rope, he didn't let go until his head hit the ground. You see those guys that take the easy way out and don't try very hard when they get out of shape, those guys hardly ever get hurt. It's always the one that's trying so damn hard that get in wrecks and binded up, but that's what made him stand out as a bull rider – he never quit."
NANCE AND FELLOW COWBOYS RIDE IN HONOR OF LOWE IN DENVER
Cody Nance climbed to the top of the steel fencing on Wednesday night inside the Denver Coliseum just to the left of where Mason Lowe was tended to by emergency personnel less than 24 hours earlier.
Nance lifted his head toward the rafters as the tears began to roll down his face.
The 31-year-old then pointed his fingers to the heavens and closed his eyes.
Just like the other 30 cowboys who were competing during the final night of competition at the Denver Chute Out, Nance had Lowe on his mind.
Nance was the first rider to reach the 8-second mark on Tuesday night, picking up 88 points on Bug Eyes, and it came less than an hour after he also led a locker room prayer paying tribute to the late bull rider.
When Nance nodded for the gate he could not help but hear, and feel, Lowe cheering him on the back of the bucking chutes as if it was just like any other day.
"You know, a lot of us today have a lot of emotions coming in here," Nance said. "I just imagine him smiling, wishing he was here doing it with us. All I had seen was just his smiling face when I looked up. The good Lord got his hand on him, and he's got his hand on all of us. We're very blessed."
Nance wasn't done making his buddy proud either.
Lowe was likely yelling from high above in the championship round.
Nance's cowboy hat flew off by the time Lorena's Pet was making his second jump, but that was not going to stop the Paris, Tennessee, cowboy from making a 86-point ride to eventually win the event.
Throughout the night, Nance could hear Lowe in his ear.
"When I started kicking around the corner, I just feel like Mason said, 'Keep going, keep kicking him,'" Nance said. "So I just threw justice to the wind and kept kicking him, and praise God it worked out."
Nance was not alone.
Luis Blanco tied for the Round 2 victory with an 89.5-point ride on Tequila Slinger.
Blanco wiped away tears as he recalled Lowe's ambitious swagger, noting he once heard Lowe saying to himself, 'I'm a hero. You better best me,' before he prepared to ride.
Lowe was there rooting him on in Denver, Blanco believed.
"I can feel him here," Blanco said. "He is behind the chutes. When I hear the bad news last night, I was sad because he is not only my friend, but he's part of my family in bull riding.
"If he was in my spot, I know he'd try to get on. To be 89.5 points, that's for all my family, my friends, and for Mason."
The decision to ride on Wednesday night was not one that Nance and the other riders took lightly.
Nance and a group of roughly 15 bull riders and wives/girlfriends met at a local Airbnb where some were staying late Tuesday evening once the news of Lowe's passing began to circulate.
They laughed, cried, mourned and poured out a drink in honor of their friend.
"It was never a dull moment with Mason," Stormy Wing, one of Lowe's traveling partners, reflected. "I will cherish them all. The great bull rides, the intense pool games, the laughs, that one-of-a-kind smile, the true COWBOY friend he is."
20-year-old Koal Livingston viewed Lowe as a mentor figure since he turned pro two years ago.
Livingston rode Gangster Can Do for 85 points in Denver Wednesday and immediately pointed his left hand and finger to the ceiling.
He too was with the group of riders on Tuesday evening when the news about Lowe became a dark reality.
Earlier that same day before the bull riding, Lowe saw Livingston and Nance sitting on a bench and that sly grin of his emerged.
"He came over and was joking and playing along with us," Livingston, holding back his tears, said. "Right when he went to walk out, I was like, 'Mason you'd better go get them sons of bitches now!' He looked back at me and just gave me that shit-eating grin. I just started laughing and he walked out the door. He was always feeling good.
"I love that fool."
It is why riding on Wednesday night during the final night of competition in Denver was far from a "show must go on" decision.
Love was behind each qualified ride, each ounce of sweat and every bit of strength that all of the 30 cowboys left in that arena.
Lowe gave his life for the sport, and his friends were not going to let him finish the event alone.
The group was committed to riding in honor of Lowe.
"We all had it on our minds that we were going to come here," Nance said. "We talked about it last night, and we were going to give it our best."
A COWBOY IS BORN
Lowe was a cowboy long before he ever stepped foot in the PBR arena.
The son of Stacy Lowe and Melissa Wisenhunt, Lowe would get on milk cows with the help of his father when he was 3 years old. He quickly grew to love the sport of professional bull riding.
Lowe would arrive at various junior and amateur rodeo events with the same infectious and contagious smile and personality that he would later bring to millions of PBR fans all across the world.
Lowe, who is also the nephew of former PRCA bull rider Aaron Lowe, did not compete at any high school rodeos as a teenager.
Instead, he competed in amateur bull ridings throughout the Midwest when he was 15 years old – just two years after getting on his first bovine.
Fellow Missouri bull rider Brady Sims, who elected to ride in Denver on Wednesday night, grew up competing against Lowe in Missouri and eventually throughout the Midwest and into the PBR.
He developed an admiration for the fellow Show Me State bull rider.
"Mason was always the one I knew I was going to have to beat when I headed to a bull ride somewhere because he very rarely got bucked off," Sims posted on his Facebook account. "If I had to sum up Mason in two words, the words I'd choose would be for two different aspects of his life.
"Inside of the arena he was fierce, he wanted absolutely nothing more than to win at all costs, and that's what made him such a force to be reckoned with. Outside of the arena, he was the most kindhearted person I may have ever known. Always up to try to make you laugh or brighten your day, just a genuine great person. Mason and I didn't always see eye to eye, or even try to on some things, when we were younger but I can promise you that we would go to war for the other if needed be."
2008 PBR Rookie of the Year Reese Cates was actually judging an amateur bull riding event in Malvern, Arkansas, just after Lowe had turned 18 years old.
It did not take long for Cates to truly understand that Lowe had what many like to call the "It Factor."
Cates overheard a bunch of the bull riders talking about how there was a certain bull that no one should want to get on because he was notorious for jerking guys down.
He then heard Lowe loud and clear holler, "Let me draw that son of a bitch."
Lowe was not just being boastful either.
"I'll be damned if he didn't draw that bull in the short go later and did spur him too!" Cates recalled. "After that, I knew he'd go on to do great things and not only that, but he has become one of my best friends throughout my whole PBR career."
WELCOME TO THE SHOW, KID
Lowe competed at his first PBR event on October 21, 2011, at the Touring Pro Division event in North Little Rock, Arkansas.
Within less than 10 months, Lowe had qualified for his premier series debut in Tulsa, Oklahoma, on August 10, 2012, and posted the first qualified ride of his career with 87 points on Super Cool Kat.
Tanner Byrne also made his premier series debut in Tulsa that weekend.
Fittingly, the two strangers to the veteran-laden locker room posted up in the corner together.
"We were kind of the new kids on the block," Byrne said. "We both hid in the corner. We both didn't really know anybody at that time. We just kind of stuck together and went from there. We both just kind of went away for a little bit and worked our way back onto the tour.
"It was always good to relax and get drinks with him. I always had a good time. I will always remember those moments."
Byrne also does not forget the fact that Lowe, then 18 years old, attempted to ride legendary and future three-time World Champion Bushwacker.
Lowe was always fearless and never intimidated by a bull, but the teenager was not sure who to pick in the championship round.
Therefore, he reached out to his longtime friend and 10-time PBR World Finals qualifier L.J. Jenkins.
"I told him Bushwacker," Jenkins said. "I honestly thought if anyone could ride him it would be a young Mason Lowe who didn't know better."
Lowe was not sold, though.
"Really?" Lowe asked.
Jenkins responded, "Yeah. He will fit you, and you want to go make a name for yourself, so go ride the rankest bull out there."
Lowe only lasted 2.31 seconds against Bushwacker, but Jenkins knew it was only the beginning for Lowe.
"I grew up with him and watched him ride his whole career," Jenkins said. "I always knew he was going to make it.
"He was always smiling and was a great friend to anyone and everyone. He will be missed by many."
EVOLVING INTO A TOP 35 BULL RIDER
Lowe went on to compete in 69 total premier series events, reaching the PBR's top level of competition full time in 2015.
In fact, Lowe made it back to the premier series by finishing an unprecedented first, second and third at the Poplar Bluff, Missouri, TPD event on March 20, 2015.
Once he made it inside the Top 35, Lowe did not turn back.
It was there that fans began to witness, on a national stage, Lowe's highly competitive personality in the arena, his pure hatred for bucking off and an innate desire to never let a chronic elbow injury to his riding arm be an excuse.
The Iron Man J.W. Hart was a fan of Lowe's toughness.
"For the first few years that I've ever known him, or seen him ride, it just seemed like he was always banged up, and he never complained," Hart said. "He just gutted it out, rode hurt. It's damn toughness. I always wanted to see him healthy and wanted to see how good he could be healthy."
Lowe would go on to qualify for the PBR World Finals by season's end – his first of three consecutive qualifications – and earn his first ride (85.5 points on Oklahoma Swag) at the PBR's marquee event.
In Las Vegas, three-time World Champion Adriano Moraes met Lowe for the first time.
"He was so friendly and I was very pleased that he was very, very excited to be at the Finals, and humbled by it, and happy," Moraes said. "I really liked the way he was outgoing and happy, always smiling. I'm so sorry to hear the news. I wish I had more time with him because he seemed so nice and so polite when I went and introduced myself to him."
Reigning World Champion Kaique Pacheco was the 2015 Rookie of the Year and felt Lowe had a bright future ahead of him.
"I've known Mason Lowe while riding as a competitor from the moment I arrived here," Pacheco said with the help of Miriaham Garcia translating. "He was a cheerful and talented guy with a bright future ahead of him, but unfortunately it was cut too short. This is a very sad loss for all of us, a person with a huge talent that will be missing amongst us."
2017 PBR World Finals event winner Jose Vitor Leme added, "It's very sad news. We never want this to happen to anyone. He was a great competitor and a great person too. He will surely be missed amongst us. We are all very sad by this loss. We hope that God comforts the hearts of his family and friends in this moment."
BRUISER, BRUTUS & THAT FIRST VICTORY
Lowe took the next big leap in his career in 2016.
The 22-year-old that had shown glimpses of flash, flare and fearlessness rose to the occasion on January 24, 2016, when he rode future three-time World Champion SweetPro's Bruiser for a career-high 91 points.
Lowe wound up finishing second in the event despite going 4-for-4, but everyone left Oklahoma City talking about his ride.
Lowe did not have to wait that much longer for his first career premier series victory, though.
Two months after his ride on Bruiser, Lowe won one of the most prestigious bull ridings on the PBR calendar when he went 3-for-4 at the 2016 Ty Murray Invitational in Albuquerque, New Mexico. He clinched his first career victory with a 90-point ride on Brutus despite torn cartilage in his riding wrist.  
"Winning Albuquerque shows the amount of promise he had," said nine-time World Champion Ty Murray. "You don't walk into that one. From what I gathered about him, he was kind of the cowboy kid. Mason has been working at it for a long, long time. This is what he dreamed and thought about every day.
"You hate to lose anybody. Ever. Especially the ones that show that old school, tough, grit and guts. That is what the backbone of this sport is."
The win had Lowe well on his way to a second straight World Finals appearance, and eventually he would live out of his dreams by competing in Las Vegas alongside one of his good friends, Zane Cook.
Cook wound up earning a qualification to the 2016 PBR World Finals via the Velocity Tour Finals, and he was thrilled to be inside T-Mobile Arena with a close friend and traveling mate.
"We'd known each other forever and were really good buddies, but he was that one guy that really made me feel welcome," Cook said. "I remember him walking into the locker room, because I was in there before he was, and he came in there and he said, 'Where's your shit at? I'm putting my stuff by yours.'"
During Round 2 of the 2016 World Finals, Lowe and Cook both matched up with two of the best and rankest bulls in the round.
Cook had to square off against Air Time, while Lowe had a rematch with Bruiser.
Lowe got wrecked out by Bruiser (5.66 seconds), and Cook nearly rode Air Time (6.47 seconds).
Cook, who would have earned a $25,000 bonus on top of any round money, sat in his locker with his head down.
Eventually, the now 25-year-old felt a presence standing over him.
It was Lowe.
He had that sly Mason Lowe grin gleaming, while double-fisting two beers.
Lowe then made a smartass remark to Cook before laughing it off with his pal.
It was not the first side comment from Lowe, nor was it the first time he offered a buddy a beer to try and wash down the taste of defeat.
"That's just how he was," Cook said. "That's who he was."
Even when Lowe was hard on his friends, he was still their biggest supporter.
Lowe was always talking about Cook and one of his best friends, Quentin Vaught, on a weekly basis.
He continuously would tell people to get ready for Vaught to one day make it on tour.
Cook said he will forever cherish those long truck rides all over the country, as well as that lone World Finals run together.
"You know, he always just had that shit-eating grin on his face," Cook said. "That never-die attitude. He never damn near quit, never backed off. He was always pushing us to be the best we could be. He gave no excuses. He either rode or he didn't. He was a character. He was always keeping us laughing. The ramrod calling the shots and everything. The ramrod, that's what he was."
CONQUERING SMOOTH OPERATOR
The ride that will forever remain synonymous with Lowe came at the 2017 Iron Cowboy competition at AT&T Stadium in Arlington, Texas.
Lowe always placed his 90.75-point ride on Smooth Operator as his personal best.
He became the second rider in five years at the time to conquer the annual World Champion contending bull when he rode the bovine superstar to win the $26,000 Ride Score Championship at the PBR Major event.
To this day, Lowe is one of only three riders to have successfully ridden Smooth Operator in 83 attempts at all levels of competition.
Lowe approached 2008 World Champion Guilherme Marchi for advice the night of Iron Cowboy.
Marchi had ridden Smooth Operator for 89.5 points at the 2016 World Finals a few months earlier.
The future Ring of Honor inductee grinned and told Lowe he had a trick for him.
"When he has his head down, he going to put his nose to the top of the bar on the chutes, and then you can nod your head to open the gate," Marchi said. "He's going to be right there. Also put your rope down a little bit because he's strong on the spin. He's going to try to push you outside, and move – move with him. You'll be good.'
"He rode that bull easy. After that, he came walking to me and gave me a hug, and said, 'Thank you for helping me ride that bull.'"
PBR Director of Livestock Cody Lambert said there were moments where Lowe's style was reminiscent of the late Lane Frost, who also tragically passed away in the bull riding arena in 1989, and Mauney.
"What keeps cropping up in my mind today is they're like Lane," Lambert said. "Same body style and a lot of the same type of moves. Maybe it's just the body style that makes a guy ride that way."
Lambert said there was no question that Lowe's impact across the sport transcended all levels of competition and all locker rooms.
"None of us are ever going to forget about him, or the kind of guy he was or his great rides," Lambert said. "He stayed on Bruiser, Smooth Operator and lots of other rank bulls. He rode Bruiser and Smooth Operator when hardly anybody ever rode Bruiser or Smooth Operator. He rode Bruiser and Smooth Operator, and lots of bulls, with a timing and a rhythm that was like more of a dance than a fight."
2016 World Champion Cooper Davis became the third rider to conquer Smooth Operator last year for 93.75 points in Atlantic City, New Jersey.
Davis said you could always count on Lowe looking to be 90 or nothing.
"That was as good of a bull ride as there's ever been," Davis said. "Him and Bruiser as well, I mean there was always that chance that he was going to step up and slay one of those dragons. There was never a safe bull."
It won't be the highlight reel rides Davis misses.
Lowe's absence will be felt in the locker room.
"Every time he walked in the locker room, he had that goofy grin on his face," Davis said before getting choked up.
"There was just never a dull moment around him. He was always there to help you. He was always just a super fun, happy guy, and I'm going to miss him."
A SUMMER TO REMEMBER
Reigning Stock Contractor of the Year Chad Berger was used to giving Lowe a hard time about his missing left front tooth.
"I always called it his cigarette holder," Berger said with a chuckle.  
It was nothing new for Lowe, who often lost his tooth at hotels, restaurants, the backseat of his truck driving to events and even in the dryer with his laundry.
Tooth or no tooth, Lowe was smiling a lot this past summer.                                       
Lowe completed an impressive streak in June as he won J.W. Hart's annual bull riding competition in Decatur, Texas, and Berger's annual event in Bismarck, North Dakota.
The events are two of the most prestigious of the premier series summer break.
"Some real memorable moments," said Berger, who was one of many in attendance Wednesday in Denver that became emotional during an in-arena tribute to Lowe. "Riding Bruiser and Smooth Operator. And there were winning days like this summer. I was just so happy for the kid."
Mason won Decatur on his wife Abbey's birthday just before they were set to get married.
Winning both events is quite the accomplishment, and plenty of people were surprised when Lowe, who drove his traveling partners crazy by waiting until the last minute to get to events sometimes, flirted with oversleeping on Saturday.
Lowe had fallen asleep inside the motor home of his close friends Mike and Christina Heald while watching Mission Impossible II.
"He sat in the recliner and fell asleep instantly – slept until he had to go to the event," Christina recalled in amazement. "Then he won it!"
The Healds became behind-the-scenes mentors for Lowe, who would sometimes stay at their residence in California during his travels.
It was there that Lowe often got to relax and revert to more of his introverted ways. He was able to open up about some of his insecurities and doubts.
He talked plenty with the Healds about wanting to make it back on to the premier series, and how he wanted to become something bigger than he had achieved thus far in his life.
Yet, like most young adults, there were of course doubts.
"I felt he was very at ease with us," Christina said. "He was able to let his guard down and show the vulnerable side. He was my friend. I am devastated."
One area that Lowe always loved to want to do more for was children fighting cancer.
Lowe's heart was always on full display whenever he was around his niece, Blazi, and it was through her bouts with cancer that Lowe became interested in volunteering at Children's Hospital or other functions.
"He had a very big heart in that tough guy exterior," Christina said.
Mike added, "Mason lived his life with the throttle wide open. He came and went on his terms."
"HE GOT UP"
Lowe stood outside the locker room Monday night at the Denver Coliseum and had his ol' champion swagger back in full force.
He was already looking forward following a disastrous 2018 season that saw him miss the World Finals for the first time since 2014 and finish 69th in the world standings.
"It sucked, especially sitting at the house watching it kind of pissed me off," Lowe said. "It kind of gets in your head a little bit, but I've always been pretty good at putting stuff behind me and really not worrying about the small stuff because it's just kind of a small thing, that stuff. So you can block it out of your mind for any point in time, as long as you keep it out of your mind.
"You can sit there and dwell on this stuff, but I just kind of let 'er go."
Lowe took time in 2018 to recover from various injuries and he felt like he was ready to get back onto the Unleash The Beast after being cut last winter.
Lowe had begun the 2019 season 7-for-10 and was ranked 18th in the world standings at the time of his passing.
Lowe was 141-for-360 at all levels of competition and always had the ability and special knack for making highlight-reel worthy bull rides.
Hart and Colby Yates both felt that Lowe was primed for a surge up the standings.
"I thought this was going to be his year," Yates said. "He freaking loved this sport so much, and he was damn good at it. Like damn good. When that guy was on, he was hard to beat.
"Everyone liked him. Everyone. It didn't matter. He was just the type of guy that everybody wanted to talk to. There wasn't anything annoying about him. He was just a solid dude, and he cared about you. It was not just about Mason. It was about you."
Hart talked with Lowe at the Touring Pro Division event in Kearney, Nebraska, in December and was impressed with Lowe's 2-for-2 performance.
"I thought that this year was going to be a Top-10 year for him," Hart said. "It's freaking devastating that a kid in his prime got taken out this early. It sucks. It sucks so bad. But at the back end of it, as a bull rider, we've just got to rejoice in the fact that this guy lived. He didn't clock a 9-to-5. He didn't do a job he hated doing every day.
"He woke up being a cowboy like he wanted to be, and he did the job that he desired and had a passion for and loved. Unfortunately, that's a great thing, to die doing what you truly love to do, but it's tragic that it happened at a young age, or that it even happened at all. It's a loss to the bull riding community and world, to his family, to the world in general. He's a good guy, I know that."
Livingston said the group of bull riders that stayed at the Airbnb in Denver wanted to acknowledge another cowboy characteristic about Lowe.
Lowe kept fighting every second of the way on Tuesday night.
"If we were in his shoes, we would want everybody to remember that he got up and walked essentially out of that arena after taking a stomping to the chest," Livingston said. "He got up.
"He's got more heart than anybody I know."
THE SUPPORT CONTINUES
The outpouring of support on social media has been much appreciated from all of the bull riders and Lowe's family.
For fans wishing to help the Lowe family, the National Western Stock Show, a 501c-3 non-profit entity, in conjunction with the PBR, will be accepting donations online or by mail.  All funds received will be sent to the family of Mason Lowe. More information on how to contribute will be available later today. Donations can be made online.
His wife, Abbey, expressed her appreciation in a statement provided to the PBR.
"Mason was the love of my life and he was my best friend," she said. "He loved the sport of bull riding and the family of the PBR. He was loved by his family and friends. Mason had a kind soul and a heart of gold and was always willing to help someone in need. I appreciate all of the prayers and kind words spoken of Mason. He is dearly missed."
Visitation for Mason will be 5 to 8 p.m. Tuesday, January 22 at the Open Bible Praise Center in Boonville, Missouri. Funeral services for Mason will be 10 a.m. Wednesday, January 23 at the Open Bible Praise Center with Pastor Tom Levin officiating. Burial will follow in the Walnut Grove Cemetery in Boonville.
Arrangements are under the direction of Howard Funeral Home, 1397 Ashley Road Boonville, MO. 65233.  www.howardfh.com
Follow Justin Felisko on Twitter @jfelisko