Calgary Stampede Pool B Preview: Can Leme Keep Brazil on Top in Calgary?
By: Justin Felisko Tuesday, July 9, 2019 @ 10:51 AM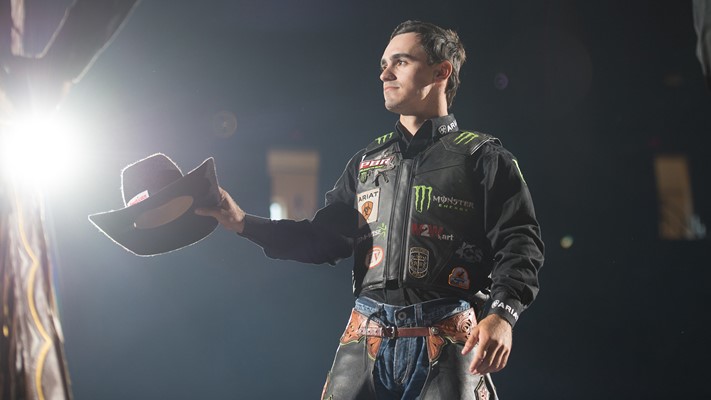 PUEBLO, Colo. – Marcos Gloria was able to break a 24-year streak for Brazil when he joined Adriano Moraes (1994) in becoming only the second Brazilian to ever win the bull riding competition at the Calgary Stampede last summer.
World No. 1 Jose Vitor Leme will now try to keep Brazil on top at the "Greatest Outdoor Show on Earth" when he makes his debut at the Calgary Stampede Fairgrounds with the start of Pool B competition on Tuesday.
"It is going to be great if I can be the third guy to put my name up there," Leme said with the help of Paulo Crimber translating. "It is a great event. Not just because of the money, but it is a very important and very prestigious event. It is like Barretos in Brazil. It is a great deal and I would be happy to put my name in there."
The Festa do Peão de Barretos (Cowboy Festival of Barretos) has been an annual event and rodeo in Brazil since 1955. The rodeo takes place in an outdoor venue that can hold upwards of 35,000 people. 
Leme never won the rodeo aspect of Barretos, but he did win the 2017 PBR Brazil Championship and PBR Brazil Finals at the annual PBR Barretos event. That victory was the appetizer for what has become a five-course meal of accolades that Leme has gobbled up since coming to the United States 10 days before the 2017 PBR World Finals.
The Ribas Do Rio Pardo, Brazil, native has proven in less than three years that he has quite the knack for rising to the occasion when the stakes are the greatest.
Leme went 6-for-6 to win the 2017 PBR World Finals event title and 2017 Rookie of the Year award. He then went 4-for-6 last year for a second-place finish at the PBR World Finals, ending his season with a 93.5-point ride on three-time World Champion SweetPro's Bruiser.
The 22-year-old teamed with Eduardo Aparecido this past February to help push Team Brazil to a second consecutive Global Cup championship. Leme will almost certainly be a lock to ride for the Brazilians again in 2020 at the WinStar World Casino & Resort Global Cup USA, presented by Monster Energy, on Feb. 15-16 in Arlington, Texas.
However, what will Leme do with his first crack at Canada's most prestigious rodeo?
International fans living outside of Canada can watch Leme's debut in Calgary and catch all of the action from the Stampede on RidePass beginning at 3:15 p.m. ET.
Leme takes a 169.16-point lead on No. 2 Jess Lockwood into the Stampede after Lockwood won Pool A.
Leme went 3-for-4 this past weekend, including an 89-point ride on War Horn, at the Koben Puckett Invitational in Amarillo, Texas, to finish in second and fifth place for 40 world points. Taylor Toves won Amarillo for 60 world points.
Leme is not Brazil's only hope for a second consecutive Calgary Stampede victory this summer.  
Pool B features three other talented Brazilian riders in 2018 PBR World Finals event winner Marco Eguchi, Claudio Montanha Jr., and Ramon de Lima.
When he is on, Eguchi can be a Top-10 caliber rider, while Montanha is currently sitting No. 10 in the PBR world standings.
Lima was a 2018 World Champion contender, but his 2019 season has featured him being cut from the Unleash The Beast with a 42.86-percent riding average. He then broke his collarbone at the Pendleton Whisky Velocity Tour event in Wichita, Kansas, on April 13 attempting to ride I'm Legit Too. The Stampede will be Lima's first PBR action since the injury.
For any Brazilian to win Pool B, they also will need to outride five-time PRCA champion Sage Kimzey, 2016 PBR World Finals event winner Ryan Dirteater, 2012 PRCA champion Cody Teel, Parker Breding, Chase Dougherty and Brock Radford.
The format for the Stampede, which has a combined $2 million worth of prize money up for grabs for the nine rodeo events, is different from a standard PBR event.
Riders battle it out for four days in highly-contested pool play with the goal of advancing to Showdown Sunday as one of the pool's top-four money earners. If they don't make it, they will then jockey with the remaining riders on Wild Card Saturday for the final two spots.
Lockwood, No. 3 Chase Outlaw, PBR Canada No. 1 Jared Parsonage and two-time PBR Canada champion Zane Lambert have advanced out of Pool A to Showdown Sunday.  
The winner of the Calgary Stampede bull riding competition takes home $100,000 and 170 points toward the PBR world standings.
The winner of Pool B will receive 50 world points. Second and third place will earn 25 and 10 points, respectively.
Leme is in a much different spot in the world standings this season than a year ago.
When the 2018 push to the World Finals resumed in Tulsa, Oklahoma, last August, Leme was No. 6 in the world standings and trailed world No. 1 Kaique Pacheco by 995 world points. Leme would win Tulsa to begin his push for the world title, ultimately falling just short of defeating Pacheco in Las Vegas.
Today, Leme is in the driver's seat for the 2019 world title, but the Top 4 in the world standings are separated by less than 422 points.
Unlike Lockwood (seven events), and Outlaw (eight events), Leme has only competed at four events since tweaking his right groin at the Green Bay Invitational. He is feeling good, though, and he has ridden six of his last 12 bulls.
If Leme fails to earn any world points in Calgary, Lockwood could take over the world No. 1 ranking with a Stampede victory on Sunday.
"It is the same feeling as last year," Leme said. "But at the same time, I am closer than I was last year. I feel like I am closer to winning and that is a great feeling because I have been staying No. 1, riding good, maintaining my position and gaining a little extra points.
"If I continue to do what I do, and get to the Finals in the same way and be there No. 1, it would be great."