Lockwood Edges Outlaw for Pool A Calgary Stampede Victory
By: Justin Felisko Monday, July 8, 2019 @ 8:54 PM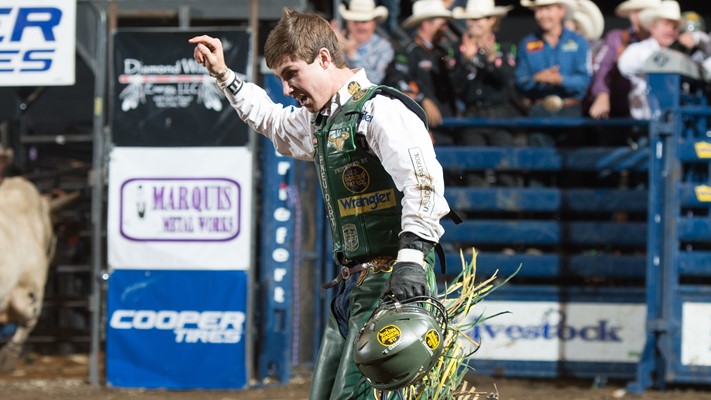 PUEBLO, Colo. – The 2019 Calgary Stampede may be turning into a preview of what fans can expect when the 2019 PBR World Finals rolls around in four months on Nov. 6-10 in Las Vegas.
World title contenders Jess Lockwood and Chase Outlaw exchanged fireworks on the final day of Pool A competition at the "Greatest Outdoor Show on Earth" on Monday in another example of just how tight the 2019 World Championship race is shaping up to be.
Outlaw used a 90-point ride on Rhythm & Blues to win the final day of Pool A action, but it was Lockwood taking home the pool victory as he answered Outlaw's ride with an 87.5-point effort on Panda Haus.
"I win the pool?" Lockwood asked PBR Canada's Ted Stovin. "Sweet, I am more concerned about them 50 points right now (than any prize). To think you can get points for the world standings on top of the biggest rodeo world is pretty dang cool. I like that they give points up here. It gives you more of an incentive to come to this – not that you need it.
"It is the coolest thing ever."
The No. 2 bull rider in the world earns 50 world points with the Pool A victory.
Lockwood now trails world leader Jose Vitor Leme by 169.16 points. Leme is set to compete in Pool B in Calgary, which begins on Tuesday.
International fans living outside of the United States can watch the Calgary Stampede on RidePass beginning at 3:15 p.m. ET.
Lockwood was flawless in Pool A competition, going a perfect 4-for-4.
His hardest test came Monday when his first bull – Creeping – gave him a hard time in the bucking chutes. On two different occasions, Lockwood had to get off his bull and gather himself, ultimately receiving a re-ride.
Lockwood remained unfazed and went on to ride Panda Haus to win Pool A and $14,000 CAD in earnings over the four days.
The 2017 PBR World Champion previously rode On Target (85 points), Cold Water (84.5 points) and Major Pain 2 (85.5 points).
"The first three days I was getting mad because they weren't bucking like we would hope they would," Lockwood said. "I drew a really good one today. He fought me in the chute forever and I couldn't get out on him and my re-ride was very good. So I was happy with it."
Outlaw bounced back from his day one buckoff against Tennessee Whiskey to ride Night Moves (87.5 points), Mish Mash (86.5 points) and Rhythm & Blues. He finished second in Pool A with $13,500 in earnings.
"Everybody said he was one to have, and I don't ever check the draw or pay attention to what the bulls do because they can do something different every time," Outlaw told Stovin on the Wrangler Network. "So I just wait to shake my face and see what they do and ride them jump for jump. It worked out today. 90 points.
"It won't be the only 90 for the week. It was the first one, but I guarantee it won't be the last 90 point of the week, because on Sunday the boys are going to show up to ride and I will be one of them."
The No. 3-ranked cowboy in the world earned 25 points toward the world standings. Outlaw now trails Leme by 344.16 points.
"I wasn't paying attention to that," Outlaw said. "I know if you ride your bulls it will all take care of itself. Anything we get is good, but heck, I knew there was points available. I knew if I went in there and kept my hand shut and ride them that it would work out."
The next PBR Major – Last Cowboy Standing at Cheyenne Frontier Days – is two weeks away and the Top 4 riders in the PBR world standings are separated by less than 422 points.
PBR Canada No. 1 Jared Parsonage finished third in Pool A with $10,750 for 10 world points, and two-time PBR Canada champion Zane Lambert placed fourth with $8,500. Lambert does not earn world points.
Lockwood, Outlaw, Parsonage and Lambert earn automatic bids to Showdown Sunday.
The format for the Stampede, which has a combined $2 million worth of prize money up for grabs for the nine rodeo events, is different from a standard PBR event.
Riders battle it out for four days in hotly-contested pool play with the goal of advancing to Showdown Sunday as one of the pool's top-four money earners.  If they don't make it, they can then jockey with the remaining riders on Wild Card Saturday for the final two spots.
Cody Nance, who was bumped out of the Top 4 by Lambert's 85-point ride on Day Drinkin on Monday, Marcos Gloria, Wacey Finkbeiner, Jordan Hansen, Joe Frost and Garrett Green have been relegated to Wild Card Saturday after failing to advance out of Pool A.
Joining Leme in Pool B this week are five-time PRCA champion Sage Kimzey, 2018 PBR World Finals event winner Marco Eguchi, 2016 PBR World Finals event winner Ryan Dirteater, 2012 PRCA champion Cody Teel, No. 10 Claudio Montanha Jr., Ramon de Lima, Parker Breding, Chase Dougherty and Brock Radford.
Lockwood has been on tear all summer long, but especially in the past week in Canada.
The Volborg, Montana, native won the PBR Canada Ranchman's PBR Charity Classic in Calgary with two 89-point rides last Thursday.
Lockwood has earned 230 world points in the past week, won over $35,000 USD and has ridden six consecutive bulls.
"Ranchman's was good to me too," Lockwood said. "It wasn't the day we wanted. It was cold, wet and rainy, but I figure if we are going to be cowboys and compete in this, you might as well win and make it worth it so we toughed it out and got two rode for 89 and won it.
"You think about $33,000. ($24,000 USD), that is like how much you win on a good weekend at the PBR (Unleash The Beast)."
Lockwood was originally going to compete at the PBR Canada Touring Pro Division event in Kinsella, Alberta, on Wednesday, but he now expects to turn out of the event to rest for Showdown Sunday.
His fiancé Hailey Kinsel is competing in the barrel racing at the Stampede this week in Pool B, and the couple has not seen each other in three weeks.
"I was entered in Kinsella, but I'm tired," Lockwood said. "I don't think I am going to go. My fiancé is up in Pool B so I will be here helping her out. She won it last year in her first year here. It was good."
Lockwood will look to join Kinsel in the record books with his own Stampede victory on Sunday.
If he indeed were victorious, Lockwood would win another $100,000 CAD and an additional 170 points toward the world standings.
Lockwood is looking forward to the challenge.
"Rank bulls (on Sunday)," Lockwood said. "I love the rank ones. Run them in and weed the guys out that aren't supposed to be there. The ones that are riding good are going to step up. It is going to be good."